Tom Hiddleston Is Interested In Playing Galactus And Captain Britain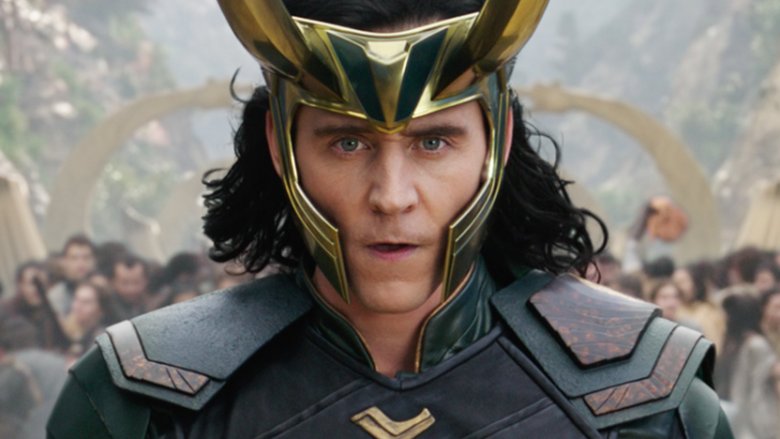 Tom Hiddleston has made his Marvel Cinematic Universe mark as Loki, the devious adopted brother of Chris Hemsworth's Thor. But if the actor ever had a chance to double up on his roles in the MCU, he knows exactly who he'd play.
Chatting with Collider to promote Avengers: Infinity War, Hiddleston opened up about the other heroes and villains from the Marvel pantheon he would be interesting in bringing to life. The actor took a few moments to chew on the question, mulling over the nuances of the query before revealing his love for Galactus and his interest in Captain Britain, a character that definitely is real, despite Hiddleston's initial doubts. 
"Is there a Captain Britain? Is he an interesting character? Apparently, there is ... The one I used to love as a child was Galactus," Hiddleston stated, adding that he would portray the character in a motion-capture performance a la Mark Ruffalo in his Hulk role. "Probably not played by me, though. It could be motion capture."
Created by Stan Lee and Jack Kirby, Galactus is a once-mortal man who transformed into a planet-eating cosmic entity. He made his first Marvel Comics appearance in the March 1966 issue Fantastic Four #48. Kirby once said of the larger-than-life villain, "Galactus in actuality is a sort of god. He is beyond reproach, beyond anyone's opinion. In a way he is kind of a Zeus, who fathered Hercules. He is his own legend, and of course, he and the Silver Surfer are sort of modern legends, and they are designed that way" (via Nerdist).
Captain Britain, on the other hand, is a force of good, serving as the protector of the laws of Britain. After Captain Britain (whose real name is Brian Braddock) was involved in a motorcycle crash following a raid led by the mercenary Reaver, the legendary magician Merlin and his daughter Roma saved him, bestowed him with immortality and immense powers in exchange for serving as Britain's keeper and champion. Brian had a choice between the Amulet of Right (Life) or the Sword of Might (Death), and ultimately chose the Amulet, fancying himself a scholar and not a warrior. Writers Chris Claremont and Alan Moore and artist Alan Davis created Captain Britain, who first appeared in October 1976's Captain Britain Weekly #1.
Hiddleston's interest in playing Galactus and/or Captain Britain in future Marvel movies carries a huge question: Is it actually feasible for an actor to play two different comic book characters? Well, based on past evidence, absolutely. Before Chris Evans became Captain America, he starred as the Human Torch in 2005's Fantastic Four and 2007's Fantastic Four: Rise of the Silver Surfer, a doubling up that Hiddleston pointed out. "Does one get to double up? Chris Evans got to double up, I suppose," the actor said. 
Additionally, Michael B. Jordan took on the Human Torch mantle for Josh Trank's (extremely messy) Fantastic Four reboot in 2015, then appeared as Killmonger in this year's Black Panther. But that's nothing compared to Josh Brolin, who stars as Thanos in Avengers: Infinity War and as Cable in Deadpool 2, films that are scheduled to launch just weeks apart. 
Of course, Hiddleston's remarks are just playful talk for now, but it's fun to imagine the man Marvel fans instinctively associate with Loki taking on a new character.