CSI's Gary Dourdan Explains Why CBS Didn't Focus On The Characters At First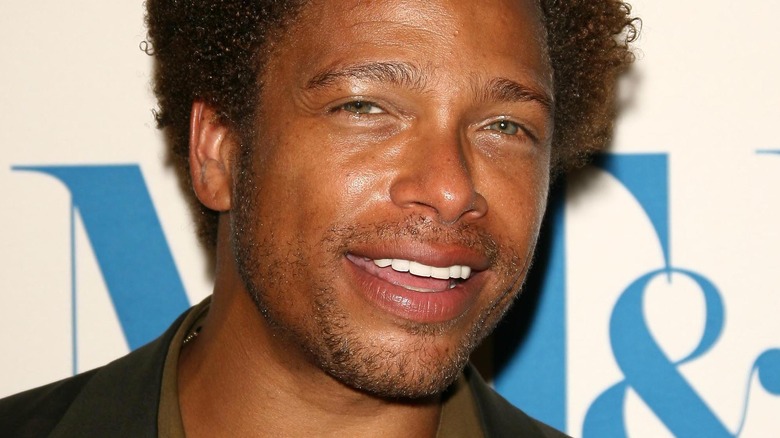 s_bukley/Shutterstock
The success of "CSI" could be chalked up to the fact that it was a procedural that found a new spin on the format, focusing on the science behind solving crimes more than individual detectives following gut instincts. It's a perfectly suitable explanation for why a show that debuted in 2000 would still be running today as "CSI: Vegas." Still, it also diminishes what the CBS drama actually managed to accomplish.
While "CSI" is an unapologetic procedural, its true appeal comes from the characters. For much of its run, William Petersen took on the lead role as 'Gil' Grissom, a character who could impress with his intelligence but not always with his people skills. The odd but dedicated nature of the character felt like a subtle homage to the characters Petersen was best known for playing, like Will Graham, a troubled FBI consultant hunting down Dr. Hannibal Lector in 1986's "Manhunter."
This was also the show that attracted Quentin Tarantino to direct a double episode ("Grave Danger"). The point is "CSI" was never the full straight procedural it was advertised as. Its focus on characters was not always the case at the start of the series. Star Gary Dourdan even revealed character focus was something completely avoided in the early run of the series.
Gary Dourdan says CBS wanted CSI to be more like Law & Order
According to Gary Dourdan, who played Warrick Brown on "CSI," there wasn't a lot of faith in "CSI" when it first debuted, and CBS was looking to get their money back by modeling the series off of "Law & Order," with a focus on the week-to-week cases as opposed to the people actually solving them. "CBS never expected us to be a success. They wanted to spin the show off, like Dick Wolf does [with Law & Order], so that no one will get very connected with the characters. They get connected with the show," Dourdan told Philadelphia Magazine in June 2007.
According to Dourdan, CBS was very aware that they were pushing characters to the side in favor of a cookie-cutter procedural, but success obviously changed the name of the game for the network when it came to "CSI."
"That's something CBS was aware of, something they were trying to do. It's been a challenge to push all of that aside and come to work and give your all," the actor said. Unfortunately, Dourdan's character was killed off as the series moved into the ninth season. After the original show ended, the franchise began again with a new series, "CSI: Vegas." In it, viewers can reunite with fan-favorite characters such as Catherine Willows (Marg Helgenberger) and Gil Grissom to witness their characters' continued growth and journeys.