That '90s Show Fans Fully Support The Casting Of Jackie And Kelso's Son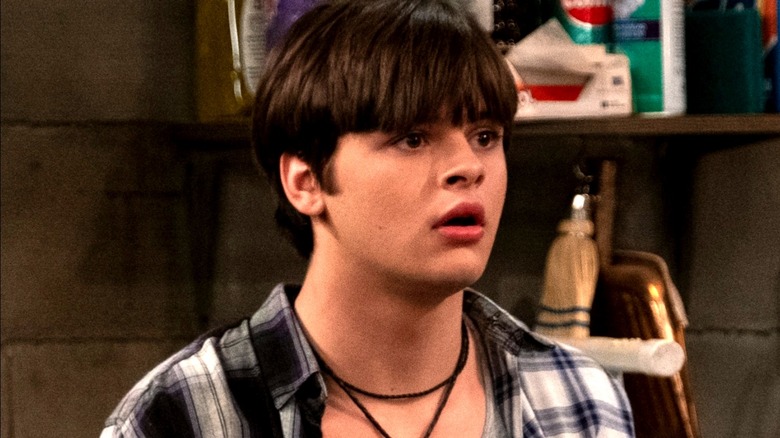 Patrick Wymore/Netflix
When "That '90s Show" premiered on Netflix in January 2023, one of the most exciting details of its premise was the return of stars from its predecessor "That '70s Show." In addition to reliving 1990s nostalgia and getting introduced to new teen characters, fans were also treated to appearances by original series characters Red (Kurtwood Smith), Kitty (Debra Jo Rupp), Eric (Topher Grace), Donna (Laura Prepon), and Fez (Wilmer Valderrama). The guest spots reflected the 15-year time jump from 1980 to 1995, and roughly the same time frame from 2006 to 2023 between the ending of the parent series and its spin-off. Reuniting the older cast with the new cast turned out to be a labor of love for everyone involved (via BuzzFeed).
This also included a brief return from real-life married couple Ashton Kutcher and Mila Kunis, who played Michael Kelso and Jackie Burkhart respectively. Their long-running characters are also surprisingly married, and even have a son named Jay (Mace Coronel). Although Kunis has some issues with this character arc for Jackie, particularly the fact that she and Kelso were not together by the series finale of "That '70s Show," Coronel certainly fits the detail that Kelso and Jackie are his parents. His casting was so perfect, in fact, that fans have shown their support for his role.
Fans agree that Mace Coronel could easily pass as Ashton Kutcher and Mila Kunis' son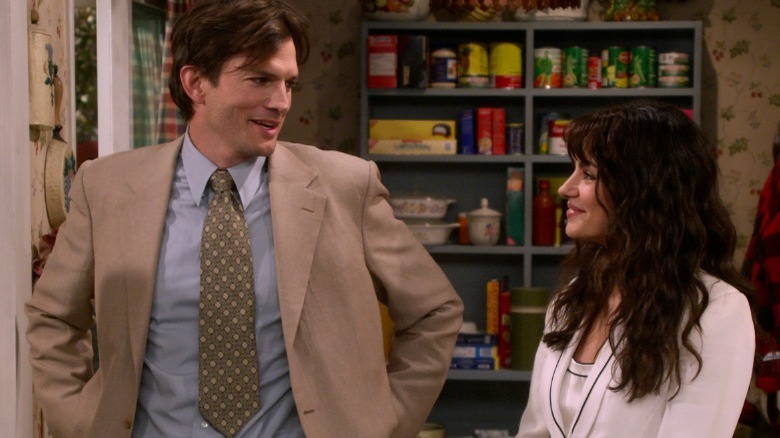 Netflix
In the pilot episode of "That '90s Show," Jay Kelso's appearance and demeanor suggest that perhaps the creators are insinuating he is the next Michael Kelso-type. Everything is made clear at the end of the episode when Michael emerges in the Forman's kitchen followed by Jackie and reveals that Jay is their son. Fans of the show and its predecessor series seem to be in majority agreement at how perfect Mace Coronel's casting is as Jay.
On a subreddit page for the sitcom, u/othnice1 shared, "Now that Jay's parentage has been officially confirmed: this is PHENOMENAL casting in terms of appearance." Redditor u/Conrad828 agreed, writing, "yeah he looks just like his dad." Others felt that some of Michael Kelso's trademark catchphrases will also be needed in the future, with u/snesfreak commenting, "If that kid's not yelling 'MY EYE!' at some point, the writers will have failed all of humanity."
Some fans were a bit bewildered by the plot point such as u/TortaDeAsada who pointed out how it contradicts the last time we saw Kelso and Jackie in the "That '70s Show" series finale back in 2006. Jackie was with Fez when the show ended and Kelso was with Brooke (Shannon Elizabeth). It should be assumed the couple got back together soon after the finale.