Ghostbusters: Afterlife Director Jason Reitman Was Thrilled To Use Props From The 1984 Film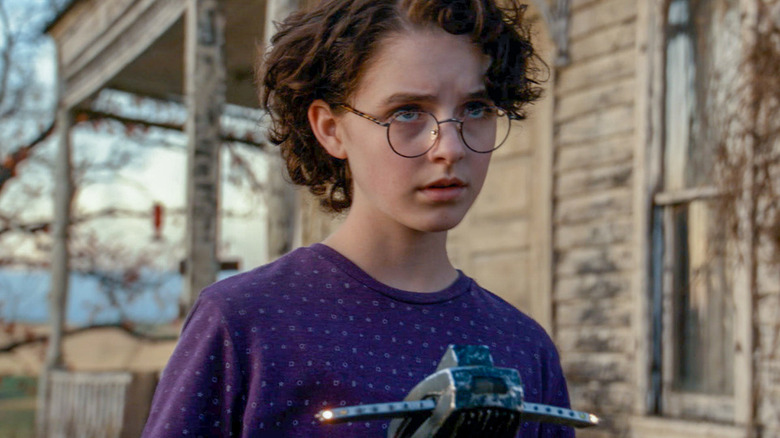 Sony Pictures Releasing
Jason Reitman's "Ghostbusters: Afterlife" seemed burdened with the enormous pressure to restore the franchise after the 2016 "Ghostbusters" reboot got slimed by many enthusiasts of the critically acclaimed 1984 movie. Jason Reitman picked up the gauntlet laid down by his father, Ivan Reitman, who helmed both "Ghostbusters" and 1989's "Ghostbusters II." "Afterlife" was tasked with following in the Stay-Puft Marshmallow Man-sized footsteps of a cultural phenomenon.
Reitman made it clear from the very beginning that his sequel must have Bill Murray, Dan Aykroyd, and Ernie Hudson reprise their roles as the original Ghostbusters. "I was only gonna make this movie if we could get everybody back," Reitman said in an interview with Jake's Takes. "And it was a thrill the day they showed up on set again. To see the three guys standing next to each other — for my father, for me, for also all these young actors — I mean, it's like seeing The Beatles back together."
The "Afterlife" sequel won over the overwhelming majority of fans, according to its 94% audience score (via Rotten Tomatoes). Peter Venkman (Murray), Ray Stantz (Aykroyd), and Winston Zeddemore (Hudson) even reunited with the CGI version of Egon Spengler, who was originally portrayed by the late Harold Ramis. Reitman knew getting the band back together was crucial, but being able to tap into even more nostalgia seemed necessary to win back the "Ghostbusters" fandom.
Ghostbusters gadgets galore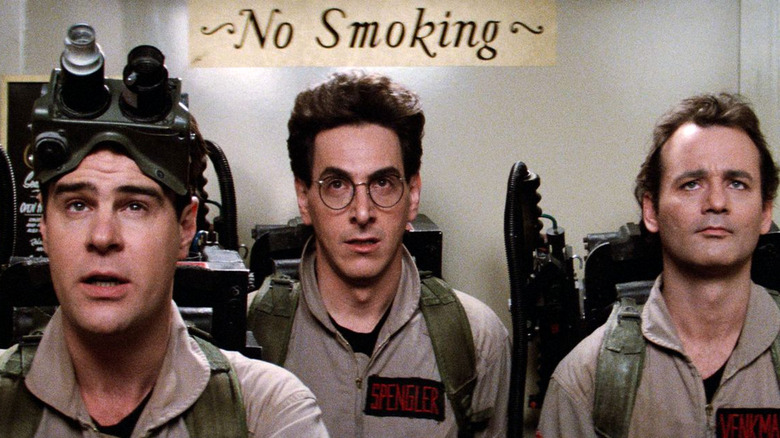 Sony Pictures Releasing
Jason Reitman's "Ghostbusters: Afterlife" relied heavily on nostalgia, and the director managed to pull it off thanks in part to having access to many of "Ghostbusters" old set pieces. "We were able to get our hands on the '84 props, and that was really exciting," Reitman said in an interview with CinemaBlend. Reitman revealed that he had access to an array of ghostly goodies from the first "Ghostbusters" production, including the Ghost Traps and Egon Spengler's (Harold Ramis) proton pack.
"We wanted to get everything detail accurate," Reitman said in the same interview. And the "Ghostbusters: Afterlife" director spared no expense to make sure the new Ecto-1 was a near-perfect replica. "We were buying parts from all over the world just to make that thing exactly right," Reitman said in the same interview. "We wanted the whole film to be original recipe 'Ghostbusters.' When you watch this film, you, hopefully, are transported to what it was like to watch the original back in '84."
Reitman also told CinemaBlend that his production team included as many nods to the seminal "Ghostbusters" film as possible throughout the "Afterlife" sequel. For instance, there's the fireman's pole Egon built in his basement. It's reminiscent of the same fixture that won Ray (Dan Aykroyd) over in the first film and was the tipping point for him purchasing the fire station as the Ghostbusters' headquarters. Reitman's vision clearly worked, so it's no surprise that a "Ghostbusters: Afterlife" sequel has been greenlit.