Tulsa King's Garrett Hedlund Calls Creator Taylor Sheridan 'An Outlaw'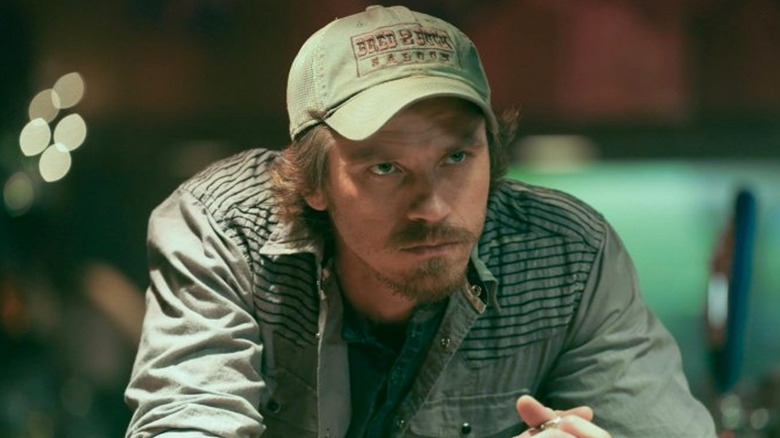 Brian Douglas/Paramount+
Garrett Hedlund swam in the deep end of the Hollywood talent pool when he dove into his career in 2004. Before he was even 20 years old, the up-and-coming performer was sharing the big screen with the likes of Peter O'Toole, Orlando Bloom, and Julie Christie. First, the actor co-starred in the pivotal role of Achilles' (Brad Pitt) doomed cousin, Patroclus, in "Troy." Later that same year, Hedlund donned the football jersey of Charles Billingsley's (Tim McGraw) son, Donnie, in "Friday Night Lights."
But it was on the set of director Wolfgang Petersen's adaptation of Homer's epic poem the "Iliad" that a then-teenage Hedlund met his future "Tulsa King" co-star, Sylvester Stallone. "I've known Sylvester since I was 18," Hedlund said in an interview with Collider. "[I] Walked into the trainers, Gunnar Peterson's, while prepping for 'Troy,' and Sly was in there climbing the ceiling rope up with his legs jacked out, scissored out. He was always the sweetest, most supportive." 
"Always asking what I was up to, what I was shooting, how this shoot went, that shoot went," Hedlund continued. "So, to share the screen with him in this is, felt like it was due time. It's fantastic." Stallone might portray the show's criminal protagonist, Dwight "The General" Manfredi, but Hedlund thinks the man who dreamed up "Tulsa King" is the real outlaw.
Hedlund loves Sheridan's outlaw characters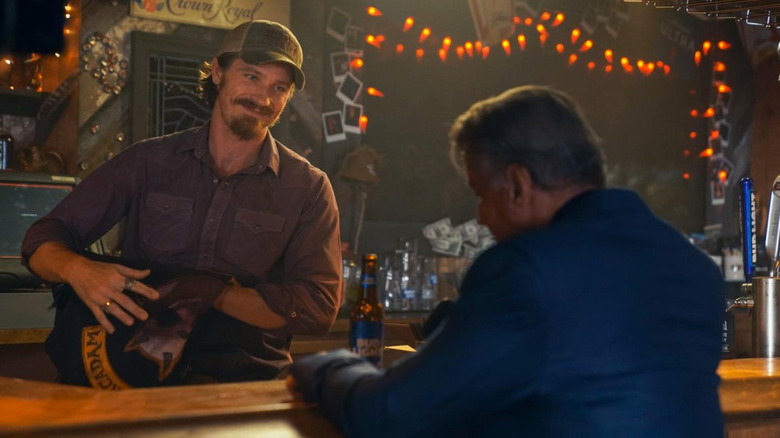 Paramount+
Garrett Hedlund portrays Mitch Teller in Taylor Sheridan's "Tulsa King." Mitch befriends Dwight Manfredi (Sylvester Stallone) when the exiled mafia capo frequents Teller's drinking hole, the Bred-2-Buck Saloon. Mitch's association with "The General" leads to friendship and an eventual casino partnership — not to mention a shootout with members of a rogue biker gang. Hedlund enjoyed filming the Paramount+ series, and he had a unique way of describing the show's creator.
"Taylor's [Sheridan] an outlaw," Hedlund said during his interview with Collider. "He writes outlaw characters. You can't help but want to watch these guys, want to root for them, all their struggles, all their conflicts. I mean, he writes outlaw gold. 'Hell or High Water,' 'Sicario,' creating 'Yellowstone,' now this." Hedlund also praised "Tulsa King" executive producer and showrunner Terence Winter. "I mean, it's the dream team," Hedlund continued. 
Now, after what ATF agent Stacy Beale (Andrea Savage) did to "The General" in the season finale, Mitch might find himself running the Bred-2-Buck Cabaret & Casino by himself for a while. The show has been greenlit for a second season, with Paramount eyeing a possible "Tulsa King" universe for the future. However, even the cast doesn't know when "Tulsa King" will return (via TVLine). Either way, fans can be certain that Hedlund, Stallone, and the rest of the cast of the Oklahoma-based thriller will enjoy exploring the stories of their characters in greater detail over the coming seasons of "Tulsa King."