Paul Rudd Says Anchorman Is One Of The Funniest Scripts He's Ever Read (In Addition To One Of His Cult Classics)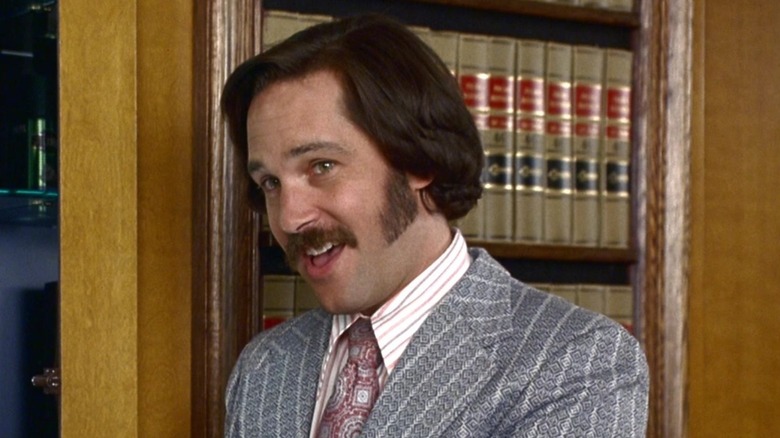 DreamWorks
Before Paul Rudd became the Marvel Cinematic Universe's tiniest superhero, he was Brian Fontana in "Anchorman," the movie that launched the career of Will Ferrell after his departure from Saturday Night Live. And Rudd and Ferrell have nothing but fond memories of working on that movie together. In a 2021 interview with The Hollywood Reporter, when Rudd and Ferrell were reunited on the series "The Shrink Next Door," they were asked about their earliest memories of working on "Anchorman," and the two talked about their rehearsals, which they said were mostly improvised. The rehearsals, they said, regularly ran four or five hours, with the entire cast cracking up the entire time.
That inability to stop laughing carried over into the filming of the movie itself. In an interview with PBS, Rudd talked about the scene in "Anchorman" that never made it to the final cut that the cast struggled to get through for laughing. In the scene in a diner when the four male main characters are at a diner discussing their plot against Veronica Corningstone (Christina Applegate), an exchange between Ferrell and Steve Carell made it impossible to get through a take. "Will looks at Steve Carell ... and says 'By the way Brick, what is it that you're eating?' and Brick says, 'This is one of those delicious falafel hot dogs with cinnamon and bacon bits on top.'" Ferrell's character then points out that it doesn't exist and Brick (Carell) is eating a used coffee filter with cigarette butts in it. The scene got so funny that the cast would crack up laughing before Ferrell could complete the line.
In fact, according to Rudd himself, "Anchorman" is unique for being one of only two scripts he ever reread for fun.
Anchorman and Wet Hot American Summer were the only comedies that Rudd reread for pleasure
In an interview with GQ, Paul Rudd broke down the most iconic characters he's ever played, and he naturally mentioned "Anchorman" as one of the funniest films he's ever done. The actor said that he rarely gets scripts, especially comedies, that were so good he reread them for pleasure. He could only think of two times he had done that for comedies: "Anchorman" and "Wet Hot American Summer." Rudd said, "And they were funny for similar reasons in their absurdity, and how meta certain things were, and how it was so unlike anything else. Probably why they both had trouble getting made and the reception was confusion for a lot of people." So it would seem that what made the movie so great is exactly what made it so confusing for film executives. Luckily, someone eventually decided to take a chance on the film.
In an interview with "10 Questions with Kyle Brandt" for The Ringer, Rudd was asked if he knew that "Anchorman" was going to be as successful as it was when he was working on it. The actor reiterated that it was one of the best scripts he ever read, but admitted that he didn't know how well the rest of the movie's elements were going to come together to make the film as great as it is. Thankfully, he found that everything fell into place, and the movie is now considered a classic.