The Anchorman Scene Paul Rudd Says The Cast Struggled To Get Through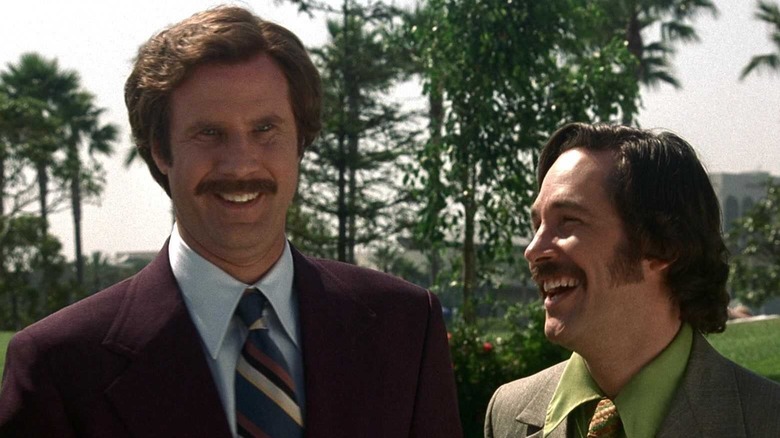 Paramount Pictures
Easily one of the most legendary comedies of the 2000s was 2004's "Anchorman." With a star-studded cast featuring Will Farrell, David Koechner, Paul Rudd, and Steve Carell at the beginning of their rise to A-List superstardom, the film made improv-inspired comedy dialogue all the rage throughout the decade and made producer Judd Apatow and director Adam McKay in-demand filmmakers.
Prior to "Anchorman," Paul Rudd was generally known as the sweet dreamboat from "Clueless." He played the romantic leading man in comedies like "The Object of My Affection" and "Overnight Delivery." Unless fans had seen 2001's "Wet Hot American Summer," which hadn't quite broken through yet and become the cult classic it is today, audiences had never seen Rudd cut loose and show off his absurdist comedy chops quite like he did playing the sex-panther-wearing Brian Fantana in "Anchorman." Now, the actor is synonymous with his over-the-top comedy stylings.
One has to imagine that it must've been near impossible to film any scenes in the movie with how much the actors are relishing playing in the comedy. Rudd detailed one scene that was nearly impossible for the cast to get through. The group in the scene primarily lost it because they knew they weren't supposed to laugh in the take.
Brick eating something disgusting from the garbage cracked everyone up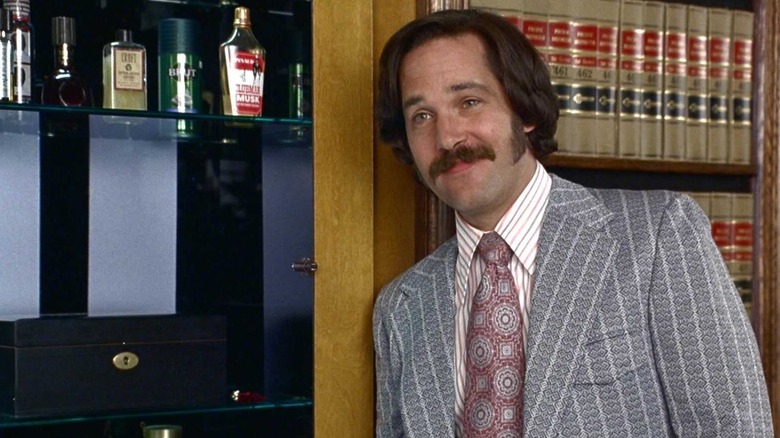 Paramount Pictures
During a breakdown of his most iconic roles for GQ, actor Paul Rudd recounted a time when he and his fellow "Anchorman" co-stars could not keep it together during a scene involving Steve Carell and a chocolate cake. Rudd said, "You don't want to laugh when you're in someone's take because you don't want to make something unusable and if it's really funny and then somebody laughs, and you can't use it, it's really annoying. So there's always a pressure not to laugh." And we all know, when there's pressure to not laugh, it's only going to make you laugh harder. That's how the best giggle fits start.
The crew behind the scenes started to get annoyed when the cast kept laughing the hardest while attempting to film the aforementioned scene. It is a scene where Ron (Will Farrell), Brian (Rudd), Champ (David Koechner), and Brick (Carell) are sitting around a table and discussing how they're going to stop Veronica Corningstone (Christina Applegate) from being an anchor. Rudd continued, "And Will [Ferrell] is asking Brick what he's eating and Brick says, 'Oh, it's one of those delicious falafel hotdogs with cinnamon and bacon on top.'"
Trying not to laugh just made the cast laugh harder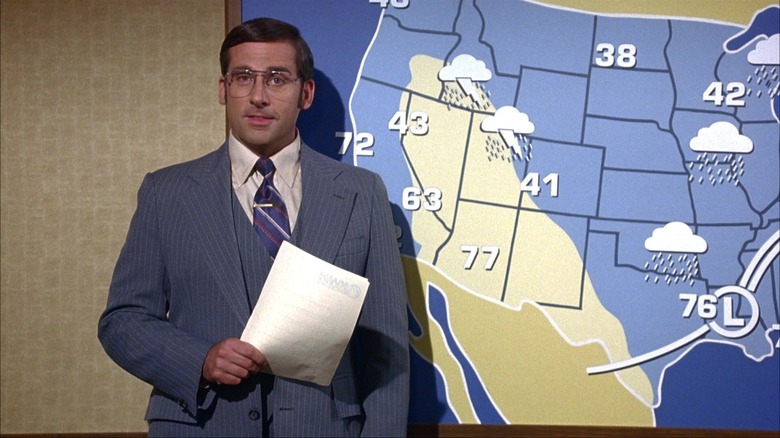 Paramount Pictures
What Brick was eating, Paul Rudd described, was coffee grounds, chocolate cake, coffee filters, a cigarette butt, a wrapper, and a dime. Rudd said it became harder and harder for them to keep it together with the anticipation of Farrell's line (via YouTube). He said, "It was so repulsive we'd all start laughing. We'd have to do it again and then the buildup became funny because Will would then say, 'By the way Brick, what is that you're eating?' And as soon as he goes, 'By the way Brick,' he didn't even get out, 'what are you eating.'" The actors barely got through the scene, and laughing had to be built into the take in the scene's final form. After all that, it never even ended up in the final film. '
The scene was used in "Wake Up, Ron Burgundy" which was a direct-to-DVD film composed of deleted scenes, subplots, and alternate takes from "Anchorman." The scene is viewable online here.