NCIS' Cote De Pablo Originally Thought Michael Weatherly Was Trying To Sabotage Her Screen Test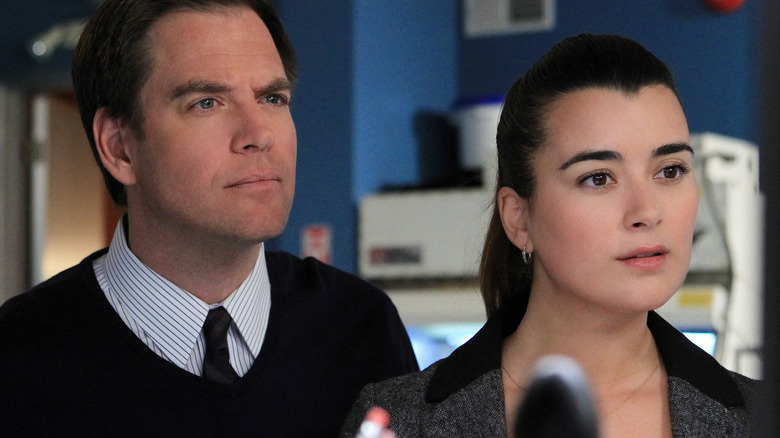 Sonja Flemming/CBS
Cote de Pablo rose to stardom through her role as Ziva David on "NCIS." The Chilean-American actor played the fierce Israeli-American special agent for nine years on CBS, starting all the way back in Season 3. Fans surely remember the electric on-screen love-hate relationship Ziva had with her coworker, Senior Field Agent Anthony DiNozzo (Michael Weatherly). Tony and Ziva were a hot item during their tenure on the show, with fans shipping the two and hoping they'd become romantically involved. The fans got their way soon enough; when Weatherly departed the CBS procedural in Season 13, it was revealed that he and Ziva had a daughter, Tali (Emelia Golfieri). While de Pablo would return in a guest capacity to the show, Weatherly never did.
You might expect the "NCIS" actor to have treated de Pablo with respect since the beginning, but no. The first time they met, de Pablo and Weatherly immediately fell into their characters' dynamic — they were antagonistic yet also inexplicably attracted to each other. Weatherly's behavior was so bizarre that de Pablo initially thought he was trying to sabotage her audition.
Her screen test with Michael Weatherly didn't go as planned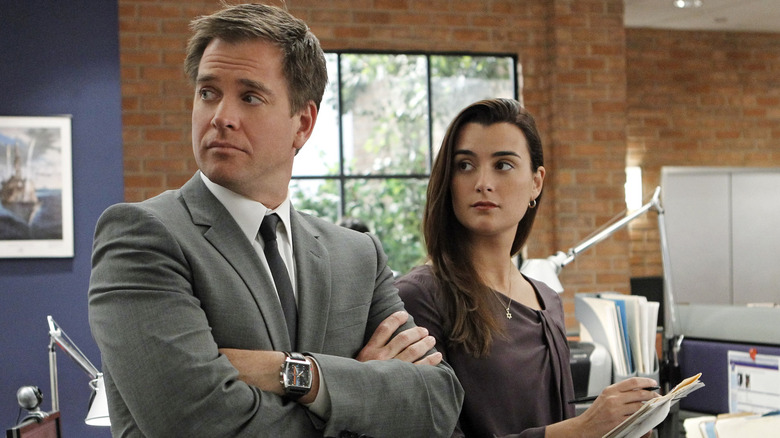 Sonja Flemming/CBS
When Cote de Pablo was called in for a screen test for "NCIS," she had to act alongside Michael Weatherly, who'd been on the series since Season 1. The Ziva actor told Entertainment Weekly in 2009 they "sort of hated each other immediately and loved each other immediately." She said that she thought he was unprofessional, while he thought she was complicated and difficult to work with. Still, veteran "NCIS" star Weatherly created an unusual environment for the younger actor. "During the audition, he grabbed my hair," de Pablo said. "He would not follow the lines. He totally went off script and started improvising, and this was my final audition with the heads of CBS. I thought, 'This guy is sabotaging my audition.'"
During an interview with TV Fanatic, she also said that Weatherly "was trying to flirt with [her]" and that he "grabbed [her] face" and told her she looks like Salma Hayek. The actor said she started rebuking him during the screen test, slapping his hand away when he tried to touch her, and generally standing up for herself. "So what people saw in the audition room really was a person fighting the other person back and refusing to give even an inch," she said. Though this sounds like a nightmare audition, de Pablo doesn't seem to have been fazed, and apparently, the network wasn't, either.
De Pablo said their fraught dynamic led to a compelling on-screen relationship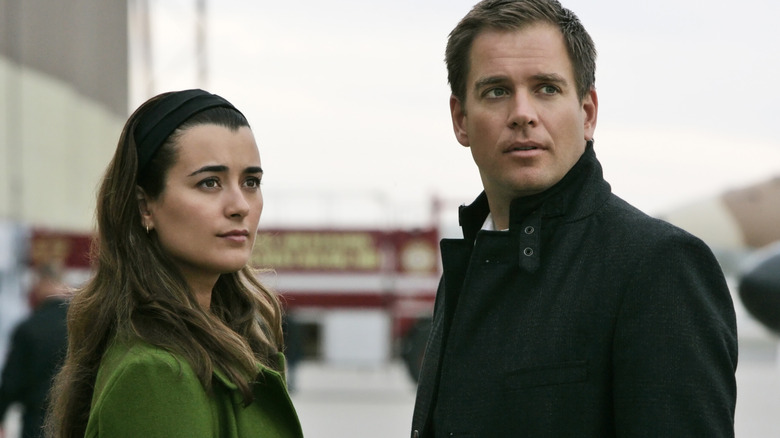 Sonja Flemming/CBS
As frustrated as she was with her audition, Cote de Pablo said that it informed her and Michael Weatherly's characters' on-screen relationship. "It was just all the things that I think later on translated to the relationship that Ziva and Tony had and still have," she said to TV Fanatic. "That's what makes that particular dynamic interesting." She told Entertainment Weekly, "We realized we're so drastically different and so much alike that there was an immediate attraction."
Though Weatherly plays a womanizing chauvinist on TV, the audition was still a little dicey for the actors auditioning for Ziva. "He totally did it with the other actress," de Pablo said about Weatherly's flirtatious behavior. "One other girl sort of flirted back with him, and she was sort of open. Which is what actors do! They're sort of open. But I got lucky and got the part because I responded the way they felt was right."
Weatherly was later accused of sexual harassment by "Bull" co-star Eliza Dushku. Weatherly was not charged, and CBS lawyers settled in private with Dushku's team (per Deadline).
If you or anyone you know has been a victim of sexual assault, help is available. Visit the Rape, Abuse & Incest National Network website or contact RAINN's National Helpline at 1-800-656-HOPE (4673).