Donald Faison 'Went Crazy' Meeting John Travolta For T-Mobile's Super Bowl 2023 Commercial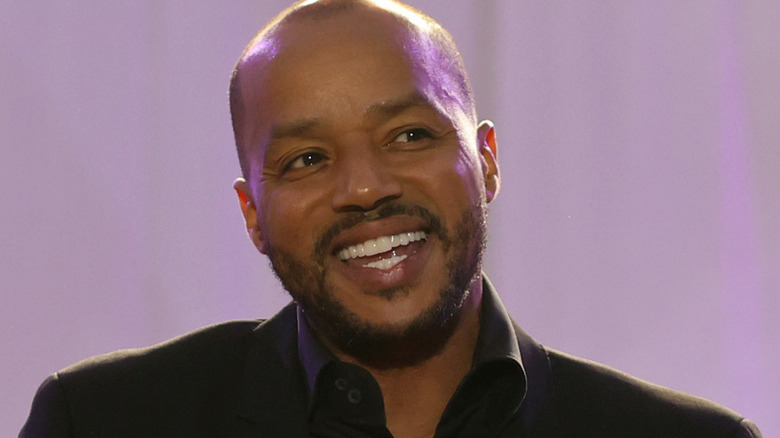 Rich Polk/Getty Images
Getting to work with someone you have long admired and looked up to can go one of two ways. You could end up loving them even more, having them become a mentor or even a friend. Or, you end up discovering the person who you looked up to doesn't really exist, or they're not as great as you've built them up to be in your mind. Probably the most well-known example is Kevin Smith and Bruce Willis on the set of "Cop Out." Smith went into the process of directing Willis as a fan, he told Cinema Blend. I was directing David Addison [Willis' character] from Moonlighting." When the pair didn't see eye to eye, it dashed the vision of what 12-year-old Smith thought working with his idol would be like.
Zach Braff could probably relate quite easily to Smith's nervousness, as he directed three of his idols — Alan Arkin, Michael Caine, and Morgan Freeman — in the 2017 film "Going in Style." "I was terrified," he told the National Post. Fortunately for Braff, he can look back on the experience positively. "They were silly and funny between takes, and we became a group of friends having a good time."
Luckily for Donald Faison, he had Braff to help him deal with his own overexcitement when the duo got the chance to co-star with Faison's hero, John Travolta, in their T-Mobile commercial for Super Bowl LVII.
Faison was starstruck meeting John Travolta
Playing it cool when Donald Faison met John Travolta on the set of the T-Mobile Super Bowl LVII commercial was not easy, and it became apparent to Zach Braff that he Faison would need more than a few gentle reminders to calm down. "Listen, I have a really hard time meeting other actors or peers and stuff like that," Faison told People. "I get excited for anyone and everyone, but I will tell you this: If you are in my top five, top 10, I'm going to go crazy. Travolta's in my top five and I went crazy."
The commercial has Braff, Faison, and Travolta paying tribute to Travolta's classic film "Grease," as they sing about T-Mobile phone service to the tune of "Summer Nights." Braff and Faison had never met Travolta, and Faison noted that "it's very clear when you're having a conversation with him that he's nothing like these characters." As the three got to know each other, Travolta told the friends behind-the-scenes tales from all their favorite films. Faison, for his part, couldn't be happier with the way things turned out when he met one of his idols. "We got 'Pulp Fiction' stories now, we got 'Grease' stories," the actor said. "I got 'Face/Off' stories. I got them all."