Wednesday's Intense Shooting Schedule Had Jenna Ortega Literally Pulling Her Hair Out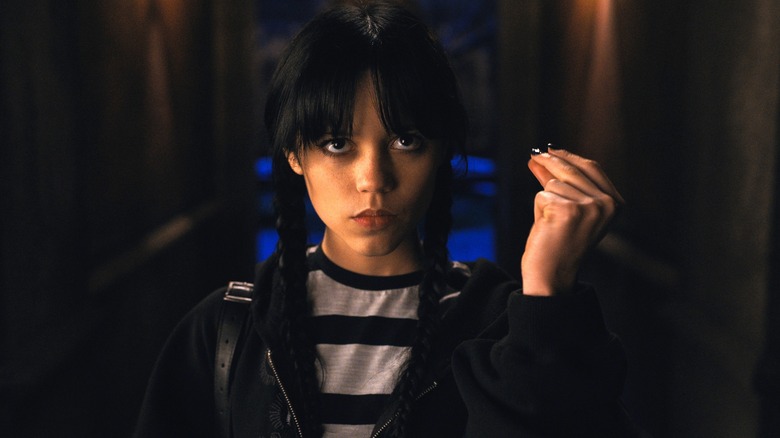 Netflix
"Wednesday" was among Netflix's biggest hits of 2022, with the "The Addams Family" spin-off starring Jenna Ortega as the titular Wednesday Adams smashing records for the streaming giant. By mid-December, it had become the streamer's second most-watched English language series of all time, and Ortega had received a lot of praise for her work on the show.
But the struggle to complete the show, which was executive produced by Tim Burton, came at a cost for those who worked on it, particularly lead actor Ortega. In December, the star revealed that she had filmed the viral dance sequence from "Wednesday" while sick with COVID-19, leading some to criticize her for risking the health of those around her. Meanwhile, there were others who suggested the Netflix production may have demanded her continued presence on set.
Now, Ortega has opened up about the depths of the exhaustion and frustration she experienced while filming the hit series.
A grueling production schedule frayed Ortega's nerves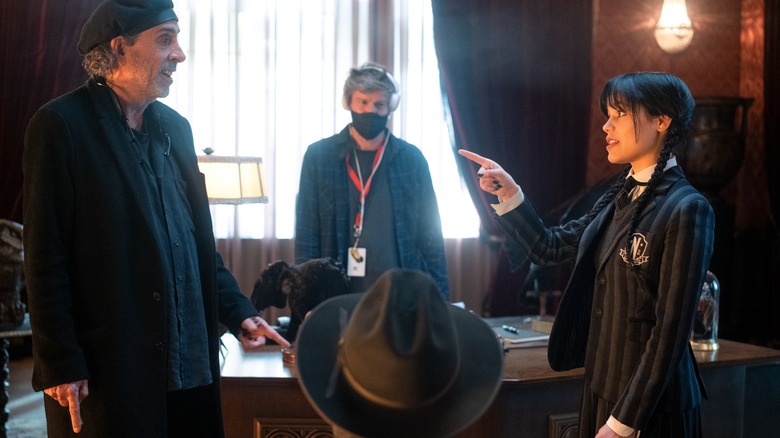 Netflix
During her time filming for Netflix's "Wednesday" series, lead actor Jenna Ortega was strained to her breaking point both mentally and physically, Variety reports. Free time amid the grueling, 12-14 hour per day schedule offered little respite, filled with Zoom meetings, cello lessons, and early call times. "It was just constantly going," Ortega said during a Hollywood Q&A panel hosted by Netflix.
According to the actor, she needed both cello and fencing lessons which began months before the cameras started rolling and continued during principal photography, which lasted for eight months in Romania. Of particular difficulty was a cello piece that required emulating the sound of two cellos with one instrument. The combination of nonstop work, both on and off set, along with constant lessons distressed Ortega, who said, "I did not get any sleep. I pulled my hair out. There's so many FaceTime calls that my dad answered of me hysterically crying."
The time constraints put on filming only amplified the strain of the production crush. And with Ortega getting so much screen time, it was a challenge to complete the work with the level of dedication she had hoped for. "We started running out of time because Wednesday's in pretty much every scene," the actor said. "They had to start using stunt doubles or occasionally cello doubles if they didn't have time to get hands, but I was very adamant about being as well prepared as possible because I wanted them to be able to use myself, because that's so much more believable if you could see your face."
Season 2 of "Wednesday" has been greenlit, but whether the production schedule will be less demanding this time around remains to be seen.