CSI: Vegas Fans Can't Quit Beau Finado Just Yet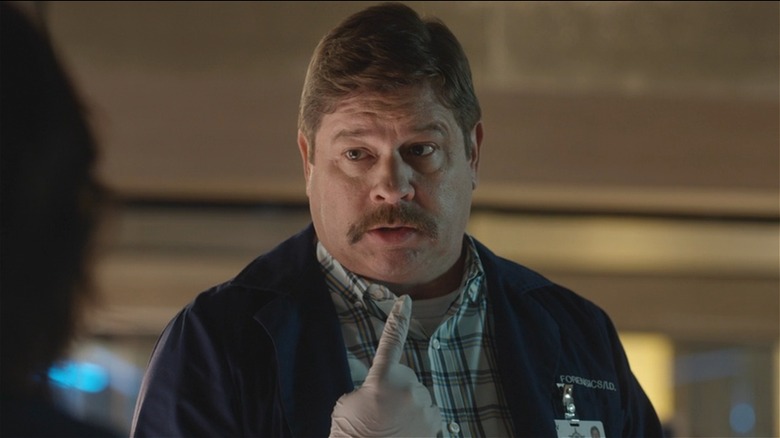 CBS
Working crime scenes in Las Vegas probably isn't for the faint of heart, and individuals that engage in this profession need to have nerves of steel and incredible mental fortitude. Some may withdraw from people and become cold, calculating, and reserved, while others may deal with the stress through humor, quips, and anxious talking. That isn't to say that all people that work this job stratify to these two extremes, which is highlighted by the diverse cast in "CSI: Vegas."
Featuring both franchise "CSI" actors and newcomers alike, "CSI: Vegas" is currently in Season 2. So far, Season 2 sees investigations surrounding media influencers, archaeologists, supposed Bigfoot tracks, celebrity chefs, and even a potential mass poisoning — just to name a few of the events. However, it seems as if some audience members are thoroughly enjoying one of the newest members of the "CSI: Vegas" team, Beau Finado ("CSI" veteran Lex Medlin). Finado is an interesting addition to "CSI: Vegas," and he embodies the true spirit of dads everywhere on account of his friendly and upbeat nature, collection of New Balance shoes, and encyclopedic knowledge of random facts that he absolutely loves to share at a moment's notice. 
Having just recently made a social media post regarding filming "CSI: Vegas," Medlin received many replies from his fans, and there is most assuredly a reoccurring trend in the comments.
Fans hope to see Beau once again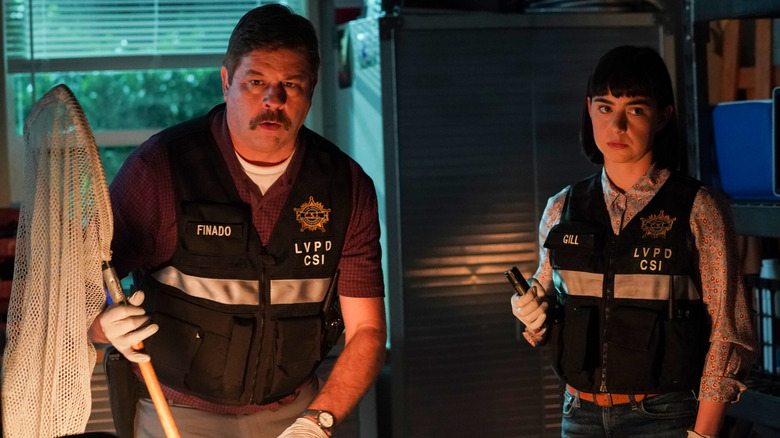 Sonja Flemming/CBS
Sharing an image and text on Twitter, Lex Medlin wrote, "That's a wrap! Just finished shooting my final scene on season 2 of CSI Vegas. We'll see what the future holds but regardless I am eternally grateful for this job. I loves Beau Finado..." The ellipses here denote that the character of Finado's future is uncertain, or perhaps Medlin is simply being coy with fans. Needless to say, many fans converged on this post and expressed their love for the character and hope that Finado will become a more permanent fixture on "CSI: Vegas."
@Kristie_Rose18 replied to Medlin's post and said that they enjoyed this season of "CSI: Vegas," clarifying that they not only hope for a new season but also for the return of Beau as well. This thought was also repeated in some form by @Mariann32594492, @MaryS333, and @Resslerette1 among many others. @t_sacca went to an even greater extreme, writing, "I love Beau...hope he comes back in the next season. Why are Penny [Sarah Gilman] and Beau shooting their last scene? These 2 are my fav."
@JohnBoyRamos simply stated that Medlin absolutely killed it in this role, and @Kevidently wrote, "You're one of the best reasons to watch!!!" These comments represent but a fraction of the love shown toward Medlin and his character of Beau, and one can only hope that these fans will get much more of the sensitive soul with a powerful mustache.