Breaking Bad's Bryan Cranston And Aaron Paul Say They Created Their Business Just To Hang Out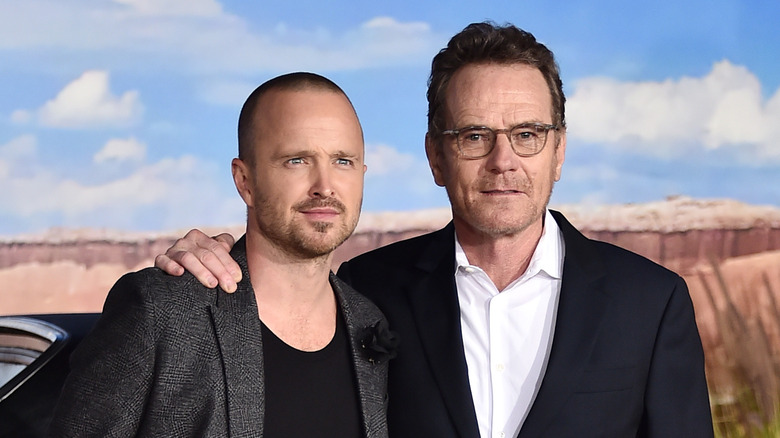 DFree/Shutterstock
In the acclaimed drama "Breaking Bad," Walter White (Bryan Cranston) and Jesse Pinkman (Aaron Paul) have a deeply complex relationship — full of cruelty, codependency, and betrayal — that only worsens throughout the series. Thankfully, Cranston and Paul are nothing like their fictional characters, and the actors seem to be quite chummy in real life. So chummy, in fact, that in 2019, they founded the mezcal brand Dos Hombres — which translates from Spanish to "two brothers." 
Walter and Jesse might have found the pressures of doing business together to be too volatile for their relationship not to implode, but it's going much better for Cranston and Paul. The two still seem to enjoy being in business with one another, and they've even returned to their signature roles in a new Super Bowl ad for PopCorners corn snacks. While promoting the unexpected "Breaking Bad" reunion ahead of the big game, Cranston revealed the real reason they decided to create a spirits company together.
The two speak to each other every day, thanks to their partnership in Dos Hombres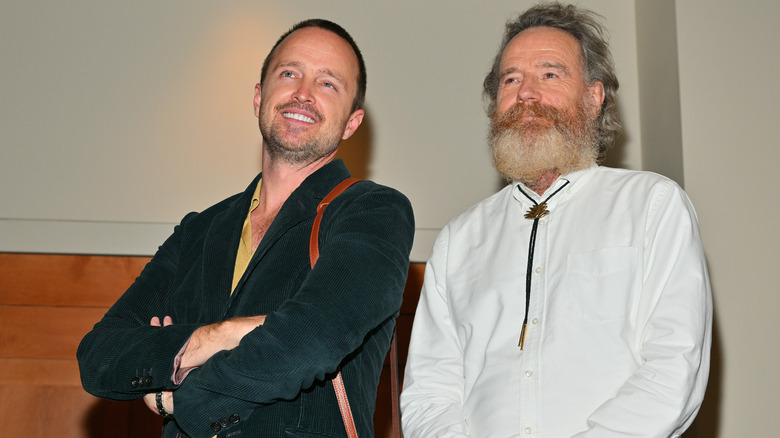 Sam Wasson/Getty Images
In a chat with Extra about reprising the roles of Walt and Jesse for the PopCorners commercial, Bryan Cranston and Aaron Paul revealed that they still speak to each other every day. "We talk every day. We really do," said Paul.
And according to Cranston, with no disagreement from Paul, that's no accident. "We have our business together, our Dos Hombres mezcal business, and that's going incredibly well. And you know, it's really funny because the reason we started a mezcal business was in order to see each other...I'm not kidding you," Cranston said. And he added a little bit of social commentary on what this says about the differences between men and women. Cranston joked, "Women are so much smarter than men because if they miss someone, you would just see someone. Men go, 'Oh we have to play golf or we have to play tennis, we've gotta have a business, we've gotta do something.' We have to justify the time we spend together!" 
Sure, you don't have to start a spirits company to stay in touch with your friends — you can always just follow Cranston and Paul's lead and reunite on national television for a Super Bowl ad instead.