Are Aaron Paul And Bryan Cranston From Breaking Bad Friends In Real Life?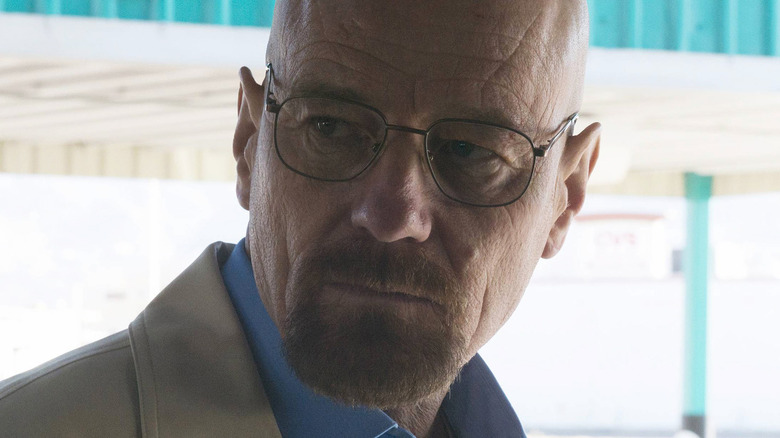 Ursula Coyote/AMC
Walter White and Jesse Pinkman may go down as the best duo in television history. For five seasons, they led AMC's runaway hit "Breaking Bad," which follows a deeply unsatisfied chemistry teacher teaming up with a former student to create a meth empire after being diagnosed with terminal lung cancer.
Regarded as one of the best TV shows of all time, the series introduced wider audiences to a number of incredible actors, including Jonathan Banks (Mike Erhmantraut), Giancarlo Esposito (Gustavo Fring), and Bob Odenkirk (Saul Goodman) — all of whom would return for the equally beloved prequel series, "Better Call Saul."
Of course, however, there would be no "Better Call Saul," or "Breaking Bad" without its stars, Aaron Paul and Bryan Cranston, who played Jesse and Walter, respectively. Their relationship in the series saw moderately amicable highs and devastatingly tragic lows, with Jesse almost killing Walt in their last scene together. Though it's unlikely Paul and Cranston's relationship could ever be that strained, many fans may wonder if they're still friends even after spending five years together shooting one of the most emotionally exhausting projects ever put to screen.
They keep returning to their Breaking Bad roles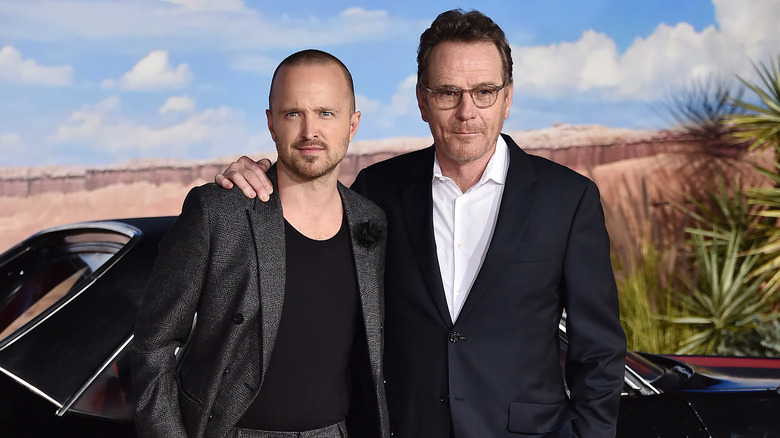 DFree/Shutterstock
For those of you still working your way through the "Breaking Bad" universe, you may want to skip this slide — minor spoilers ahead.
Despite ending the original "Breaking Bad" series in 2013 with Season 5, Episode 16, "Felina," both Cranston and Paul have reprised their characters several times. Paul even headlined his own Netflix "Breaking Bad" film, "El Camino," which followed Jesse's life in the direct aftermath of his escape from the white supremacist meth lab. Shocking fans all around the world, Cranston made a surprise appearance as Walter in a flashback sequence.
"To be on set with Bryan again was, of course, a dream," said Paul in an "El Camino" featurette for AMC. "Since the show, Bryan and I have become so incredibly close. He's absolutely my mentor, and I'm the actor I am today because of him."
In the same featurette, Cranston expressed his excitement at getting to be a part of the film before praising Paul as both a performer and person. "You don't often make fast friends in every job you do," the actor said. "But I knew when we first started working together that this was a special young man. And he's now a father [and a] husband, on top of being a really terrific actor." The pair reunited again for more flashback scenes in the final season of "Better Call Saul" in 2022.
Aaron Paul asked Bryan Cranston to be the godfather of his baby
In 2022, Paul spoke on "The Tonight Show Starring Jimmy Fallon" about his new son Ryden, whom he and his wife, director Lauren Parsekian, had welcomed earlier in the year. After Paul gushed about how much he loves his children (even though they exhaust him), Fallon quickly asked about Cranston.
"I know Bryan Cranston's a good friend of yours," the host said. "Has he seen the baby?" Paul nodded, but then went on to reveal that his former co-star had a far more personal connection to the birth. He said to Fallon, "I asked Bryan on his birthday if he would be our baby's godfather." Naturally, the audience let out a collective "aww," before Paul cut the sweetness short, continuing flatly, "He said no."
Of course, Paul was kidding, instantly laughing at his own joke along with the audience. "He was very excited," the actor ultimately conceded with a smile, "very honored. I love the man to death. He's one of my best friends in the world."
In January 2023, Paul and Cranston toured the U.S.with Dos Hombres (via CHRON.), a liquor company they founded together with third-generation Mezcal maestro, Gregorio Velasco, with the mission of creating a "perfect" Mezcal (per the Dos Hombres website).