Bryan Cranston Thinks Of PopCorners' 2023 Super Bowl As His Last Hurrah For Breaking Bad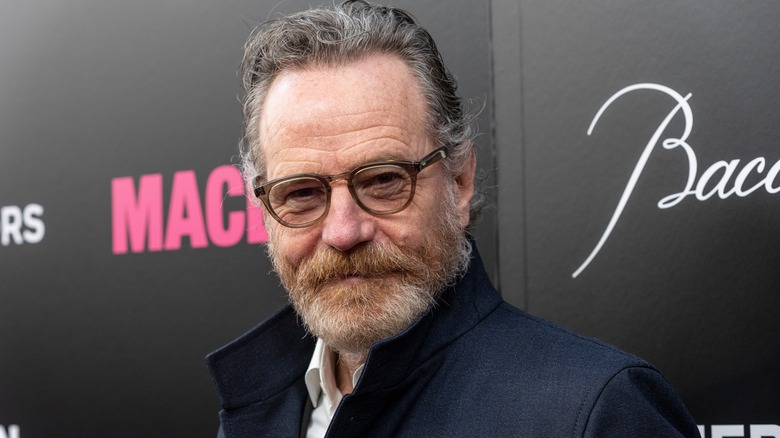 lev radin/Shutterstock
It's been almost 10 years since the world said goodbye to Walter White, alias Heisenberg (Bryan Cranston) on the mega-popular AMC crime drama "Breaking Bad," but Cranston has managed to bring the character back a couple of times in two "Breaking Bad"-affiliated projects: once in "El Camino: A Breaking Bad Movie" and again in "Better Call Saul." Now, he's playing the character once again, alongside his old troubled protégé Jesse Pinkman (Aaron Paul) and Tuco (Raymond Cruz), but in a context that most fans will probably agree should not be considered "Breaking Bad" canon: a Super Bowl commercial for PopCorners popped corn snacks, which the actor has previously stated was an enjoyable experience without the violent intensity of the actual series.
Now, Cranston is saying in an interview that the PopCorners ad, which features himself and Paul back in the trailer they made famous on "Breaking Bad," but cooking up popped corn snacks instead of crystal meth, could very well be the character's swan song -– unless some insane network executive out there tries to make a "Young Walter" series sometime in the future.
Cranston says the PopCorners commercial could be the 'retiring episode' of his Breaking Bad character
Bryan Cranston sat down for an interview with Rachel Lindsay of Extra during filming on the Super Bowl LVII PopCorners commercial (seen above), and the chat has a few choice tidbits for the hardcore "Breaking Bad" fanbase. "It's a takeoff of the pilot episode," revealed Cranston, "when Walt and Jesse are in the RV and we're actually cooking up the first batch and there's newness to it and excitement and the unknowns."
When asked if a snack commercial of all things might be the last time fans see Cranston in his most famous role, he didn't deny the idea, saying, "This might be the retiring episode of the 'Breaking Bad' universe." But he also pointed out that he's thought that in the past. "I did it for Aaron's movie 'El Camino' and then once again for 'Better Call Saul,'" Cranston said. "We were able to come back and each time, we think, 'We'll this is the last time we're ever going to do this and then PopCorners calls and it was like, 'Well we'll do it one more time.'"
With his character canonically deceased and the cast having largely aged out of being able to convincingly portray their characters in any sort of "Breaking Bad" prequel project, Cranston's prediction that his PopCorners ad could be the last time he plays Walter White has the ring of truth. Then again, there's no reason he can't continue to reprise the character in silly commercials and comedy sketches like this one.