Julia Louis-Dreyfus' Forgotten Voice Role On Fairly OddParents
It's pretty much forgotten that veteran television actress Julia Louis-Dreyfus voiced a character in the animated "Fairly OddParents" series. 
After wrapping up her solo sitcom "Watching Ellie," the "Seinfeld" actress stopped by Nickelodeon Animation Studios to appear in a guest role for the Emmy-winning children's series. In "The Fairly OddParents," Louis-Dreyfus appears as Blonda, Wanda's twin sister (voiced by Susanne Blakeslee). Unlike Wanda, Blonda decided to find meaning and fulfillment in fame and fortune, opting to be an actress. Louis-Dreyfus appeared as Blonda in Season 5 Episode 6, titled "Blondas Have More Fun." While the character made minor appearances in future episodes, Louis-Dreyfus didn't return to voice the actress. Instead, Timmy voice actress Tara Strong played Blonda when needed.
Audiences will remember that Blonda appeared in a popular television series in Fairywood, only to grow dissatisfied with her life. Wanda and Blonda ultimately switch places, leading to a classic 'grass is always greener' story. Even hardcore fans of the series might not know that Louis-Dreyfus is in the animated series as she's uncredited in the episode.
Voicing Blonda is just one of few the animated roles Louis-Dreyfus has lent her talents to. While discussing her career with Vanity Fair,  Louis-Dreyfus discussed how unique voice acting is. "It's entirely different from being on camera [...] But you have no other tool but your voice. So your voice has to inform everything, which is a very different way of performing," she said.
While Louis-Dreyfus did step into the shoes of a bored, uncelebrated actress for the series, let it be known that the "Seinfeld" actress is nothing like Blonda in real life.
Julia Louis-Dreyfus is nothing like her Fairly Oddparents Character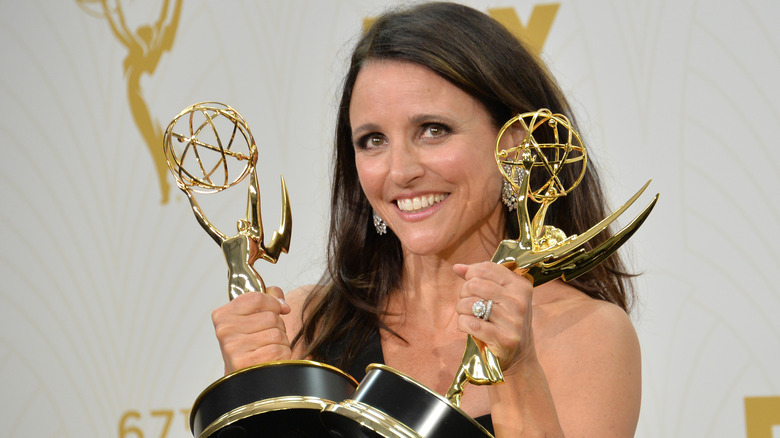 Featureflash Photo Agency/Shutterstock
Blonda's debut episode shows that she's largely insecure and disappointed with the trajectory her career has gone in. While she's certainly happy to be spearheading one of Fairywood's most prominent shows, she can't help but lament how she doesn't have a Zappy, the equivalent of a fairy-world Emmy. "It seems you're the only fairy in Fairywood without a Zappy," Blonda is told during by an interviewee during the opening minutes of the episode. 
The episode frequently calls out how Blonda doesn't have a Zappy, something she genuinely craves for. After Blonda and Wanda switch places, Timmy's Fairy Godmother ends up giving a tour de force performance on her sister's television series, eventually winning a Zappy. Blonda, as expected, begins to lash out at her sister for stealing her spotlight and taking her award.
Unlike Blonda, Julia Louis-Dreyfus has a whopping amount of awards to call her own, including a dozen Emmys. Her impressive performances and production choices have made her one of the few individuals to have won over 10 Emmys. It sure must have been a fun exercise for the successful "Veep" actress to play a directionless TV star on the animated series. During the 69th Emmys, Louis-Dreyfus nabbed her eighth performance-related award, tying her with Cloris Leachman ("Malcolm In The Middle"). When asked at the awards ceremony how she felt about amassing so many awards, the "Fairly OddParents" voice actor described it as "very baffling and a [ton] of good luck."