Jamie Lee Curtis Revs Up The Freaky Friday Sequel Rumors On Instagram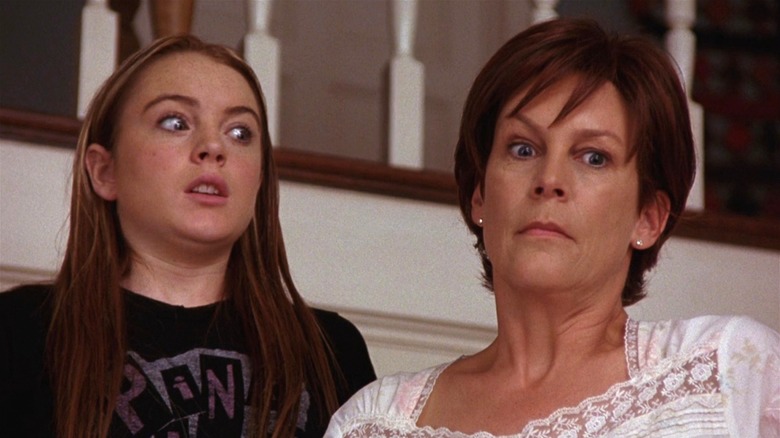 Buena Vista Pictures
In November 2022, Jamie Lee Curtis sparked rumors of a "Freaky Friday" sequel finally coming to fruition, revealing in an interview that both she and Lindsay Lohan were in talks with Disney and fully committed to appearing in a follow-up. Well, on Friday, February 10 — because, obviously — Curtis decided to turn up the heat on those sequel rumors. 
For those who may not know, the legendary "Halloween" actor has been cruising high in recent months on account of her Oscar-nominated performance in 2022's "Everything Everywhere All at Once," which also happened to earn an Academy Award nod for best picture. "I am giddy with excitement about it," Curtis told Vanity Fair in a February 2023 profile piece. "The smile has not left my face." 
As Curtis points out in her Vanity Fair interview, the longtime leading lady has appeared in genres and movies that are widely considered to be off Hollywood's beaten path. "I've been a horror-genre participant since I was 19," she said. "I've been in a lot of comedies, and comedies aren't often recognized in these bigger categories." One of those comedies, which may not have gotten the same recognition as her "Everything Everywhere All at Once" portrayal of IRS agent Deirdre Beaubeirdre, was Mark Waters' "Freaky Friday." Considered a major financial and critical hit for Disney, the 2003 body-swapping flick — which featured Lohan as Curtis' daughter — has always lingered in the back of people's minds as a perfect candidate for a sequel. And apparently, even Curtis has gotten her hopes up about the project, judging from her latest Instagram post.
'Freaky fingers crossed!'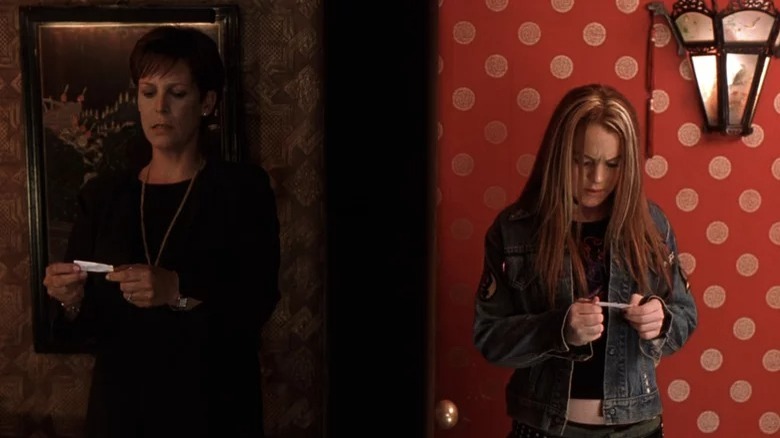 Buena Vista Pictures
In the description of an Instagram post showing her with Lindsay Lohan, Jamie Lee Curtis gave "Freaky Friday" fans a weekend welcome and a small sliver of hope for the sequel. "It's Friday. I'm just sayin!" Curtis wrote, adding "Freaky fingers crossed!" It didn't take long for the comments to start pouring in on Curtis' page, begging the Disney overlords to make "Freaky Friday 2" happen. 
"I've been telling my girls, who are now in their 20's, that grew up to this being our favorite movie to watch together, that it's time for a remake!" wrote Instagram user @the.cosparlor. "DO NOT TOY WITH MY EMOTIONS," wrote @gre_steph. Another user named @thewhineywineguy added, "This and The Parent Trap were the two Disney reboots from classics that far surpassed the originals."
Back in November, Curtis spoke to Variety at the premiere of "Glass Onion: A Knives Out Mystery" and described where "Freaky Friday 2" currently stood in the Hollywood pipeline. "There is no scheduled date, but we're talking," she said. "People are talking. The right people are talking. I'm 64 in a week and Lindsay is 36 ... [A sequel] lends itself so beautifully," Curtis explained. "We're both committed to it, and it's not ours to make. It's Disney's to make and I think they're interested and we're talking."
Judging from her Instagram post, Curtis and Lohan appear to be closer than ever to finally stepping back into the roles of Tess and Anna Coleman, aka the mom and daughter duo who swap bodies in "Freaky Friday." In the comments section of Curtis' IG post, Lohan made sure to post a fingers crossed, heart eyes, and hands raised emoji combination praising the possibility.