Bob Iger Made Sure Kevin Feige Wasn't Fired During The MCU's Phase 2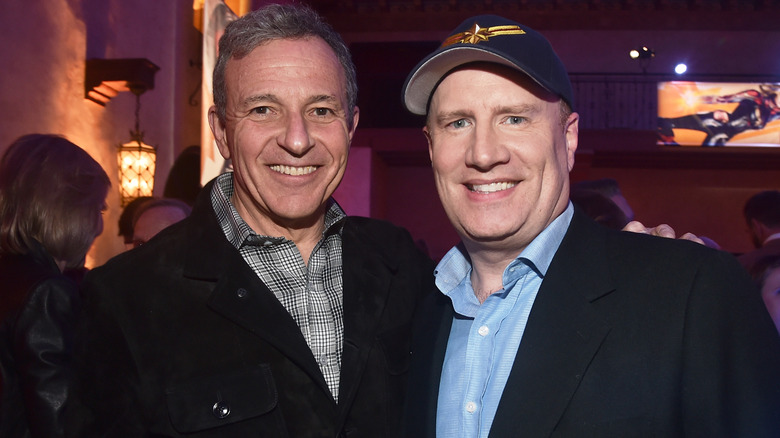 Alberto E. Rodriguez/Getty Images
Disney CEO Bob Iger says Kevin Feige was kept on board as the Marvel Cinematic Universe's architect thanks to him.
Late 2022 saw Disney CEO Bob Chapek get ousted from Hollywood's most coveted gig, with his predecessor Bob Iger being brought back in to replace him. Under Iger's first stint as CEO between 2005 and 2020, Disney purchased Marvel, Lucasfilm, and 21st Century Fox, scooping up dozens of highly-profitable IPs. Iger also helped transform the media conglomerate into a tech company, launching Disney+, a streaming service with over 160 million subscribers globally (via Variety).
While Iger is certainly responsible for turning the entertainment company into an even larger behemoth, perhaps his biggest accomplishment to date is saving MCU creator Kevin Feige from termination. In an interview with CNBC, Iger opened up about he butted heads with current chairman and former Marvel Entertainment CEO Ike Perlmutter about Feige's expanding role in 2015. "We bought Marvel in 2009. I promised Ike [Perlmutter] the job that he would continue to run Marvel after that," Iger said, adding that Perlmutter wouldn't "necessarily" run the Disney subsidiary forever. "And in 2015 [Ike Perlmutter] was intent on firing Kevin Feige who was running Marvel's studio, the movie-making [operation] at the time, and I thought that was a mistake and stepped in to prevent that from happening."
Bob Iger ensure that Kevin Feige's vision wouldn't be compromised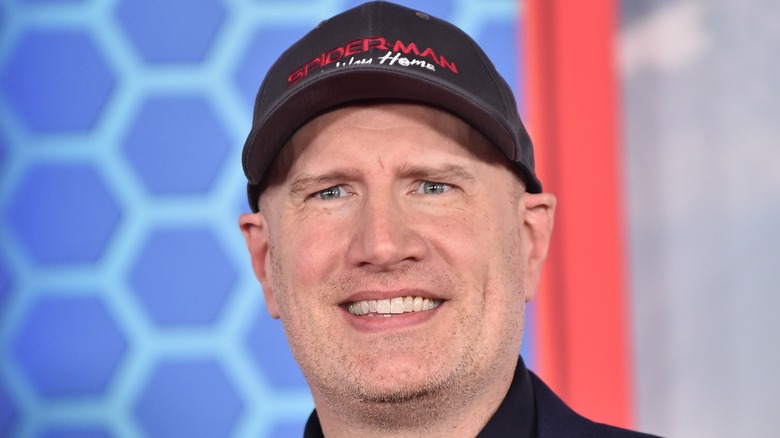 DFree/Shutterstock
Bob Iger bet big on Feige. 2015 was a key year for Marvel Studios thanks to the release of "Avengers: Age of Ultron," the penultimate film in the MCU's Phase 2. The "Avengers" sequel planted the seeds for several future Marvel films, including "Infinity War" and "Endgame," some of the highest-grossing films of all time (via The Numbers).
After wrapping up Phase 2 of the MCU, Kevin Feige was promoted to Marvel's Chief Creative Officer in 2019, under Iger's leadership (via Deadline). This is in addition to his role as Marvel Studios' President. Iger is certainly right when he says firing Feige would have been a mistake. Since 2015, Marvel Studios has expanded to the small screen thanks to Emmy-winning shows like "WandaVision." Beyond that, Feige received his first Oscar-nod when "Black Panther: Wakanda Forever" was nominated for Best Picture in 2019. As it stands, the cinematic portion of the company has grossed over $28 billion at the box office (via The Numbers), making the MCU the highest-grossing franchise of all time, besting the likes of Disney's "Star Wars" and "Pirates of the Caribbean."
The Disney CEO continued his interview with CNBC by revealing how he was able to secure Feige's position. "And so I moved the movie-making operation of Marvel out from under Ike into the movie studio under Alan Horn," Iger said. Essentially, Iger's change allowed Feige to report to Disney, instead of Perlmutter.