Paul Rudd Admits He Was 'Very Self-Conscious' Filming Clueless' Staircase Scene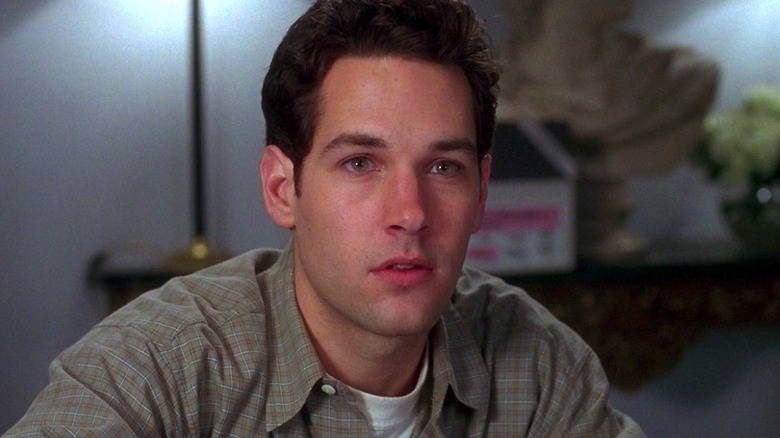 Paramount Pictures
Paul Rudd has gained widespread attention since joining the MCU in 2015 when he took on the role of Scott Lang in "Ant-Man" and its subsequent sequels — the most recent of which, "Ant-Man and the Wasp: Quantumania" is quickly approaching its release date of February 17, 2023. But, before Rudd became Ant-Man, he had plenty of iconic film roles under his belt, such as 2004's "Anchorman: The Legend of Ron Burgundy," 2005's "The 40-Year-Old Virgin," and 2009's "I Love You, Man." Plus, he had a vital role on one of the most popular shows of all time, playing Mike, the love interest and eventual husband of Phoebe (Lisa Kudrow) in the last two seasons of "Friends."
Before Rudd took on any of those roles, he played a major part in a popular cult classic film, 1995's "Clueless," which was written and directed by Amy Heckerling. A modern retelling of Jane Austen's "Emma," the film follows popular teen Cher Horowitz (Alicia Silverstone) as she plays matchmaker for her friends and teachers while navigating her own love life. Rudd plays Josh, Cher's former stepbrother who remains a friend of the family, as well as her eventual love interest. At the end of the film, in an iconic moment, the two share a kiss at the top of the stairs of Cher's home.
It's one of the film's most pivotal moments, so it would make sense if Rudd and Silverstone were nervous filming it — here's what Rudd has to say about feeling self-conscious while filming the staircase scene.
Rudd discussed the pressures that came with the staircase kiss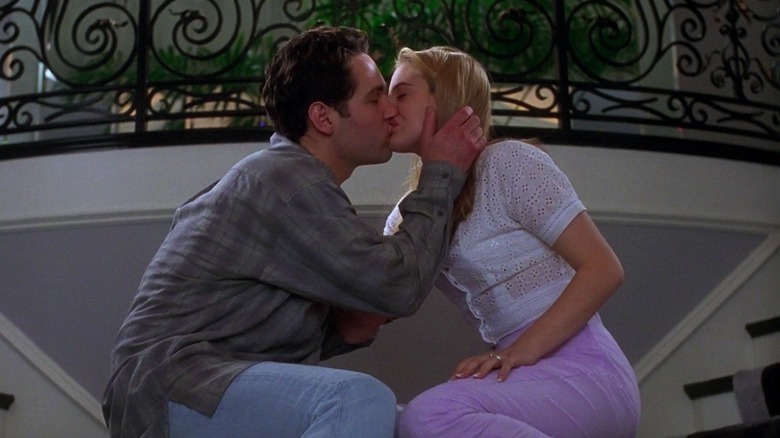 Paramount Pictures
Paul Rudd recently sat down with GQ to break down his most iconic characters — "Clueless," of course, came up during the conversation. He discussed how smart he found the script and even revealed that some of the clothes Josh wore were his own (such as the Amnesty International T-shirt). THen, he talked about the iconic staircase scene, admitting that he felt a bit self-conscious about it.
Rudd said, "I was very self-conscious afterward. As far as that kiss goes, I think my manager at the time, after the movie came out, said, 'Oh, that was not good.'" With a laugh, Rudd added, "He said I did not do that [kiss] very well. Which I'm like, 'Hey you weren't there, how would you know?'" Luckily, most fans would disagree with Rudd's manager, which is why it has become such a beloved part of the film, as has the character of Josh in general. Still, Rudd felt the pressure. "It's a weird job when you're hired and part of your job is to kiss somebody," the actor continued.
And on top of all that, there was the added factor that Silverstone was best-known at the time for starring in a trio of Aerosmith videos in the early '90s, namely "Cryin'," "Amazing," and "Crazy." Rudd concluded, "I was very aware I was kissing the girl from the Aerosmith videos and that there was gonna be a lot of who were gonna be very jealous of me."