Alicia Silverstone Thinks Clueless' Cher Was Perfect For Rakuten's Super Bowl 2023 Commercial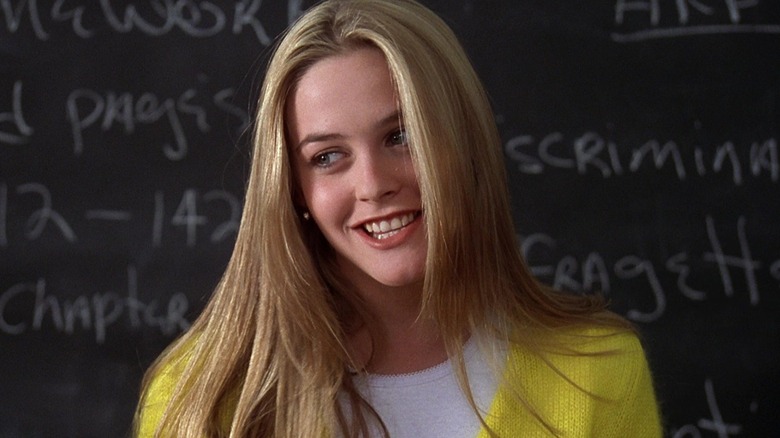 Paramount Pictures
For any Gen X-er or Millennial reminiscing about cinema of the '90s, Amy Heckerling's high school comedy romp "Clueless" likely comes to mind. The movie is a modern take on Jane Austen's 19th-century novel "Emma," with Cher Horowitz (Alicia Silverstone) adding a mid-'90s Californian teen spin to the classic female protagonist matchmaker. The movie became known for its witty and sardonic screenplay, including unmistakably unique dialogue that has lived on through the years. The film's cast includes memorable performances from Stacey Dash (Dionne Davenport), Paul Rudd (Josh Lucas), and the late Brittany Murphy (Tai Frasier) in addition to Silverstone's influential role.
Silverstone told Vogue in 2020 that, at first, she found Cher to be "materialistic and unappealing. And really annoying, to be honest ..." However, upon further reflection, she "found all the heart and the love" inherent to Cher's personality. Anyone who is a fan of the film can easily feel the same way, which imparts an important message of overcoming preconceived notions about people. It is this timeless and endearing quality that has made both Cher and the feature endure over a quarter of a century later, as Silverstone is reprising her role for a 2023 Super Bowl commercial. And Silverstone recently shared how featuring Cher was perfect for the brand Rakuten, and it's easy to see why.
Silverstone says Rakuten's incentives for shopping would appeal to Cher
For Super Bowl LVII, the shopping brand Rakuten has produced a commercial that features both Alicia Silverstone and Elisa Donovan (Amber Mariens) in character from 1995's "Clueless." For those long hoping that Silverstone would reprise her role as Cher, this is the moment fans had been waiting for. The ad recreates the scene from the film where Cher and Amber have a debate in civics class — this time the topic is shopping and the savings and incentives Rakuten offers for its members. Silverstone spoke to Entertainment Weekly where she revealed her feelings about filming the commercial and reapproaching Cher Horowitz 28 years later.
The actor declared that she felt great about reprising the part of Cher, due in no small part to the fabulous clothes that came with the opportunity. She then shared that she believes Rakuten is a great match for the character thanks to Horowitz's love of designer clothes seen in the movie. Silverstone commented, "She's one of film's most historic shopaholics ... So the idea that she would be able to use this app would be the greatest hack ever. Getting cash back on all your shopping? I just feel like she'd want everyone in the world to know that."
For those wishing to revisit or experience the comedy for the first time, "Clueless" is currently available to stream on Paramount+.