Aquaman: First Footage Unveiled At CinemaCon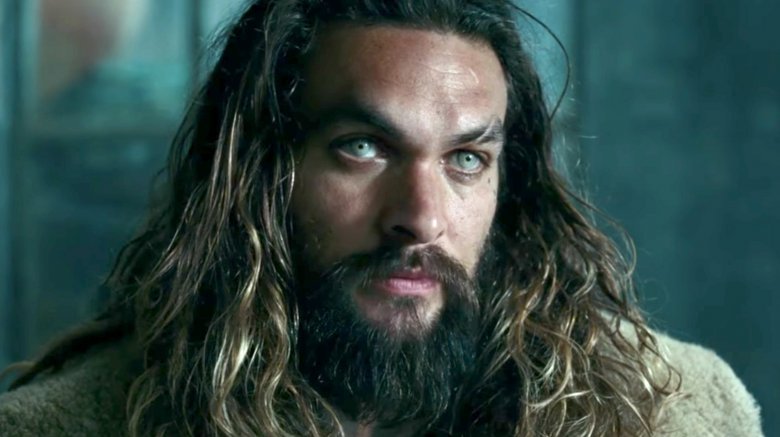 Aquaman made major waves this week at CinemaCon in Las Vegas. During Warner Bros.' film slate presentation at the event, the studio unveiled the first footage for the upcoming James Wan-directed standalone.
Though fans at home haven't yet been lucky enough to see the footage with their own eyes, industry insiders who attended CinemaCon (like those with The Hollywood Reporter) have had that good fortunate, and have relayed information juicy enough to tide everyone over until an official trailer is released. 
According to THR, the footage includes Jason Momoa's Aquaman ripping a submarine out of the water, shots of Atlantean skyscrapers (which would perhaps be more appropriately named surface-of-the-water-scrapers), and peeks at creatures that are being described as "shark horses." The villains of Aquaman — Yahya Abdul-Mateen's Black Manta and Patrick Wilson's Ocean Master, otherwise known as Orm, Aquaman's half-brother — pop up as well. Sprinkled throughout the clip were some choice one-liners like "I'm a blunt instrument, and I am d***ed good at it" and "The war is coming to the surface and I am bringing the wrath of the seven seas with me!"
"I didn't want to bring anything, but they made me," Wan laughed before unveiling the clip. Afterward, he was adamant about ensuring viewers understand that the footage isn't a studio-approved-and-packaged trailer; rather, it's a work-in-progress bundle of scenes from Aquaman. In any case, the CinemaCon footage is the first-ever glimpse of the film, as Warner Bros.' hasn't rolled anything out — especially not in-motion promotional material like a teaser trailer — before now.
As for why it has taken so long to see anything from Aquaman, Wan previously explained that he was waiting for the VFX on the film to be complete before he and Warner Bros. released anything. 
"Hey friends, I usually do my best to avoid internet noises (especially fabricated distractions), but a teaser trailer going out this weekend was never in the books — despite what some claim. It's not because of anyone or any nefarious reason holding it back — IT'S ME," Wan said in a series of tweets back in March. "I am simply not ready yet to share. This movie is filled to the gills with VFX, and the process is as slow and laborious as a sea-slug! Yes, even shots for the trailers take forever to do, and I refuse to put out anything that might be construed as subpar. I know it seems like nothing much is brewing above the surface, but I can assure you, we're working nonstop under the waves. (PS: And yes, I plan to use oceanic puns/references every chance I get)."
Based on the footage descriptions, it seems Wan, Warner Bros., and DC Films have a potential hit on their hands with Aquaman. We'll know for sure when the flick splashes into cinemas on December 21.