A Spartacus Sequel Series In The Works At Starz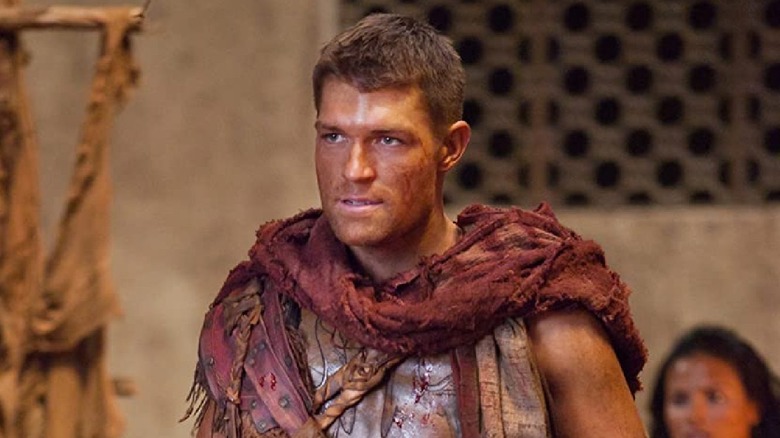 Starz
The Starz series "Spartacus" premiered at a time when historical TV epics were both interesting and barbaric. Originally led by late actor Andy Whitfield, the 2010 debut season of Steven S. DeKnight's "Spartacus" franchise still gets talked about to this day — with television fans longing for a proper follow-up since the show ended in 2013. Well, according to reports, that day has finally come. "@spartacus_starz is coming back LFG!" wrote Twitter user @Titancrazy1992. 
On Thursday, February 9, Starz announced that it will revive its "Spartacus" franchise with a brand new show from DeKnight. The original series creator will serve as an executive producer and showrunner on the project, which will be set after Spartacus' defeat in the third season, "Spartacus: War of the Damned." A statement released by Starz president of original programming, Kathryn Busby, said, "It has been over a decade since 'Spartacus' delighted international audiences and we are thrilled to reimagine and expand this gripping, action-packed drama for our viewers today." 
Busby added, "'Spartacus' has deeply invested fans who are eager for its return, and we look forward to working with Steven on this exciting next chapter." As for what the new "Spartacus" series will actually be about, Starz released a short description online of what fans can expect.
Spartacus fans promised 'treachery, deceit, and blood' in new show
According to Starz, "Spartacus" fans are in for a bloody and drama-filled treat when the new show comes out. In addition to exploring the aftermath of the defeat of Spartacus and his rebel army, the series will also supposedly take a deep dive into Rome's inner workings and corrupt underbelly. "The show will explore uncharted territory and new journeys of the original series' iconic characters," Starz said in its announcement. "The drama will depict a new tale of treachery, deceit, and blood unfolding beneath the foreboding shadow of Rome," the network added.
The original "Spartacus," which came out in 2010, told the story of Rome's titular Thracian gladiator — played by Andy Whitfield in the first season, "Blood and Sand" — as he orchestrates his famous slave uprising. After Whitfield's death from cancer in September 2011, Starz decided to keep his legacy going with several more iterations of the series, including a prequel titled "Spartacus: Gods of the Arena." Actor Liam McIntyre was tasked with replacing Whitfield in the second and third seasons of the show. Steven DeKnight led things the entire way and said Thursday he was ecstatic to be back. 
"It's such an incredible honor to be invited to return to the world of 'Spartacus' and to be met with unbridled creative support from my colleagues at Starz and Lionsgate," DeKnight said in a statement. "Together we are crafting something truly unique and unusual for the next chapter in this epic story."