Austin Powers 2's Amazing Burt Bacharach Moment Was Born From Pneumonia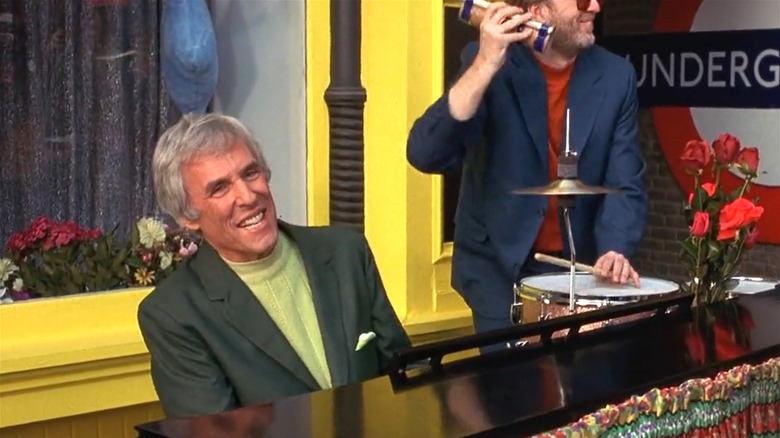 New Line Cinema
Legendary film composer and pianist Burt Bacharach may have been best known for his music career — which earned him Grammy Awards and spanned multiple decades — but to "Austin Powers" fans, he was one of the movie franchise's most iconic running gags.
"I never saw it coming," Bacharach told Page Six in November 2021. "Mike [Meyers] and Jay [Roach] had me over and said, 'We're bringing you to Las Vegas and you'll stay one night and we'll do this one thing.' And low and behold Austin Powers became a huge hit."
Bacharach, an acclaimed songwriter and piano player, helped pen and put out some of music's most widely beloved hits. This includes songs like 1969's "Raindrops Keep Fallin' on My Head" by B.J. Thomas and "That's What Friends Are For," which was most famously performed by Dionne Warwick, Stevie Wonder, Elton John, and Gladys Knight as a way to raise money for the American Foundation For AIDS Research (via People Magazine).
Warwick and Bacharach were reportedly longtime friends outside of the entertainment business, and it was actually Warwick who was the voice behind one of the most recognizable songs from the "Austin Powers" films – "I'll Never Fall in Love Again" from "Austin Powers: The Spy Who Shagged Me," which Bacharach performs with Elvis Costello. It turns out, were it not for a bout of pneumonia, Bacharach may have never written the classic tune for Austin Powers and Felicity Shagwell (Heather Graham) to randomly dance to.
Bacharach wrote I'll Never Fall in Love Again after spending a week in the hospital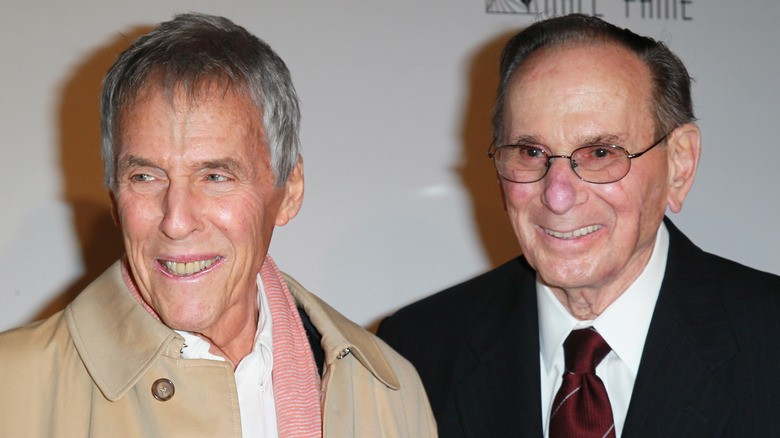 David Livingston/Getty Images
In a 2015 interview with The Guardian, Burt Bacharach recalled how he was forced to write "I'll Never Fall in Love Again" with lyricist and longtime collaborator Hal David after spending a week in the hospital fighting pneumonia. The pressure of being told by his producer at the time to get a song done or face being fired had prompted the musical guru to conjure something up quickly, noting how his hectic health situation had somehow helped spark a flash of creative genius. 
"We were doing a show in Boston and I got pneumonia," Bacharach explained. "We had good reviews, but there was work to be done and I felt like s***. I was put in Massachusetts General and was there nearly a week. The producer was a son of a b****. Really tough guy. He just said: 'How long is he going to be in hospital? ... If he's not functioning in a week, I'll bring in another writer.'" Not knowing what to do, Bacharach decided to just suck it up and come up with something as quick as possible. "I got out and I went back to the hotel with Hal and wrote the song in maybe three hours," he said. "That's how Hal got that line: 'What do you get when you kiss a guy / You get enough germs to catch pneumonia / And after you do, he'll never phone ya.'" 
Bacharach, who also won Academy Awards for his work on the 1969 film classic "Butch Cassidy and the Sundance Kid," died on Wednesday, February 8, at his home in Los Angeles, California. He was 94.