You Season 4 Has Critics Overwhelmingly Unimpressed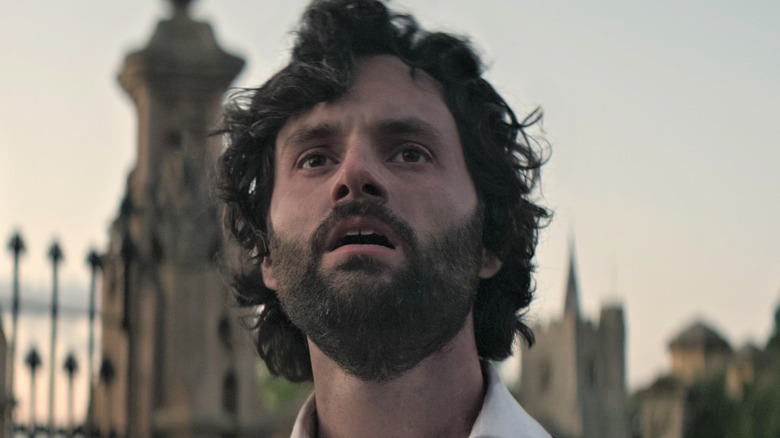 Netflix
"You" Season 4 – Part I has finally debuted on Netflix, and the reviews are a little less than romantic.
Though it began with a 100% score on Rotten Tomatoes, that number has steadily dropped as more critics put their thoughts onto paper – as of writing, it sits at an ominous 80% (the lowest score a season of "You" has ever had). The sleeper hit has apparently reached inevitable bloat for some viewers, who struggle to swallow Joe Goldberg's (Penn Badgley) latest adventure.
Picking up where Season 3 left off (with Joe presumed dead, but in reality en route to Europe chasing Marienne, played by Tati Gabrielle), "You" Season 4 takes a massive swing by switching genres, casts, and settings. It's a bold play – arguably bold enough to be commended in theory. In execution, however, what should have proven "You's" potential has only made obvious its limitations.
Hearts of Darkness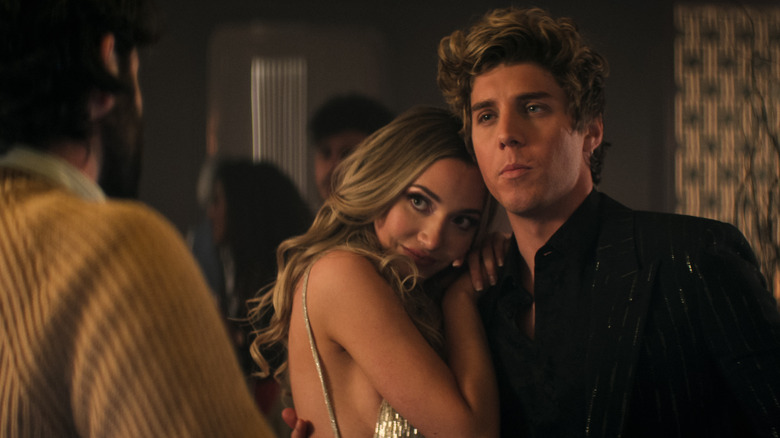 Netflix
Historically, "You's" thematic saving grace has been its supporting cast, who balance out or provide context for Joe Goldberg's unforgivable acts and occasionally grant reprieve from the series' darker storylines. But where Season 2 had the biting commentary of Jenna Ortega's Ellie, or Season 3 had the arresting tension of Victoria Pedretti's Love Quinn, Season 4 has no such shining stars.
"There's a slew of new faces, yes," writes the A.V. Club's Saloni Gajjar, "but all of them are haphazardly introduced in a rushed premiere." Season 4 develops Joe's new social circle, comprised entirely of wealthy British elites – or, as the Telegraph's Michael Hogan describes them, "home-grown" actors "trying not to look embarrassed."
For CNET, Jennifer Bisset described Charlotte Ritchie's "obscenely rich heiress," Kate, as unrelatable and remote, noting, "Both Guinevere Beck and Love Quinn (to begin with) were at least somewhat recognizable millennials with dreams and hopes. Everything disturbing that happened to them was a flame that burned close to your own skin."
The season's central antagonist drew similar comparisons to Love, with TV Guide's Maggie Fremont writing, "Joe and Love's relationship made their psycho-killer back-and-forth more complex and interesting, and Love's impulsivity kept Joe on his toes, giving that season an energy that is lacking with this anonymous "Eat the Rich" killer ... Even a reveal late in Part 1 isn't the most shocking and leaves a lot to be desired."
Tilly Keeper's Lady Phoebe appears to be the season's standout new addition to several critics, however, with Gajjar calling her "hilarious." Gajjar also praised Lukas Gage's turn as Adam, though she felt the character was "one-note."
Great Appropriations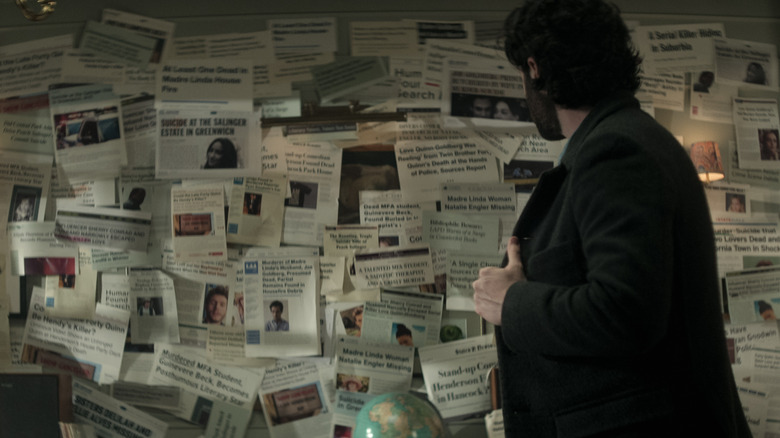 Netflix
The characters of "You" Season 4 weren't the only ones drawing unflattering comparisons from critics. Apparently, many reviewers felt the writers were coming far too close to popular projects that had come before, leaving them with nothing but a disappointingly familiar taste in their mouths.
In her three-star review for The Guardian, Rebecca Nicholson wrote that the murder mystery angle as a whole "suffers a little under the weight of comparison," given that "You's" swing toward a "self-aware," Agatha Christie-esque storyline doesn't come near Rian Johnson's "Knives Out" films. USA Today's Kelly Lawler felt the season's attempts at social commentary were similarly ill-fated due to an abundance of "classist satires," further asserting that HBO's "The White Lotus" and the 2022 film "Triangle of Sadness" had "taken on the wealthy with sharper knives and more to say than 'You,' which points at its mustache-twirling villains and can only lamely attempt to laugh."
Even less-revered works damped "You's" fun. Both Saloni Gajjar and Lawler felt the killer's "text-happy" methods were reminiscent of "A," the mysterious antagonist of Freeform's "Pretty Little Liars" series. Lawler specifically called the conceit "tired and contrived."
A Tale of Two Parts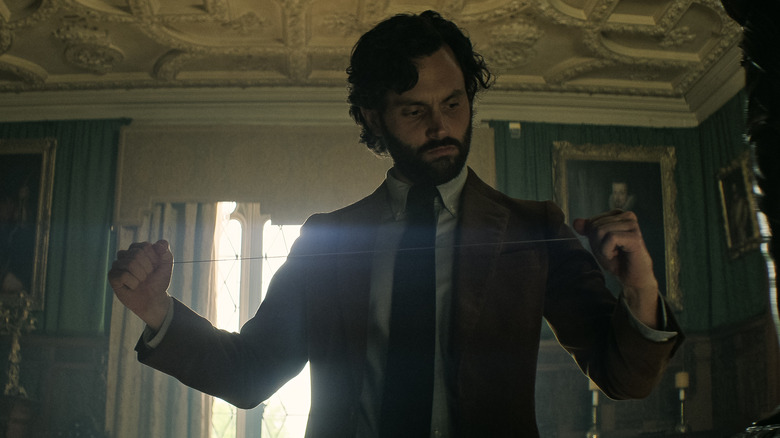 Netflix
As they did with "Stranger Things" in 2022, Netflix seemingly hoped to use "You" – one of its most popular series – to keep subscribers on board for a more extended period by releasing it in two monthly drops. Though this strategy may momentarily stop "You" fans from jumping ship amid Netflix's confusing and expensive password-sharing update, critics feel it hasn't done Season 4 any favors.
Saloni Gajjar and Jennifer Bisset wrote that Season 4 – Part I was underwhelming as a collective first installment, with the extended length and period of waiting straining the story's credibility for Gajjar in particular. She also lamented the season's pacing and the amount of exposition taking up Part I's runtime, feeling that it was all set up for the upcoming Season 4 – Part II.
While Bisset does praise Part II as a worthy conclusion to everything introduced in the season's first five episodes, CNN's Brian Lowry was far less approving. "It's during the second half," he writes, "when the story begins going off the rails, as the writers unleash developments that undermine the tantalizing place where the midseason break leaves off."
You's London, or There and Back Again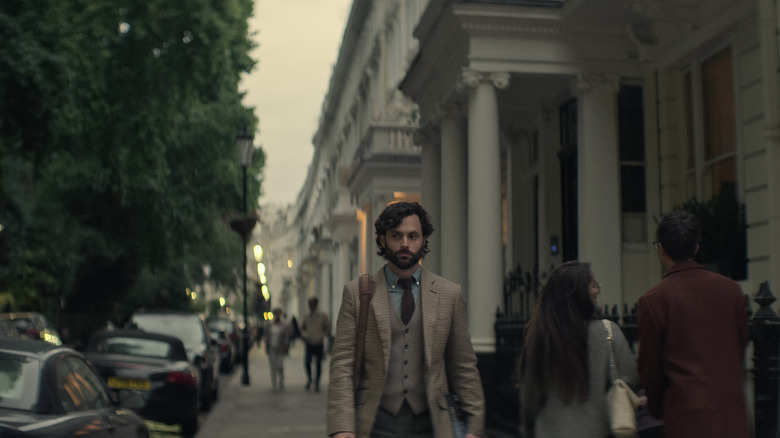 Netflix
Many critics lightly criticized "You's" use of London, with British critics, in particular, refusing to hold back their semi-playful frustrations.
"Worryingly for us Britons," writes Michael Hogan, "[Joe has] moved to London, masquerading as a literature professor. This cunning disguise involves wearing tweed jackets and occasionally quoting Edgar Allen Poe." Nicole Vassel of The Independent called "You's" locale "a hilariously unrealistic depiction of London." At the same time, Hogan described it as "Richard Curtis-fied" (numerous publications made snarking comparisons to "Love Actually," as well as "Notting Hill"). Rebecca Nicholson gave the season a mock trigger warning for "British viewers sensitive to geographical liberties being taken by American series."
"[N]ot only does Joe end up posing as a professor on a vast university campus that seems to be inside Spitalfields market," she continues, "but also we see a brief establishing shot of a part of London that looks suspiciously like Oxford. Don't get me started on the efficiency of his walking routes, or the fact that no one goes into a pub in England and sits at the bar, alone, drinking neat whisky." Hogan echoed her sentiments, noting that "the way that Joe can turn a corner in east London and suddenly be in Piccadilly will give geographical pedants conniptions." He did admit, however, that the show's "barbed wit" allowed "You" to get away with "such implausibilities and the odd tasteless flourish."
The Apes of Class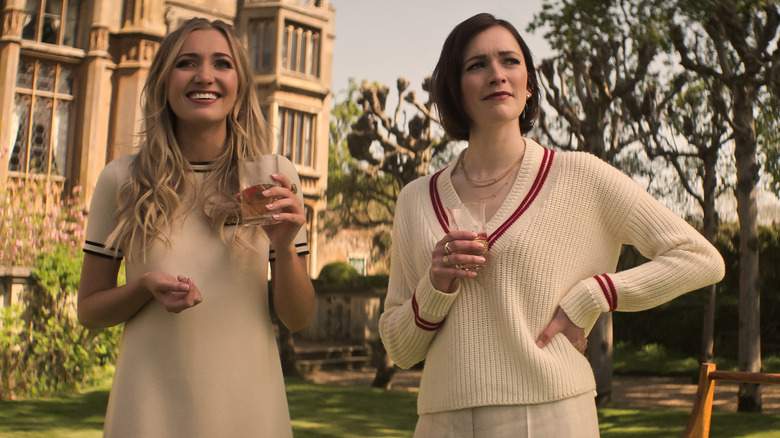 Netflix
While "You's" London adventure may include innocuous geographical errors, its attempts at regional social-cultural commentary were harder to excuse for most critics. Though "You" successfully skewered east coast academics, Hollywood hustlers, and suburban resignees, it fails to strike the same relevant chord against London's elite.
"['You'] feels a little adrift in London," writes Rebecca Nicholson. "What is it trying to satirize here? With varying degrees of success, I think it is having a pop at the British class system, which is a surprise for those of us who weren't expecting such a frothy thriller to turn into a Crass album."
Kelly Lawler felt that Joe's new circle of friends were mere caricatures of aristocracy – like many reviewers, she found the humiliating croquet sequence to be particularly silly, stating that, in moments like this, "satire gives way to cartoonishness." Michael Hogan found the dialogue to be "hammy" and verging on "self-parody," while Nicole Vassel felt the season lacked nuance even by "You's" standards.
The Great Badgley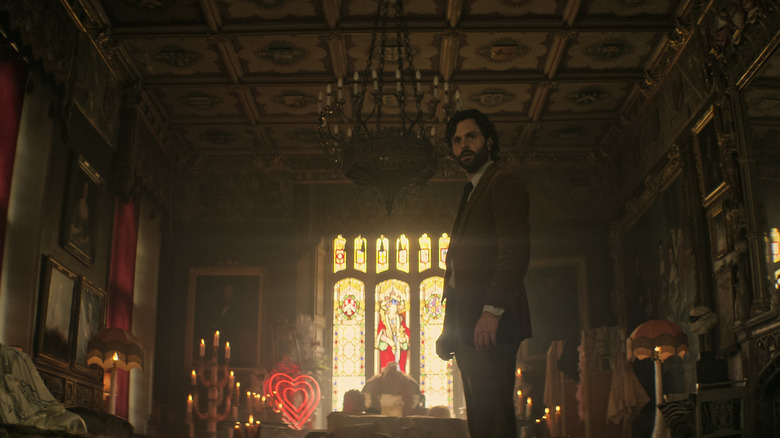 Netflix
"You" hasn't lost all of its magic during its fourth outing, however, largely thanks to Penn Badgley (who doesn't think "You" will go beyond five seasons) and his reliably charismatic and horrifying performance as the serial killer with a heart of gold, Joe Goldberg. In fact, many reviewers felt that his talents kept the show entertaining despite its writing and direction.
"Yet by sheer force of charisma and a salesman's chutzpah," admitted Michael Hogan, "Badgley somehow makes ['You'] addictively watchable." Brian Lowry heaped similar praise upon Badgley's Season 4 efforts, writing, "Badgley remains a hoot as the quick-witted psychopath who's a fool (and occasionally a murderer) for love, stumbling from one perilous situation into the next."
Maggie Fremont and Kelly Lawler crowned Badgley as the show's prominent "anchor," with Lawler calling him "unsettlingly charming." Though Rebecca Nicholson thought Season 4's premise paled in comparison to other "cleverer" projects, she acknowledged, "When it works, it works because Badgley is charismatic and the show is brash enough to drop a decent number of plot twists into every episode."
Unfortunately, it seems as though no one believes Badgley's charm alone can keep this show going for much longer.
A Clockwork Netflix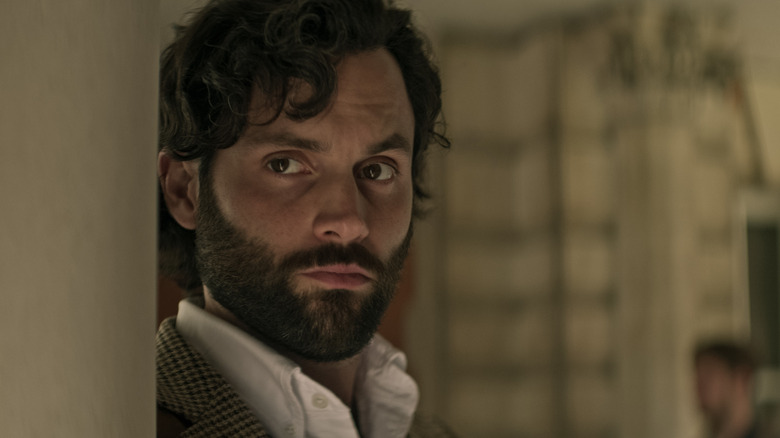 Netflix
To some critics, Netflix seems adamant on marching forward with "You" as a proven money-making machine, perhaps even already extending the lifespan of this show beyond what it can sustain in terms of quality. In Season 4, the cracks of this overextension are already beginning to show for these reviewers.
For Saloni Gajjar, each "You" outing requires further suspension of disbelief and offers less in the way of engaging future possibilities: "At this stage, 'You' has to work hard to justify its existence, subvert its own structure, and explain how Joe keeps getting away with his many crimes ... with the number of bodies he leaves behind every time he runs, how long can this go on?" Brian Lowry describes "You" Season 4 as a "highwire act" on a rope that "looks seriously frayed." Similarly, Kelly Lawler painted the series' descent into absurdity as a necessary "balancing act" that has unfortunately begun reducing the plot to a "sinister to soap opera."
Conversely, Maggie Fremont feels that the series has aged like a fine wine and that its sense of humor "has never been as laugh-out-loud funny as it is in Season 4." Rebecca Nicholson somewhat neutrally offers that, this far down the line, "Whether 'You' is any good or not is almost beside the point ..."
On the whole, however, the feeling is that "You's" (potential) fifth outing needs to be it's last. "[I]t feels like time for [Joe to have] a heart-to-heart talk with himself about finding a way out of this story while the getting's still good," writes Lowry. "In a twisted sense, Joe's arc lands in relatable places," lends Jennifer Bisset, "but getting there is a long, uneven journey. Maybe, just maybe, we're getting close to hanging up the baseball cap." Meanwhile, Nicole Vassel states bluntly: "Ultimately, the audience won't feel satisfied unless Joe's luck finally runs out."