Harrison Ford's Idea Of Hollywood As A 'Fictional Place' Is Truer Than Ever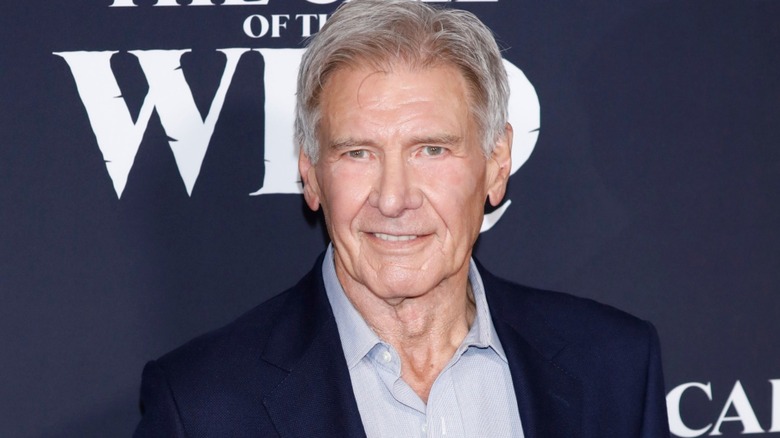 Kathy Hutchins/Shutterstock
The age of the movie star may have been replaced by infinite streaming services, but everyone's favorite straight-shooting actor is doing better than ever. Harrison Ford is one of those names that will stand the test of time. Ford has not only portrayed multiple beloved film characters, but he also never seems to be a Hollywood creature. The "Star Wars" alum keeps a permanent residence in Jackson Hole, Wyoming, on a little ranch with his wife, Calista Flockhart. He flies his personal planes and doesn't feel the need to take an endless stream of roles.
That has only recently seemed to change. Ford stepped back into the spotlight this year when he joined Helen Mirren in the highly anticipated "Yellowstone" spin-off, "1923." The series explores a new generation of Duttons as they attempt to secure their Montana ranch. Ford is also on the opposite side of television programming in the AppleTV+ comedy, "Shrinking." The series stars Jason Segel as Jimmy, a therapist trying to process his grief while helping patients with theirs. Ford's praise-worthy curmudgeon, Phil, is a highlight of the series, paired with the actor's brash comedic style. But even with this newfound success, Ford continues to be unapologetically who he is — especially when it comes to his opinion about Hollywood.
The entertainment industry has spread all over the country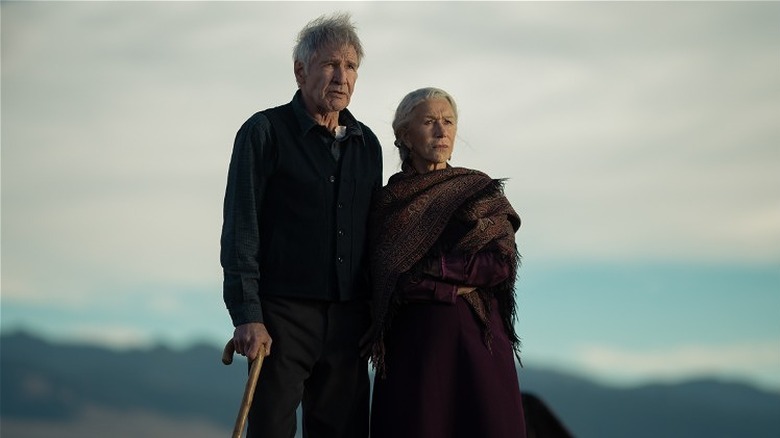 Christopher Saunders/Paramount+
Harrison Ford's upcoming movie credits are just as exciting as his small-screen endeavors. The actor will be reprising his role as Indiana Jones in the Phoebe Waller-Bridge penned "Indiana Jones 5," as well as portraying the new face of Thunderbolt Ross. When speaking to The Hollywood Reporter, the publication noted the uptick in Ford's onscreen performances. Ford didn't feel the need to flood the market with movies. Instead, he picked the projects he wanted and didn't need to have a home base in Hollywood.
"Once people are established to a certain degree, they don't have to be at a roll call in Hollywood — which is a fictional place, anyway. This is Los Angeles. We call the movie business 'Hollywood,'" Ford said. "But the movie business is everywhere now. It's in Atlanta. It's in New Orleans. People are building studios in Montana with a big investment." Filming "1923" on location is one example of this. Per Esquire, showrunner Taylor Sheridan has a particular disdain for Hollywood culture. Filming in Montana adds to production value and allows "Hollywood" to become less of an insider business. Atlanta has been a hotbed of filming activity due to tax breaks, with large properties like "The Walking Dead" choosing to film there (via Time). If it continues to go this way, more creatives will be able to pick and choose their projects, just like Ford is doing now.