Burt Bacharach Launched His Career With A Banger Horror Movie Theme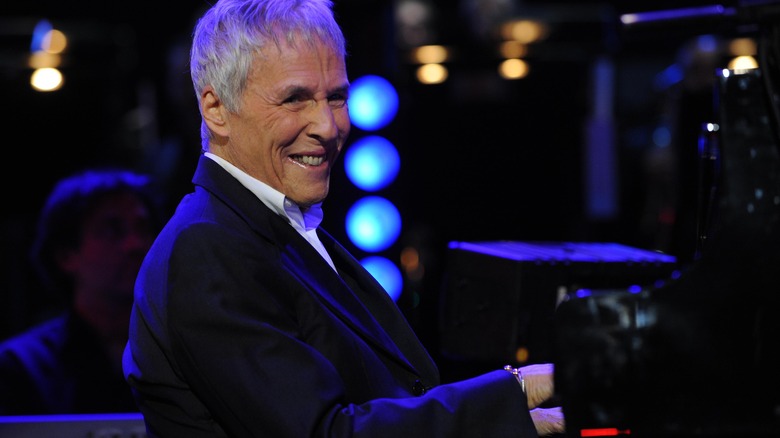 Brian Rasic/Getty Images
Hollywood is mourning the loss of prolific songwriter Burt Bacharach, who passed away Wednesday, February 8, 2023, at age 94 of natural causes. Bacharach's expansive list of songs was often featured in films, earning the composer multiple Oscar nominations that yielded two statuettes. His auspicious movie music debut, however, came in 1958 with the theme of a campy Steve McQueen sci-fi horror thriller.
Bacharach, of course, was long-established as a songwriter before audiences were able to spot the legendary composer on the big screen for a few rare cameos in Mike Myers' "Austin Powers" films. In addition to featuring such Bacharach and Hal David hits as "What the World Needs Now" in "Austin Powers: International Man of Mystery, "I'll Never Fall in Love Again" in "Austin Powers: The Spy Who Shagged Me," and "Alfie (What's It All About, Austin?)" from "Austin Powers in Goldmember," Bacharach appeared as himself in the three films.
However, Bacharach was largely known for his behind-the-scenes work with his movie soundtrack compositions, which earned him five best original song Oscar nominations overall. He took home trophies for his work as a co-writer for "Arthur's Theme (Best That You Can Do)" from the 1981 film "Arthur," and "Raindrops Keep Fallin' on My Head" from 1969's "Butch Cassidy and the Sundance Kid." Eight years before his first Oscar nomination — for co-writing the classic Tom Jones hit "What's New Pussycat?" from the film of the same name — Bacharach took advantage of an opportunity to break into the movie business in a genre you wouldn't expect.
Burt Bacharach's first film composition was the Title Theme from The Blob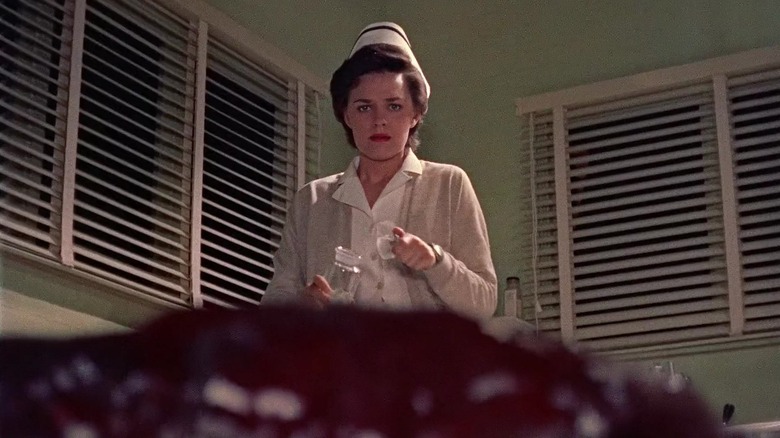 Paramount Pictures
A few years before legendary actor Steve McQueen rose to prominence with roles in such film classics as 1960's "The Magnificent Seven," 1963's "The Great Escape," and 1968's "Bullitt," the actor, aka "The King of Cool," starred in "The Blob" — a 1958 B-movie where a red mound of alien goo attacks a small town and grows larger with every human it consumes. The film's beach movie-like opening number, simply dubbed "Title Theme," marked Burt Bacharach's movie music debut, even though, according to IMDb, he was not credited in the film for writing it.
"Title Theme," also known as "The Blob" — performed, appropriately, by The Five Blobs — no doubt seems like an odd fit for a sci-fi horror film, as Song Facts observed in its summary of composition: "'The Blob' was a legitimate horror movie, at least by 1950s standards, but the song is a bouncy number that seemed to poke fun at the movie, almost anticipating the cult status it would attain many years later."
Bacharach isn't the only iconic composer who cut his teeth on horror movie themes early in his career. Prolific Oscar-winning composer Henry Mancini — who co-wrote such songs as "Moon River" from the Audrey Hepburn classic "Breakfast at Tiffany's" and "The Pink Panther Theme" — was one of the co-writers of the theme for the 1954 horror classic "Creature from the Black Lagoon," according to CBR.