Burt Bacharach's Austin Powers Cameos Served As The Spy's Best Running Gags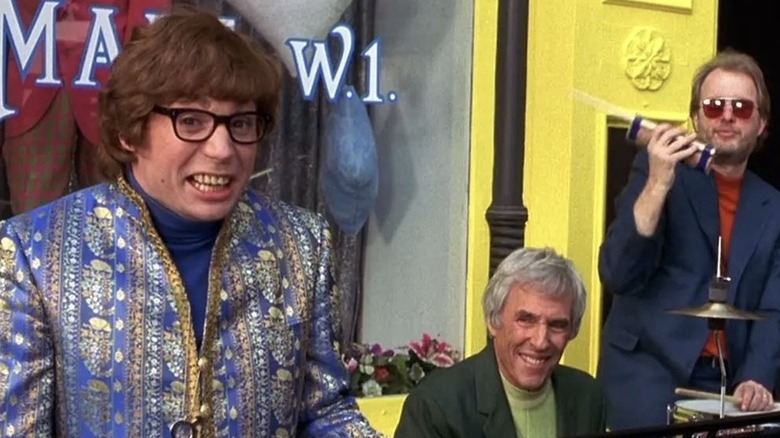 New Line Cinema
Following the news of his death at age 94, songwriter Burt Bacharach leaves behind an incredible legacy in the field of popular music, having composed countless tunes that remain popular and well-known earworms today. Many of those songs were composed specifically for use in feature films and on television, and one underrated component of Bacharach's body of work comes in the form of a running gag from the "Austin Powers" franchise that you might have forgotten about.
If you haven't recently watched either "Austin Powers: International Man of Mystery" or its two sequels, "Austin Powers: The Spy Who Shagged Me" and "Austin Powers in Goldmember," you might not remember that Bacharach makes a musical cameo appearance in every "Austin Powers" movie, all as himself.
Bacharach's association with the "Austin Powers" films may seem like an absurd non-sequitur, but given his music's importance in the titular spy's 1960s heyday, as well as Bacharach's own score for the 1967 spy spoof "Casino Royale" (which includes one of Bacharach's most beloved songs, "The Look of Love"), it makes a lot of sense.
Bacharach appears briefly in every Austin Powers movie
As he's one of the most prolific and significant composers of popular 20th-century music, Burt Bacharach's influence on popular culture in general can't really be overstated. But his particular heyday was probably the 1960s, also known as the magical period when superspy Austin Powers (Mike Myers) gets frozen and then reanimated 30 years later in "Austin Powers: International Man of Mystery." In that film, Bacharach appears on top of a double-decker bus, complete with a piano, to aid in Austin's wooing of Vanessa Kensington (Elizabeth Hurley) with a rendition of his classic "What the World Needs Now Is Love."
Austin uses the same trick in "Austin Powers: The Spy Who Shagged Me," this time with Felicity Shagwell (Heather Graham), and Bacharach is joined by Elvis Costello for a performance of "I'll Never Fall in Love Again."
Bacharach is sometimes mistakenly thought to be missing from the series' third and (so far) final installment, "Austin Powers in Goldmember," but he actually does make a very brief on-screen appearance at the very end of a montage, set once again to "What the World Needs Now Is Love," during the film's closing credits.