Chicago PD's Cast Hypes Jesse Lee Soffer Up As He Makes His Directorial Return
It's been a while since "Chicago PD" star Jesse Lee Soffer finally took his leave from the procedural series, but the absence still stings for some fans. Detective Jay Halstead's exit from "Chicago PD" had fans livid for what they viewed as a poor send-off for a character they had known for 10 seasons. While Halstead's shadow still looms large over the show, especially with regard to Detective Upton (Tracy Spiridakos) and her struggle to maintain a long-distance marriage to the man, Soffer's departure nonetheless has left a hole in the show's cast. Still, many "Chicago PD" fans held out hope for a possible Soffer return, and it seems their wish has finally been granted...kind of.
Soffer is returning to "Chicago PD," but not in the way fans may have expected. As it turns out, the star is directing an upcoming episode of Season 10, which will mark his directorial debut for the series (via Variety). That's nonetheless some reason for excitement from the show's fanbase, but viewers aren't the only ones stoked for Soffer's return. Several members of the "Chicago PD" cast have also taken to social media to celebrate the former lead's new directorial outing, and to hype fans up for what's to come in the future episode.
Chicago PD is happy to have Soffer direct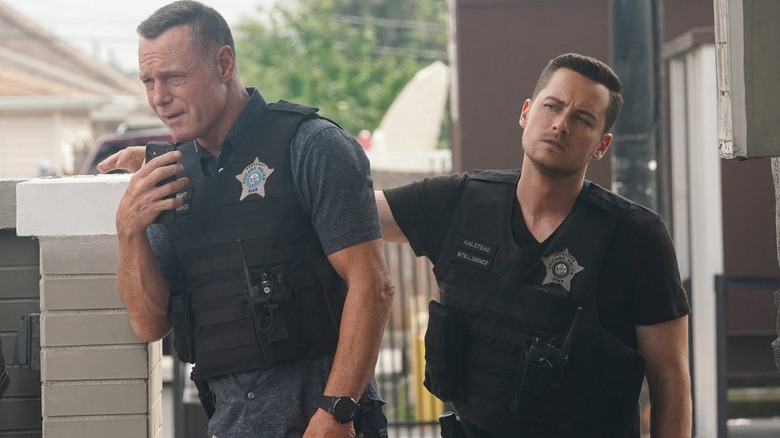 Lori Allen/NBC
On her official Instagram account, Tracy Spiridakos shared several behind-the-scenes photos from Jesse Lee Soffer's directorial return to the "Chicago PD" set. The set includes a picture of her, Soffer, and co-star Jason Beghe smiling in a car, along with several other glimpses into Soffer's directing experience. Spiridakos captioned the post: "Director Jesse made his debut, and he killed it you guys! We are all so proud."
Spiridakos wasn't the only "Chicago PD" mainstay to lavish praise on Soffer's directing skills. Several of the actor's former co-stars also commented on his own behind-the-scenes Instagram post. "He's soooooo good at it!" Marina Squerciati wrote. Even some actors from the other "One Chicago" shows got in on the action. Daniel Kyri, cast member of "Chicago Fire," commented a hearty "Eyyyyyy" along with several clapping emojis.
While the "Chicago PD" cast is clearly thrilled for Soffer's brief return, there's some details about the actor's directorial episode that remain undisclosed. Most importantly, there's no indication whether Soffer's Halstead will appear on-screen at all, or if he'll firmly stay in the directing chair. If he does guest star, it could help alleviate viewer's frustrations about Halstead's disappointing character arc that's been playing out since he left. Fans thankfully won't have to wait long to find out either way, as Soffer's installment is the imminent 16th episode of Season 10 (via NBC Insider).