Moon Girl And Devil Dinosaur Star Fred Tatasciore Recalls The 'Wacky' Time He Voiced Samuel L. Jackson - Exclusive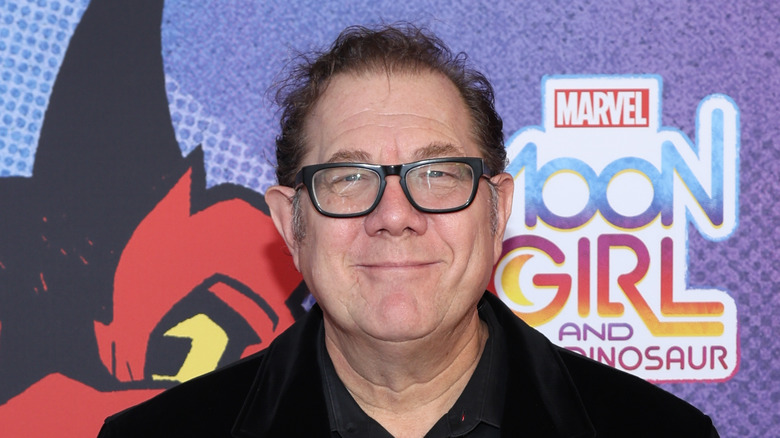 Steven Simione/Getty Images
Prolific voice actor Fred Tatasciore has racked up an astonishing 900-plus roles in film, TV, and video games since his career kicked off more than four decades ago, so it shouldn't come as a surprise that he can't easily pinpoint which particular turns stand above the rest. However, since one of those voice roles was for "South Park" creators Trey Parker and Matt Stone, it's more top of mind for Tatasciore since it was so different than anything else he's done.
Tatasciore's latest voice role is of the titular Devil Dinosaur opposite Diamond White's Moon Girl in the new Disney Channel animated series "Moon Girl and Devil Dinosaur," which will also soon debut on Disney+. Moon Girl is also known as Lunella Lafayette, a genius 13-year-old whose superpowers stem from the use of her brilliant brain, who works to save her community in New York City's Lower East Side. Moon Girl's sidekick is Devil Dinosaur, a large but lovable Tyrannosaurus rex she accidentally transported into her world through a time vortex.
Tatasciore is no stranger to taking on Marvel roles, having voiced several of the legendary comic book brand's animated TV adaptations as well as video games. Some of Tatasciore's parts involved Marvel stalwarts such as the Hulk, Red Hulk, and Ben Grimm in the animated series "Avengers: Earth's Mightiest Heroes," as well as Sabretooth, Juggernaut, and Magneto for the video game "X2: Wolverine's Revenge."
And while Tatasciore has not voiced Samuel L. Jackson's version of Marvel legend Nick Fury, he oddly enough voiced Jackson the actor for Parker and Stone in one of their creative expeditions outside of "South Park."
Parker and Stone were 'a joy to work with'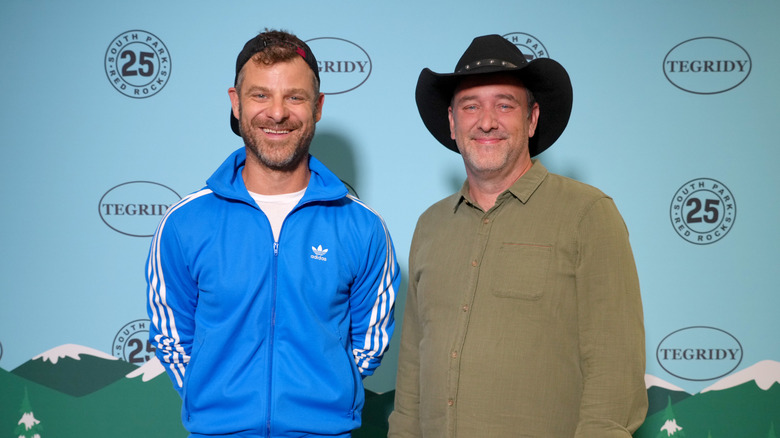 Kevin Mazur/Getty Images
During an exclusive interview with Looper to discuss his role in "Moon Girl and Devil Dinosaur," Fred Tatasciore recalled his work on Trey Parker and Matt Stone's 2004 comedy hit "Team America: World Police," a "Thunderbirds"-inspired comedy created through the use of marionette puppetry.
Not surprisingly, Parker and Stone lampooned several Hollywood celebrities in "Team America," including George Clooney, Michael Moore, Matt Damon, Danny Glover, and Alec Baldwin. While Parker and Stone handled the majority of the celebs' impressions, Tatasciore was brought in to voice the role of Samuel L. Jackson. Tatasciore said he wouldn't describe the request to voice the film star as "strange," but more "crazy" and "wacky."
"It wasn't the strangest request for a voice role because back then, I was doing a lot of voice matching for everybody. There's a rhythm to that," Tatasciore explained. "The project itself was crazy. I love [Parker and Stone's] work, but I had no idea how far that was going to go and the music and everything. They did such a great job. It was one of the wackier projects. They're [the type of people where if you do] something for them and they like it, they laugh and they move on. They were a joy to work with. That was not a wacky request — just a wacky project, period."
Tatasciore wants Samuel L. Jackson's Nick Fury in Moon Girl
Fred Tatasciore said he's never heard from Samuel L. Jackson about doing the voice impression of him in "Team America: World Police," but admits he probably wouldn't bring it up if their paths were ever to cross. "Oh, no. I wouldn't dare [mention it]. He'd be like, 'You are the one!' No, I would not," Tatasciore said, laughing. "I hope to meet him. He's one of my favorite actors. What can I say?"
Instead, Tatasciore said he would definitely welcome a collision of Marvel's animated and cinematic universes, where Jackson would bring his Nick Fury to "Moon Girl and Devil Dinosaur."
"I want his character on [the series]," Tatasciore said. "I want to see Fury deal with all of this stuff in New York."
"Moon Girl and Devil Dinosaur" is new on The Disney Channel and premiering soon on Disney+.