Moon Girl And Devil Dinosaur's Voice Actors Explain The Unique New Series - Exclusive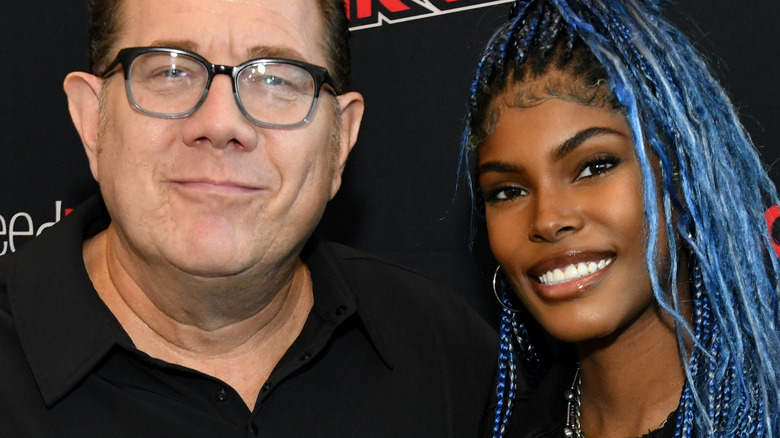 Craig Barritt/Getty Images
The voice stars of the new animated series "Moon Girl and Devil Dinosaur" are over the moon about the upcoming adaptation of the Marvel comic book series of the same name. The series, which premieres Friday, February 10 on Disney Channel and debuts on Disney+ soon after, is taking a much different story approach than what fans are used to getting in the Marvel Cinematic Universe.
Diamond White voices Lunella Lafayette (Moon Girl), a 13-year-old genius in the Lower East Side of New York City, and her superpower derives from the brilliant use of her brain. Moon Girl's goal is to protect her community along with Devi Dinosaur (Fred Tatasciore), a large but loveable creature she accidentally transported into her world. While mentions of The Avengers places "Moon Girl and Devil Dinosaur" into the same space and time as Earth's Mightiest Heroes, their settings are dramatically different, and White and Tatasciore couldn't be more thrilled about it.
The value of protecting your own community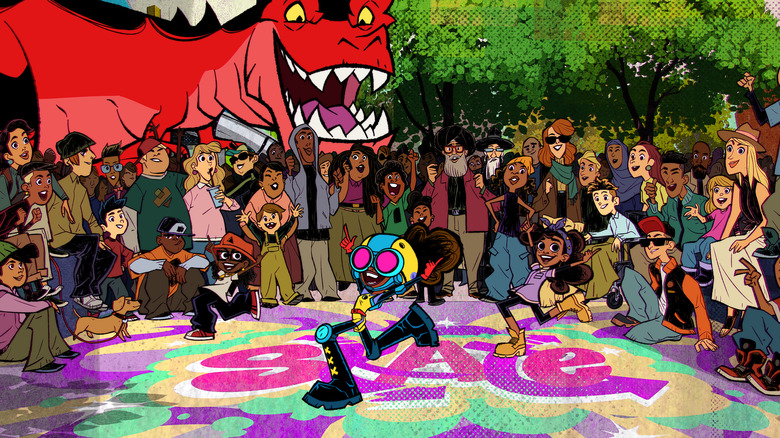 The Disney Channel
In an exclusive interview with Looper, Diamond White and Fred Tatasciore discussed what makes "Moon Girl and Devil Dinosaur" unique. Chief among the reasons is the space they're trying to protect. While The Avengers in "Infinity War" and "Endgame" aim to preserve Earth and save the galaxy, Moon Girl is more concerned about what happens in her immediate surroundings.
"It's about saving Lunella's community, which is the Lower East Side of New York," White said, "and she would do anything to keep her roller rink running and to protect the LES."  Tatasciore, whose voice acting career of 900-plus credits includes previous stints in Marvel and "Star Wars" projects (via IMDb), added that committing his vocal skills to "Moon Girl" was a very easy decision because of the depth of the material.
"It's multifaceted," Tatasciore said. "One [of the reasons] is what was mentioned before, just culturally how cool this is. I already knew about Devil Dinosaur, but finding out about Lunella, finding out about Moon Girl, this genius, nerd woman of color that is the smartest person in the Marvel Universe, and being a family member — not just a crime-fighting partner, but a family member to her — that's huge."
A big creature with a big heart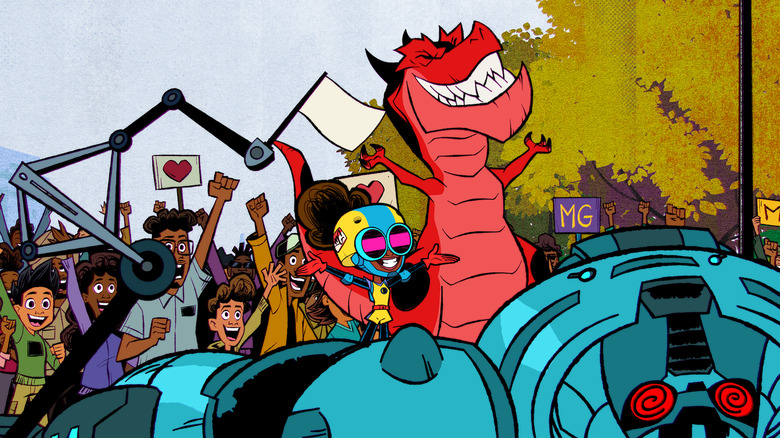 The Disney Channel
As far as Fred Tatasciore's character, Devil Dinosaur, is concerned, the voice actor recalled how happy he was to read a script about a creature who had a bit more to him than just a giant roar.
"I get to be able to be something that I always play — a lot of very scary, big creatures," Tatasciore said, "but this creature has such a heart, and deep down inside, he's really a 10-ton dog who loves her, loves hot dogs, and would do anything for her and [her friend] Casey. He wants to protect the Lower East Side and prefers where he is because she brought him in with love and learned his language. From an artistic point of view, I loved speaking a language that we could make up together. That was very appealing to me."
While "Moon Girl and Devil Dinosaur" exists for the time being in Marvel's animated world, Diamond White said she'd reprise the role in a heartbeat in a live-action setting in the MCU if the opportunity presented itself. 
"I would love to tackle Moon Girl," White said. "I don't know if she's going to be in the whole [Marvel] Cinematic Universe, but I would love to play her."
"Moon Girl and Devil Dinosaur" premieres Friday, February 10 on The Disney Channel and shortly thereafter on Disney+.