Nick Jonas Is 'Thrilled' To Be The Face Of Dexcom Again In Their Super Bowl 2023 Commercial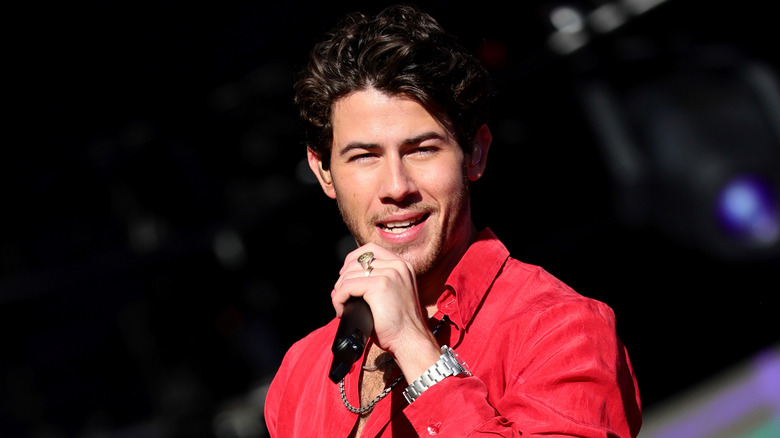 Theo Wargo/Getty Images
For Nick Jonas, better known as one-third of the Jonas Brothers and previously a judge on "The Voice" for Seasons 18 through 20, finding out he had Type I diabetes as he was entering his teenage years was an overwhelming and frightening experience. "I was 13 when I was diagnosed," he recalled when talking about Dexcom in 2017, the CGM (continuous glucose monitoring) device. "I started to see a change physically. 20 pounds in two weeks, I was really irritable and just drained overall." After being diagnosed, he admits he "was scared at the idea that I wouldn't get to do what I loved, all these dreams I had, that they would just end."
He described the Dexcom CGM as a life-saver, "like having a best friend who always looks out for you." Given how enthusiastic he was about the product in 2017, it's no surprise that he partnered with Dexcom in 2021 to promote their newest CGM, the G6, in their first Super Bowl ad. Two years later, Jonas is thrilled to be partnering with Dexcom again to get the word out about the G7 CGM, and to be the face of their 2023 Super Bowl commercial.
Nick Jonas is working to provide more health access for diabetics
Nick Jonas posted on Twitter on February 7, 2023 that he's "thrilled to be going back to the Big Game with Dexcom to share the new Dexcom G7 with the world," but he's since revealed that he has even more to be excited about. In an interview with Good Morning America, he disclosed that Dexcom is also teaming up with his nonprofit, Beyond Type 1. Together, they're "committing $1 million to access and programs to continue the conversation around health equity." Considering a good portion of the comments on Jonas' Tweet were of people asking if there were options for lower-income people who can't afford a CGM device, this news is even more welcome.
Dexcom is considered a game changer for many diabetics who are sick of having to constantly prick their fingers as a way to find out what their glucose levels are. We've seen more diabetic representation recently, such as a diabetic student wearing a Dexcom in Disney's "Turning Red," and Jonas brings another level of awareness, especially for younger diabetics. "I think back to my 13-year-old self, newly diagnosed, not really having someone that I knew in the public eye that was living with this disease," Jonas told Good Morning America. "So thrilled that we're doing a second commercial, with a really great concept."