You Season 4, Episode 1's First Six Minutes Are Availble For You To Spy On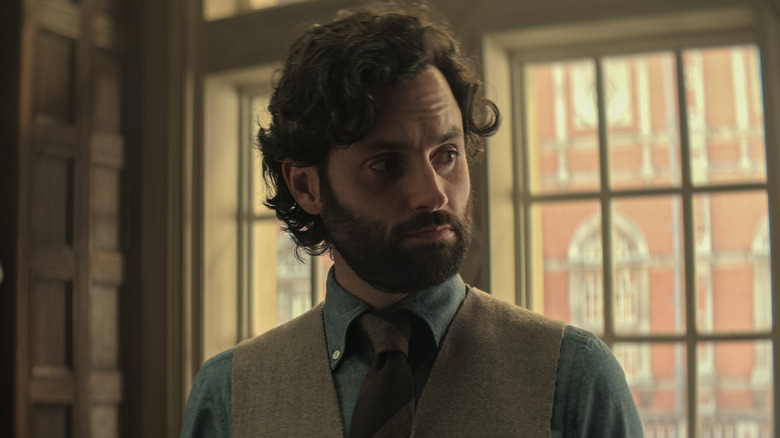 Netflix
Happy "You"-eve, Looper readers! While we all count down the hours until we get to see the next installment in Joe Goldberg's (Penn Badgely) murderous quest for love, Netflix has released a small morsel to keep our bloodlust at bay. The streamer has shared the first six minutes of "You" Season 4 — Part I, Episode 1 exclusively on their site, Tudum.
As we previously covered when the first trailer was released, "You" Season 4 — Part I will follow Joe Goldberg's flight to Europe, wherein he cultivates a new identity, career, circle of friends, and — of course — a disturbing new obsession to ruin all three. Before it all comes crashing down, however, the creative team behind "You" wants to show off the life Joe has built for himself, taking his character to places they've been excited to go for years.
If you want to go into "You" Season 4 — Part I completely unaware, you should definitely stop reading now — minor spoilers lie ahead for the coming season. For those of you who just can't wait until tomorrow, however, we've got you covered.
Class is in session, Professor Moore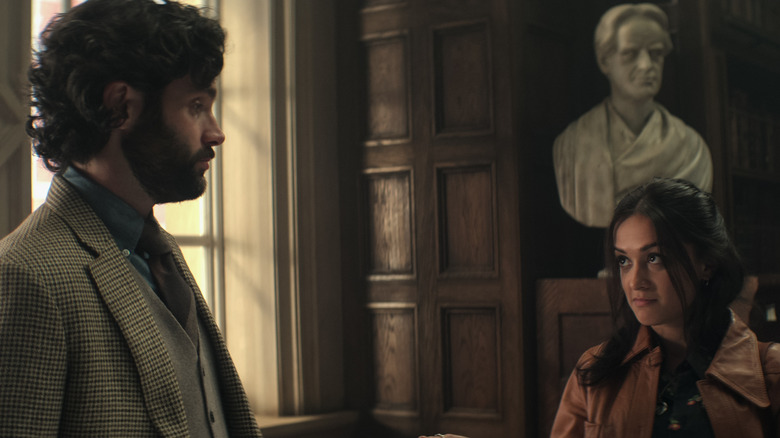 Netflix
In this sneak peek released by Netflix earlier today, "You" fans get a quick recap of everything that's come before — Joe Goldberg's fateful obsession with Guinevere Beck (Elizabeth Lail); his destructive dalliance with Delilah Alves (Carmela Zumbado); and, finally, the "Love" affair with his equal match (featuring Victoria Pedretti's ironically named obsession turned antagonist). Driven to Europe in search of Marienne the Librarian ( ati Gabrielle), Joe jeopardizes his narrow escape from his life of crime for his last chance at love.
"As a problematic man appropriating a queer poet once said, 'the heart wants what it wants'" pontificates Joe in Season 4's earnest opening moments, returning to that disturbing self-awareness as he connects himself to both Emily Dickinson and Woody Allen in one quote (Allen infamously paraphrased Dickinson when questioned as to why he left Mia Farrow for her then 18-year-old adoptive daughter, via the HuffPost). Now in London, Joe is a professor of literature at a university under the assumed name Jonathan Moore. His students respect him for choosing less obvious works for them to read, though he also seems to be running the class slightly on auto-pilot.
We also get to see some interplay between Professor Moore and his star pupil — Nadia 9 (Amy-Leigh Hickman). Showrunner Sera Gamble told Netflix's in-house blog Tudum that Nadia will be this season's "counterpart" to the rich, entitled monsters that normally populate the show — in the same vein as Marienne and Jenna Ortega's Ellie.
All in all, he seems to be as happy as a serial killer on the run could possibly be, immersed in a culture that actually reads (touché, Professor Moore). For Gamble, thrusting Joe into this literary-driven environment is a dream come true.
A scholastic murder mystery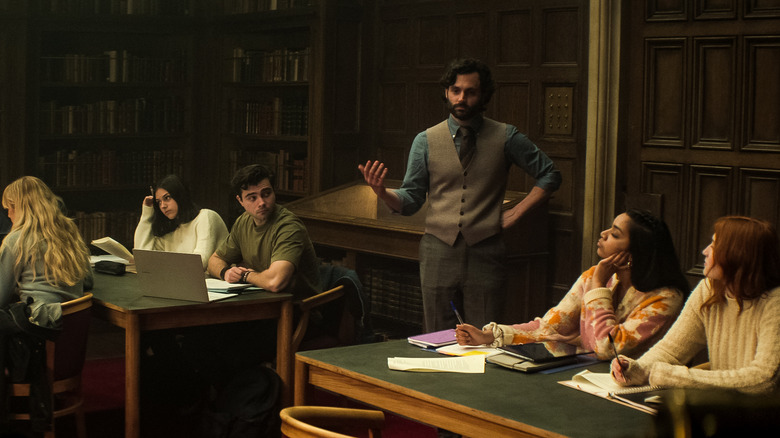 Netflix
Speaking directly to Tudum, "You" executive producer Sera Gamble explained why Joe Goldberg becoming a college professor makes perfect sense for his character arc. "He's genuinely good at [teaching]," she said, "and it's a pleasure for him to do it. ... Even when his life is completely falling apart, he still does enjoy teaching class."
As we already know from the previous trailer, this heavenly bliss of literature and academia will be short lived once a new predator makes themselves known. Referred to as the "Eat the Rich Killer," this mysterious murder not only preys on Joe's new circle of pseudo-aristocratic friends — they seemingly know his true identity and the full extent of his crimes in America. This is a slightly different direction for the series, which has historically played out like a straight-forward thriller, and is now instead a murder mystery — an idea that came from fellow executive producer and Arroverse architect Greg Berlanti.
"[Joe's] done murdering," asserted Gamble to Tudum, "he's learned from his mistakes and he's going to do what it takes to right the karmic scales. That doesn't just mean grow a beard and teach about American literature, it also means maybe that you have to try to protect the very people [whose fate] previously would've had you at least look the other way, if not actively participate in what was going on with them." As altruistic as that sounds, this killer certainly appears to be his ultimate foe — Joe Goldberg's European getaway may ultimately be his resting place.
"You" Season 4 — Part I premieres February 9 on Netflix.