Evangeline Lilly Says Jeremy Renner Is 'Recovering Incredibly' From Snow Plow Accident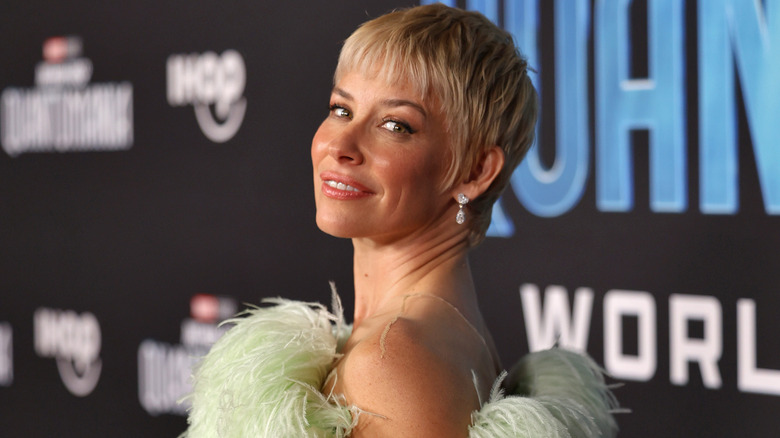 Jesse Grant/Getty Images
Evangeline Lilly was recently able to check in on Jeremy Renner, her friend and former co-star. The "Lost" actor has been quite busy lately promoting her new Marvel Cinematic Universe feature "Ant-Man and the Wasp: Quantumania." Produced by Marvel Studios, the sequel to 2018's "Ant-Man and the Wasp" reunites Lilly with co-lead Paul Rudd for the first time since "Avengers: Endgame." The film made its world premiere this week at the Fox Theatre in Los Angeles, California, and early reactions have hailed it as a visual spectacle as well as a fitting introduction to the MCU's latest big-bad: Jonathan Majors' Kang the Conquerer.
Renner, one of the most prolific MCU alumni, also appeared alongside Lilly in "Avengers: Endgame," reuniting them on film for the first time since 2008's "The Hurt Locker." A war drama from "Zero Dark Thirty" director Kathryn Bigelow, "The Hurt Locker" featured Renner in a leading role as Sergeant First Class William James, a tough-to-work-with soldier with a knack for disarming explosives. Lilly played Connie, James' ex-wife.
As you are likely aware, Renner was in a snow plow accident at the beginning of the year which broke over 30 of his bones and left him critically injured (per Variety). The actor is now recovering at his own home, where Lilly was able to visit with him.
It's a straight up miracle
In an exclusive interview with Access Hollywood, Evangeline Lilly opened up about Jeremy Renner's current condition, based on her recent visit to his home. Due to the severity of Renner's injuries as well as what little the public has seen of him recently, Lilly was surprised at the state of his recovery when she finally got to be with him in person. "I walked in his house and got chicken skin," she said, "because I was like, 'Why are you mobile, why are you mobile? What's happening?'"
She continued, "I expected to sit at his bedside and [to] hold his hand while he moaned and groaned in pain and wasn't able to move." From her account, it seems that Renner is at least partially beyond needing constant bedrest, and is able to move about as much as he'd like. "He was wheeling himself around, laughing with his friends, it's a miracle. It's a straight up miracle."
The 51-year-old "Hawkeye" star was run over by a 14,000-pound snow plow while saving his nephew from a similar fate (via The New York Times). He then was taken to the hospital where he remained in the ICU for two weeks. "He's made of something really tough, that guy," stated Lilly of Renner's recovery process. "You've always been able to see that in him and he is recovering incredibly. I'm so grateful."