Yellowstone's Taylor Sheridan First Told Gil Birmingham About The Show In 2016
When Taylor Sheridan pivoted to the world of writing, directing, and producing, he was a burnt-out actor with roughly twenty years of experience under his belt. It was being refused a raise for his performance on "Sons of Anarchy," however, that incited his transition away from acting. "That's really when I quit," Sheridan told Deadline, "[because] that's how the business saw me: 'Let's replace him with someone cheaper.' And I decided that I didn't want to be 11 on the call sheet for the rest of my life."
It is perhaps Sheridan's inherent empathy with actors that's made veteran performers flock to work with him. His hit series "Yellowstone" elicited a Golden Globe-winning performance from Kevin Costner, and throngs of other actors, including Harrison Ford, Helen Mirren, and Dennis Quaid, have joined the casts of various "Yellowstone" spin-off shows.
Moreover, Sheridan exhibits a certain loyalty when it comes to selecting actors for projects, and he tends to work with the same actors again and again. For instance, he told his collaborator Gil Birmingham about "Yellowstone" in 2016.
Sheridan wrote Birmingham's part specifically for him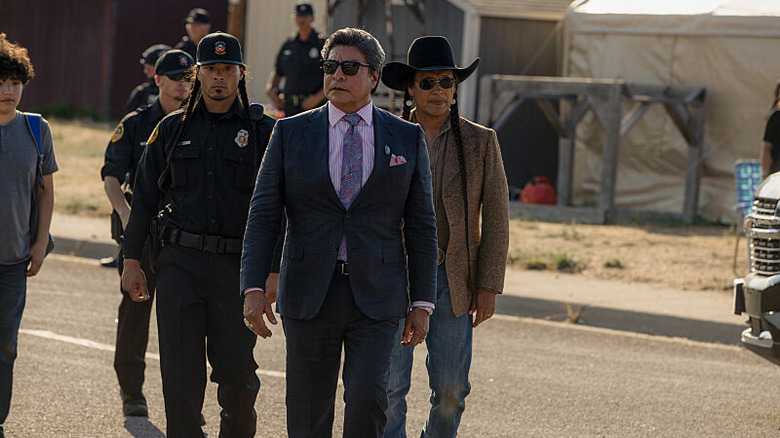 Paramount Network
As Chief Thomas Rainwater on "Yellowstone," Gil Birmingham plays a rare honorable character on a series otherwise filled with violent, conniving baddies. Perhaps that's why Taylor Sheridan tapped his buddy Birmingham way back in 2016 to play Rainwater. Indeed, Birmingham had previously played Texas Ranger Alberto Parker in Sheridan's neo-Western film "Hell or High Water."
"[Taylor] mentioned 'Yellowstone' back in 2016 when we were filming 'Hell or High Water,'" Birmingham said in an appearance on the Yellowstoners Podcast. "And he said, 'I've got this television show that I've written, and I've written a part for you.' And at that point, I just thought he was an incredible writer, and I said, 'I'm spoiled with your writing — if you've got a series and you want me in it, I'm there.'"
Sheridan would extend the offer to Birmingham yet again for 2017's "Wind River," in which the actor plays the father of a deceased Native American woman, making him one of the most reliable actors in Sheridan's arsenal. Other performers, like James Jordan, Kelsey Asbille, and Ian Bohen, are a similarly common presence in Sheridan's body of work. With the end of "Yellowstone" in sight, it will be interesting to see if Birmingham continues to crop up in Sheridan's future projects.