Whatever Happened To Jan From The Office?
Over its nine seasons, NBC's mockumentary "The Office" won five Primetime Emmys, including Best Comedy (via IMDb), but arguably one of "The Office's" greatest achievements is how it has managed to stay culturally relevant. This relevancy is in large part due to the array of comedic characters it introduced us to, all of who are alternatively cringy, lovable, and out-of-touch. From Michael Scott's (Steve Carell) desperate attempts to be loved by his employees, to Jim (John Krasinski) and Dwight's (Rainn Wilson) prank wars, to the idiosyncrasies of characters like Angela (Angela Kinsey) and Creed (Creed Batton), every person working at Dunder-Mifflin could be counted as a fan favorite.
One supporting character who certainly remains memorable to many is Jan Levinson (Melora Hardin), Michael Scott's boss and on-again-off-again love interest. A domineering control freak who puts Michael's life in disarray, she often played the part of antagonist in the series. Jan and Michael's dysfunctional relationship is particularly memorable in what many consider the best episode of the series, "Dinner Party," in which Jan and Michael invite several Dunder-Mifflin employees over for dinner at their condo, only to give them all a front-row seat to the toxicity of their relationship.
Hardin played Jan to great effect, and once her run on the show ended, she continued to appear in other notable programs.
After The Office, Melora Hardin guest-starred on a number of TV shows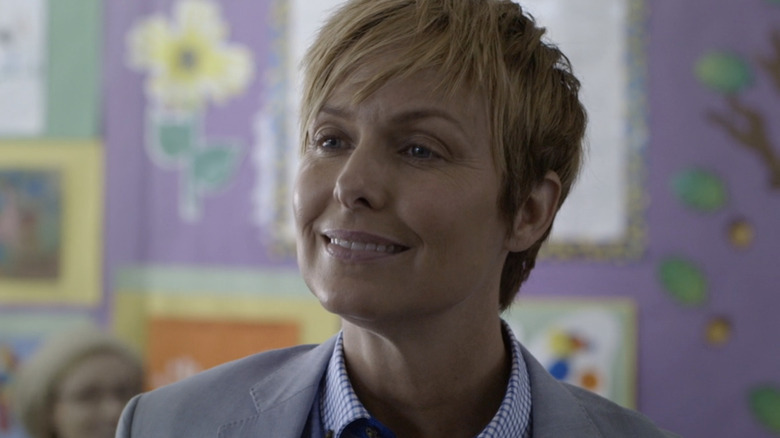 Amazon
According to IMDb, Melora Hardin's tenure on "The Office" lasted until 2013, after which she promptly guest-starred on a couple of ABC shows – "Scandal" and "Killer Women." She then had a two-episode arc in TNT's "Falling Skies" as a U.S. soldier named Kate Marshall, a woman who had survived the alien invasion driving the show's narrative. Hardin also did a stint on "The Blacklist" as Isabella Stone, her character described as "a socialite by day, character assassin by night" (via TV Guide).
Yet, her most prominent role in the immediate years after her run on "The Office" was on Amazon's Emmy-winning dramedy "Transparent." The show followed the Pfefferman family in the wake of one of the parents (Jeffrey Tambor) coming out as a trans woman named Maura. Hardin played Tammy Cashman, a romantic interest of daughter Sarah Pfefferman (Amy Landecker). Hardin received an Emmy nomination for her guest appearance in the series and went on to star in 14 episodes of the show.
Most recently, Melora Hardin was a series regular in Freeform's The Bold Type
Melora Hardin's most prominent role after "The Office" has undoubtedly been her run on Freeform's dramedy "The Bold Type." For five seasons, the show followed a trio of young women — Jane, Kat, and Sutton (Katie Stevens, Aisha Dee, and Meghann Fahy) — who worked at a fictional women's magazine called Scarlet. Inspired in part by Cosmopolitan editor-in-chief Joanna Coles, Hardin played Jacqueline Carlyle, the editor-in-chief of Scarlet. Jacqueline was a fierce leader who consistently pushed the magazine to be more feminist and to promote better values. She was also a mentor to the three protagonists, especially Jane, who she often thought of as being the future version of Scarlet.
Hardin even directed an episode of "The Bold Type." In an interview with the New York Post, she discussed this transition and how surprisingly relaxed she felt in the role. "I think because I've been on the show for as long as I have and working on that set for as long as I have, I have a real knowledge of all the nooks and crannies of that space and of that world of Scarlet ...when you're working with people that you know as well as I know them and like as well as I like everybody...It was really quite fun," she said.
While "The Bold Type" ended its run in 2021, Hardin has still remained busy, with a stint on ABC drama "A Million Little Things," which is about to enter its fifth season.