The Late Late Show With James Corden Will Reportedly Be Swapped For A Rebooted @Midnight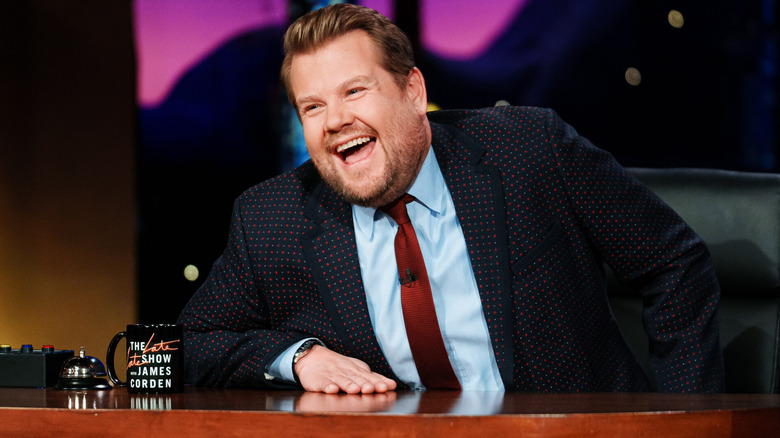 Terence Patrick/CBS
It appears James Corden's departure from "The Late Late Show" marks not only the end of an era for the host but also for the late-night show itself. According to Deadline, Corden's exit will wrap up the franchise's nearly three-decade run, which started back in 1995 when Tom Snyder hosted the show. Before Corden, Craig Ferguson hosted for 11 seasons. Citing its own sources, Deadline is reporting that "The Late Late Show" will be replaced with the reboot of the Comedy Central series "@midnight."
Corden shared the news of his late-night departure during an episode of "The Late Late Show" that aired in April of 2022, with his last episode set to air in the spring of 2023. Soon after the announcement was made, Corden told People, "I'm worried about being too emotional. I'm worried about crying too much." And while a chapter in late night is coming to a close, the reported addition of "@midnight" does mean that another mainstay of late-night TV will be adding another show to his roster.
The reboot that is reportedly tied to another late-night host
According to Deadline's sources, current "The Late Show" host Stephen Colbert will executive produce the reboot of "@midnight." The game show aired on Comedy Central from 2013 to 2017, challenging contestants with games inspired by memes, Twitter, and anything else related to the internet. Deadline further reported that the show's original host, Chris Hardwick, does not have a direct tie to the alleged reboot at this time.
In June of 2022, Variety reported that CBS was looking to replace "The Late Late Show" with a show that had a program centered on a panel. This follows CBS CEO George Cheeks' interview with Deadline from a month prior, where Cheeks stated that they were looking to do something different. "We're going to really enjoy his final year, I think we're going to take some time to think about that day part and what kind of format could make sense there," he said.