Transformers: Rise Of The Beasts' Second Trailer Suggests The Franchise Is Better Than Ever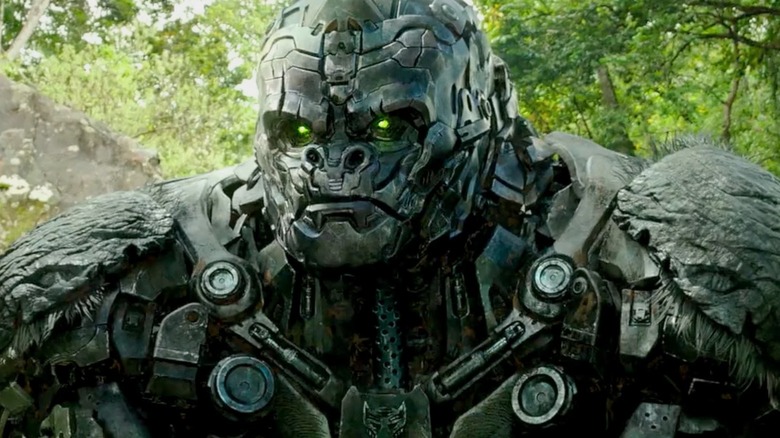 Paramount
Not too long ago, the "Transformers" franchise was dominating the big screen scene. It all started back in 2007 with the release of "Transformers" from director Michael Bay: a big, bombastic action blockbuster full of battling robots, massive explosions, and just a dash of Linkin Park. What followed was a barrage of "Transformers" movies that, while far from deep narrative masterpieces, kept moviegoers entertained and raked in big money at the box office. However, this reign atop the cinematic mountain was guaranteed to come to an end at some point.
In 2017, it seemed that the main "Transformers" series would end with "Transformers: The Last Knight," finally putting the saga to bed with a rather disappointing entry. "Bumblebee" followed a year later, focusing on the beloved yellow Autobot, but it failed to fully reinvigorate the property. After a few years away, Paramount seems hopeful that the next "Transformers" outing will be the one to bring the robots in disguise back to the forefront. "Transformers: Rise of the Beasts" is on the way, bringing moviegoers an adaptation of the popular Beast Wars.
"Transformers" fans already got a brief look at "Rise of the Beasts" thanks it its inaugural teaser from December 2022, but the newest one has a lot more to offer.
Rise of the Beasts puts a primal spin on the Transformers series
The second trailer for "Transformers: Rise of the Beasts" suggests the franchise is back in the best way. Like its predecessors, "Rise of the Beasts" is all about big action between big robots, with some unfortunate humans caught in the crossfire. The film follows a group of archeologists who wind up in a conflict they're sorely ill-equipped to handle between three imposing and dangerous Transformers groups.
Aside from the Autobots — led by returning favorites like Bumblebee and Optimus Prime (Peter Cullen) — "Rise of the Beasts" centers on three Transformer factions. First is the animalistic Maximals, who are led by Optimus Primal (Ron Perlman) and are historically the enemies of the powerful and deadly Predacons. The Terrorcons also factor into the story, though promotional materials up to this point haven't fully revealed how they fit into the conflict. All we know for sure is that you can expect all kinds of Transformers mayhem in this sequel that already has fans roaring with excitement.
Director Steven Caple Jr.'s "Transformers: Rise of the Beasts" will reach theaters on June 9.