Elijah Bynum Rewrote Magazine Dreams For Jonathan Majors After Seeing His Face On A Bus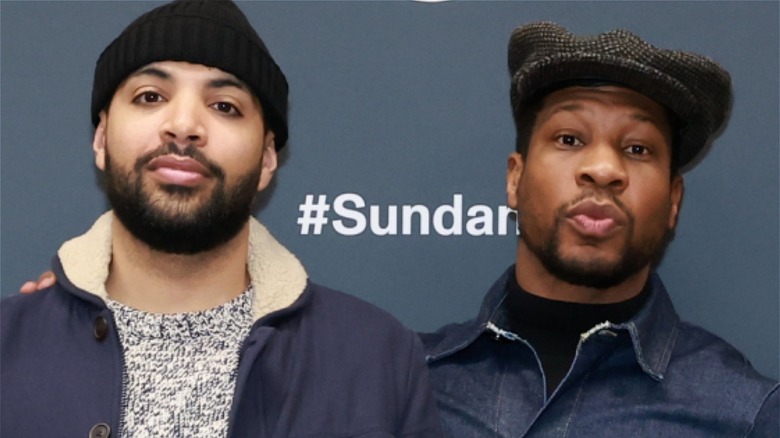 Arturo Holmes/Getty Images
It was apparently love — and cast — at first sight for filmmaker Elijah Bynum and his "Magazine Dreams" muse Jonathan Majors, whose image inspired Bynum to write the bodybuilding story with him as the lead.
For those who don't know, "Magazine Dreams" is a powerful and "provocative" film — as the Sundance Film Festival described it in January 2023 — that centers around the life of bodybuilder Killian Maddox, played by Majors. "Though Killian's struggles to read social cues and maintain control of his volatile temper amplify his sense of disconnection amid a hostile world, nothing deters him from his fiercely protected dream of bodybuilding superstardom, not even the doctors who warn that he's causing permanent damage to his body with his quest," an online description reads. 
Speaking in a new interview with The Hollywood Reporter, Bynum recalled how he practically tossed his original script for "Magazine Dreams" in the trash after getting inspiration from Majors's image, and he did something immediately to show the "Ant-Man and the Wasp: Quantumania" star how much he wanted him for the role.
Bynum sent Majors his reworked Magazine Dreams script and a personal letter
In the interview with THR, Bynum revealed that he had written a full draft prior to the public transit awakening and was holding on to it for a rainy day. But instead of rain, the "Hot Summer Nights" mastermind got an LA city bus, with Majors's famous mug plastered on the side of it.
"That's when it really clicked," Bynum said. "'Oh, I haven't been thinking about the character the right way,'" he remembered telling himself. "I started writing the script all over again, specifically for him. And that turned out to be the script that we shot."
After rewriting his "Magazine Dreams" script with Majors in mind, Bynum reportedly sent the actor a copy of it and a personal letter that he wrote for him. While it's not clear what the correspondence said exactly, Majors told THR that Bynum's renewed feelings and ideas about the project became mutual after he read everything. "The script was just so incredible, and Killian was so impossibly vulnerable, impossibly human," Majors explained. Describing why he accepted the role, Majors told Deadline in a January 2023 interview: "I saw a character that was so gentle and beautiful, and fragile, and actually the byproduct of the world he lives in. What he decides to do in the film is go against that, and try to take some control over who he wants to be, who he's gonna be."
In addition to "Magazine Dreams," Majors has a massive year planned ahead of him, with multiple movie releases on his plate. He is debuting as Marvel's new Phase 5 villain in "Ant-Man and the Wasp: Quantumania" on February 17 before taking on another baddie role in "Creed 3" as Adonis Creed's (Michael B. Jordan) in-ring rival, Damian Anderson.