Finn Wolfhard And Mckenna Grace Address The Discrepancies Between Ghostbusters: Afterlife And Its Trailer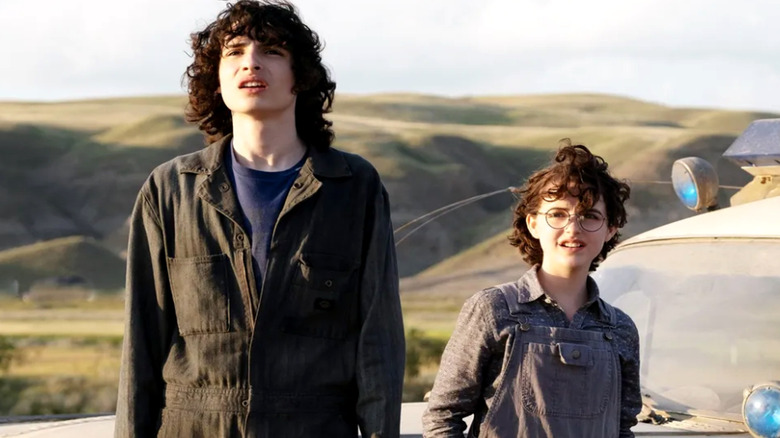 Sony Pictures
"Ghostbusters: Afterlife" fans were thrilled to plunk down their hard-earned money and finally see a worthy follow-up to the original "Ghostbusters" come to fruition in theaters and online. At the time of this writing, the sequel's audience score is an impressive 94% (per Rotten Tomatoes). And, in addition to resonating with the "Ghostbusters" enthusiastic fandom, filmmaker Jason Reitman's entry in his father's franchise introduced fan-favorite Phoebe Spengler (Mckenna Grace) to the spooky spectral world of paranormal investigations.
Phoebe did her spores-molds-and-fungus-collecting grandpa proud, but the acting talents of Finn Wolfhard ("Stranger Things") were grossly underutilized because of the lack of character development given to Egon's grandson, Trevor. Now, despite Grace's poignant performance, "Ghostbusters: Afterlife" suffers from the same glaring issue the "Star Wars" sequel trilogy must live down on a daily basis: focusing on new characters rather than the established cast.
Fortunately, the venerable ghost-catching team of Peter Venkman (Bill Murray), Ray Stantz (Dan Aykroyd), Egon Spengler (Harold Ramis), and Winston Zeddemore (Ernie Hudson) do share a heartwarming reunion together, which is something that never happened for Luke Skywalker (Mark Hamill), Han Solo (Harrison Ford), and Princess Leia (Carrie Fisher). But "Ghostbusters: Afterlife" co-stars Grace and Wolfhard addressed an altogether different issue, which was the absence of certain scenes in the film that appeared in the trailers.
Wolfhard isn't concerned about Ghostbuster: Afterlife's lost scenes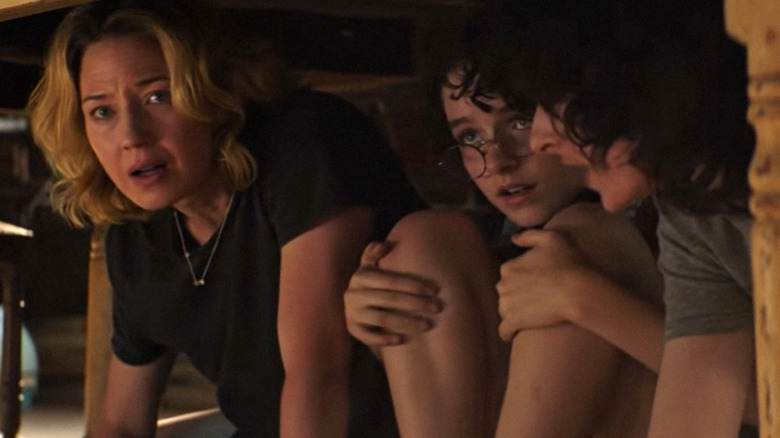 Sony Pictures
"Ghostbusters: Afterlife" fans enjoyed seeing Phoebe (Mckenna Grace) and Trevor (Finn Wolfhard) burning rubber in the classic Ecto-1. However, Grace and Wolfhard did point out that some of their performances featured in the trailers never made the sequel's final cut. "There's a lot of scenes that were cut out," Grace said during an interview with Collider. One problem with "Ghostbusters: Afterlife" was the disproportionate amount of time devoted to developing Phoebe's character in comparison to Trevor's.
At the 50-second mark of "Ghostbuster: Afterlife's" Official Trailer No. 2, Trevor works on the rundown Ecto-1. "You went with the station wagon?" Phoebe asks. "It's the only one that had an engine," Trevor replies. This might seem like a small, insignificant cut, but the interaction between the kids does give audiences a glimpse of their relationship and rapport. However, Wolfhard isn't the least bit worried about what was left out of the final film.
"The cut is so like incredible, I literally was like, 'Oh, we shot other stuff?'" Wolfhard said in the same interview. Wolfhard also elaborated on why he believes trailers end up featuring unused footage so much of the time. "That's why they [studios] put them in the trailer because, like, I don't think they work as full scenes," Wolfhard continued. "Like, you could use a clip and it would be great, but like maybe it doesn't work as an entire thing when you watch it as a full movie."