Why Jennifer Sheridan From Chicago Fire Looks So Familiar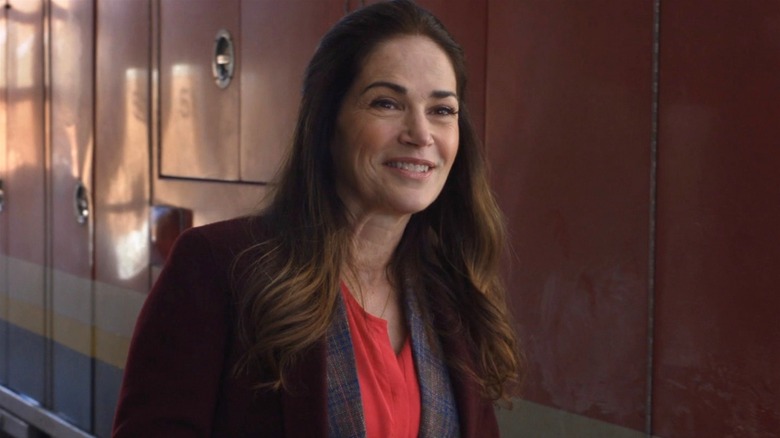 NBC
Fans got their first chance to enter the One Chicago franchise back in 2012, when the initial series, "Chicago Fire," aired on NBC. Producer and writer Dick Wolf scooped up the talents of creators Michael Brandt and Derek Haas to develop the series that focused on not only the dangerous emergency situations which firefighters face daily but also a look into their personal lives. Now in its 11th season, the series has presented fascinating characters, many of which fans can lose at any given moment.
With as much focus on the heroes' personal lives as their jobs, it was a surprise that fans didn't meet the mother of the series star, Kelly Severide (Taylor Kinney), until the later stages of Season 6. That's when viewers were introduced to Jennifer Sheridan, Severide's mom, portrayed by Kim Delaney. The character, who focuses on leading a religious life, popped up again in Seasons 7 and 10. If you have nagging feeling that you recognize Delaney from somewhere else, there's probably a good reason. The Philadelphia-born actress has been enjoying a career in the industry for decades. So, where exactly have you seen Delaney?
Kim Delaney played a detective with a rough past on NYPD Blue
Despite popping up here and there in several minor roles in TV and film of the '80s, which included a regular spot on the soap, "All My Children," Kim Delaney's tenure in "Tour of Duty," helped push her toward the role which would launch her career in primetime dramas — when she was cast in ABC's "NYPD Blue." The series, which many point to as one of the first procedural crime dramas that focused on character development as much as it did with the who-done-it plot, premiered in 1993.
Delaney's character, Detective Diane Russell, was first introduced in the back half of Season 2. While teaming up on a case, Diane developed a romantic relationship with Detective Bobby Simone (Jimmy Smits), which turned out to be tumultuous due to her problems with alcoholism. And, with her character originally from a dysfunctional family, Delaney perfectly portrayed Diane as vulnerable, bouncing back and forth between her professional and personal life. Her performance earned her an Emmy, and she wore the character's shoes all the way into Season 11.
Delaney took a CSI: Miami role that wasn't intended for her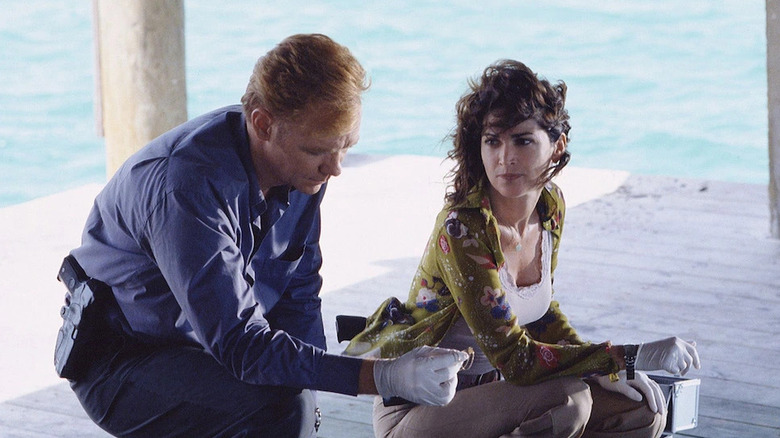 Robert Voets/CBS Photo Archive via Getty Images
The almost immediate success of "CSI: Crime Scene Investigation" could be seen as the catalyst to the explosion of dramatic series spinoffs. The first spinoff premiered only a couple of years after the original; "CSI: Miami." The CBS crime drama featured actors Emily Procter, Adam Rodriquez, and of course, the guy who made viewers want to tear sunglasses off their faces, David Caruso. One of the initial main characters from the pilot episode was Lieutenant Megan Donner, played by Kim Delaney, who surprisingly never made it past Season 1.
Despite already establishing herself as a go-to crime drama actor, Delaney's Lieutenant Donner role was initially offered to Sela Ward. Circumstances lead to the casting of Delaney, first appearing in the pilot episode as Megan, a character returning to the precinct following a six months hiatus due to the death of her husband. Chalked up to a lack of chemistry between her and Caruso, the character was written off the show after the season's 11th episode. The explanation for Megan's absence was given during the Season 2 premiere, revealing that the character could no longer handle working where she was constantly reminded of her husband's death.
She helped a character come back from the dead on General Hospital
One of the fascinating things about soap operas which is generally excepted and understood by fans is that not only do characters often get killed and then miraculously reappear years later, but many times, those characters are played by entirely different actors. Guilty of this trend is ABC's "General Hospital." One of these presumed dead characters of the series was resurrected by Kim Delaney, and it was a role that was once held by a famous film star.
In 2020, Delaney joined the cast of "General Hospital," taking on the role of Jackie Templeton for 45 episodes. Interestingly, the character was first portrayed by Demi Moore when she was cast at only 19 years old. Despite being presumed dead by an avalanche accident, Jackie popped up again, somehow with Delaney's face, over 40 years later. Delaney ended her soap opera run in 2021, shortly before heading to the dramatic happenings of "Chicago Fire."