Looking For More Yellowstone? Check Out These Taylor Sheridan Penned Movies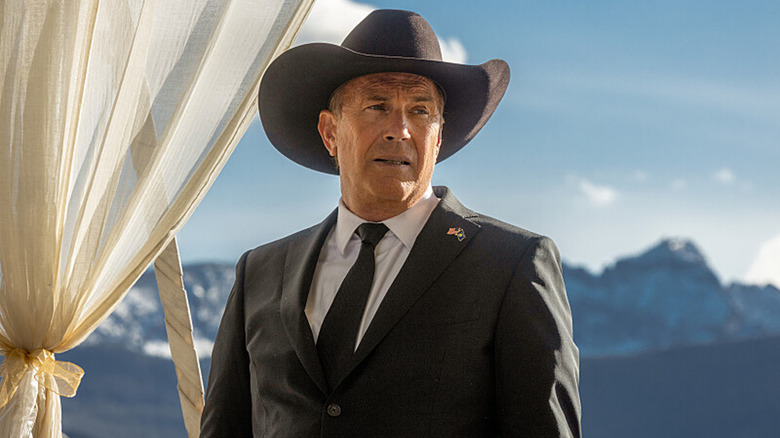 Paramount Network
There's no doubt that Taylor Sheridan has become one of the most popular and prominent names in television over the course of the last five years. Following the massive success of "Yellowstone," the actor-writer-director has been hard at work on spin-offs like "1883," and "1923," along with the new series "Tulsa King" as well.
However, what many fans of Sheridan might not know is that the "Yellowstone" creator has also been writing movies for years. The multi-talented Sheridan has had a hand in directing, producing, and acting in a bevy of projects. Many of them deserve the same respect and adoration that his more recent projects have garnered from critics and audiences alike.
So, with the prospect that "Yellowstone" could be ending or changing into a different kind of series, here are a few more Sheridan-penned movies for you to seek out if you're looking for more of his cynical, morally ambiguous take on the modern American landscape.
Hell of High Water taps into the economic disparity of America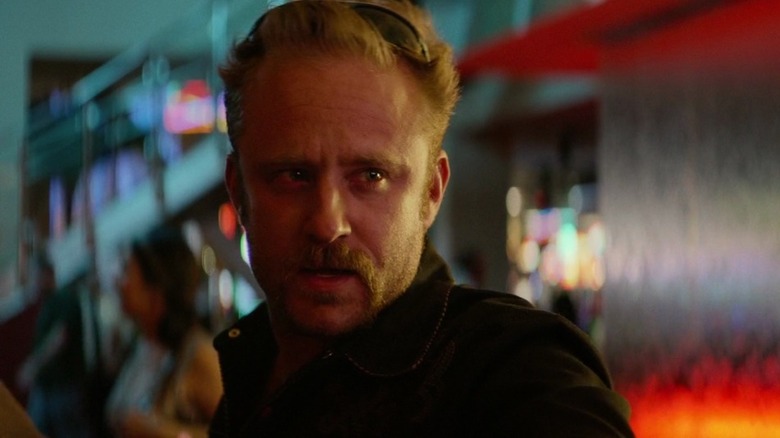 Lionsgate/CBS Films
Part of what draws viewers to "Yellowstone" is how it navigates many cross-sections of American society and forces them to interact with one another. Businessmen, criminals, ranch hands, and politicians are all forced to coincide, and there's always someone left at the bottom of the deal.
"Hell or High Water" is about those people. Written by Taylor Sheridan and directed by David Mackenzie, the 2016 crime drama follows two brothers, Toby (Chris Pine) and Tanner Howard (Ben Foster), who become bank robbers to stop foreclosure on their ranch and ensure a better life for their family.
In a sense, it's checking a lot of the same boxes as a story like "Breaking Bad," only with much less science and much more grit. Meanwhile, two Texas Rangers, Marcus Hamilton (Jeff Bridges) and Alberto Parker (Gil Birmingham) begin to close in on them.
Yes, that's right, Birmingham of "Yellowstone" is also in "Hell or High Water," as are Amber Midthunder and Marin Ireland. A compelling and evocative thriller, "Hell or High Water," ought to appeal fairly broadly to those who have fallen for "Tulsa King" or "Mayor of Kingstown."
Sicario is an absolutely brutal story of revenge against the cartel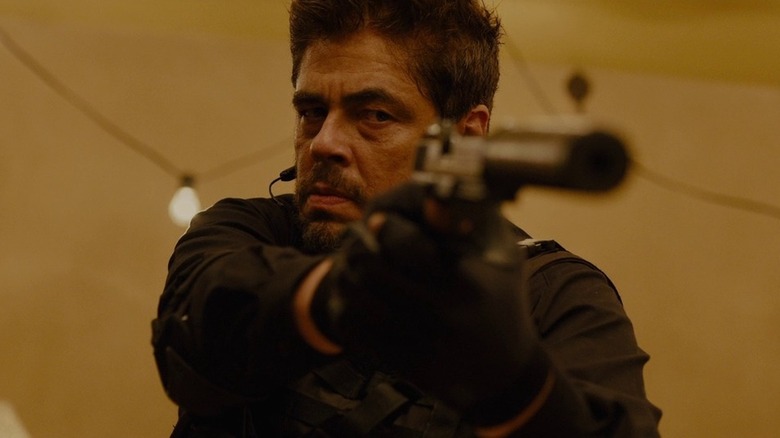 Lionsgate Films
When it comes to the film that might be the absolute best thing Taylor Sheridan has ever written, "Sicario" is probably at the top of the heap. The film follows a complex anti-cartel operation put into play between an FBI Agent (Emily Blunt), a CIA Agent (Josh Brolin), and a shady operative (Benicio Del Toro).
Though many stories have tried to tackle the intricacies of the Mexican drug cartel and the absolute brutality of the massive crime syndicate, few films manage to express each of these disparate elements and weave them together into a cohesive story that explores the problem from multiple angles. The film was also widely acclaimed by critics and audiences (via Rotten Tomatoes).
Directed by Denis Villeneuve of "Dune," "Arrival," and "Prisoners," the film is also aided immensely by the services of cinematographer Roger Deakins, whose astounding work can also be seen in the likes of "Fargo," "Skyfall," and "The Assassination of Jesse James."
With its unflinching look at Mexico's criminal underworld and an absolute stunner of an ending, "Sicario" is destined to stay stuck in your cranium long after you've finished watching it. The film also stars Daniel Kaluuya of "Get Out" and "Nope" and Jon Bernthal of "The Walking Dead" and "Punisher."
Wind River tackles many of the same themes that Yellowstone does
One of the things that helps to set "Yellowstone" apart from stories of a similar nature is how it looks at issues of the series from many different angles and doesn't dismiss any of them out of hand. Still, the series has been known to pay particularly close attention to issues involving Native Americans and the rights to their land.
"Wind River" very much explores this cross-section of American society as well. The movie focuses on the rape and murder of a young Native American woman and the subsequent investigation by the Fish and Wildlife Officer (Jeremy Renner), who discovers her body, and an FBI agent (Elizabeth Olsen) who arrives to aid in the search for the killer.
Taylor Sheridan, who also directed "Wind River," clearly wrote the film to try and raise awareness about the issues surrounding missing and murdered indigenous women for decades (via NIWRC). The Highway of Tears (via The Canadian Encyclopedia) and the case of Canadian serial killer Robert Pickton (via CBC) are just two examples that show the frequent failure of law enforcement to take cases of missing indigenous women seriously.
To add even more incentive for "Yellowstone" fans to check out this harrowingly effective dramatic thriller, Kelsey Asbille and Gil Birmingham, both of whom are "Yellowstone" actors, make appearances, as well as does the aforementioned Jon Bernthal and legendary Native American actor Graham Greene.