How I Met Your Father Season 2, Episode 3's Sid And Sophie Bombshell Has Fans Freaking Out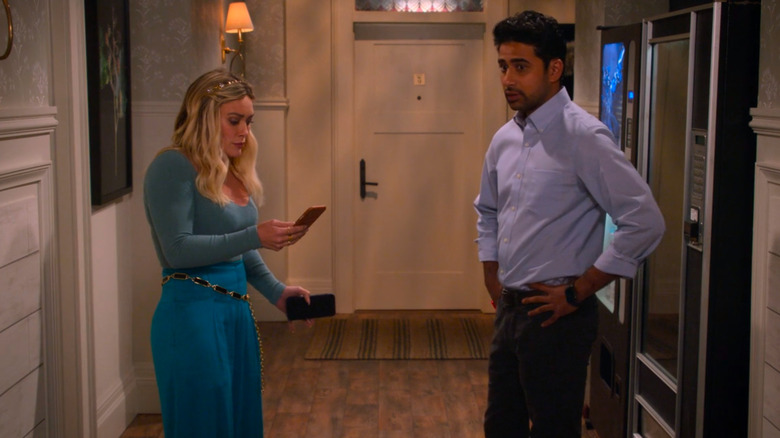 Hulu
Contains spoilers for How I Met Your Mother, Season 2, Episode 3 — "The Reset Button"
"How I Met Your Father" burst onto the scene in January 2022, looking to recapture the magic of its predecessor. Although critics didn't give it the warm welcome that "How I Met Your Mother" received, Hulu quickly renewed the spin-off for a second season, ensuring that fans get at least a little more of Sophie's (Hilary Duff) story about, well, how she met her son's father.
The show shares many parallels with "How I Met Your Mother," including a future version of the main character narrating the show's events, Marshall and Lilly's iconic apartment, and the endless romantic shipping of the main cast. Taking a page out of Robin and Barney's book, who should have stayed together, "How I Met Your Father" seems to be setting up an interesting dynamic between Sophie and Sid (Suraj Sharma). The two quickly hit things off to start the show, sharing beliefs of true love and effortlessly getting along well together. Although they both have significant others, they shared a fairly intimate moment in Season 1 when they sat down in a hallway and talked about the problems in their relationships.
Sid has always been kind and understanding with Sophie, whereas Jesse is quick to argue against her. Fans quickly realized that, while Sophie and Jesse may be the new Robin and Ted, Sophie and Sid are giving major Robin and Barney vibes. To make fans spiral even more, Season 2's latest episode, "The Reset Button," featured future Sophie (Kim Cattrall) casually dropping a detail about her relationship with the group, and fans couldn't keep it together.
Future Sophie revealed that she had kissed all of her friends, including Sid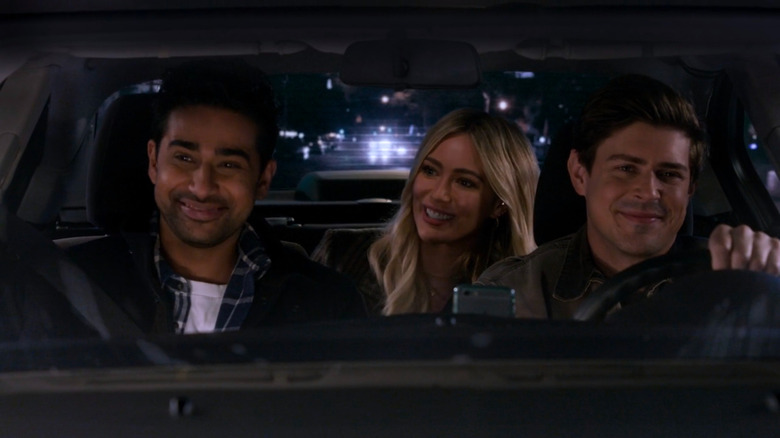 Hulu
In Season 2, Episode 3, future Sophie tells her son that before she turned 40, she had kissed all of her friends, sending the "How I Met Your Father" fanbase into a spiral. She doesn't clarify to what degree any of these kisses were, so some will more-than-likely end up being nothing more than a peck, but some fans quickly wondered what this could mean for Sophie and Sid.
Arguably the biggest Sophie and Sid shipper, @stevenrogered, has a Twitter thread dating back to February 2022, piecing together the clues that the characters end up together. While they recognize future Sophie's comments mean she kisses everyone, they refuse to focus on anything but a potential relationship with Sid. "We get confirmation that they kiss at some point," they wrote in all caps. "And that she also kisses Valentina, Ellen, and Charlie, but SidSophie has a kiss coming." Other fans, like @leighslilsis, @scenophile, and @gingerneighbor, echoed this sentiment, showing that they couldn't be happier to know that a Sid and Sophie kiss is on the way. @Karrywood123 expressed various emotions, saying, "Omg, so this means Sid & Sophie are going to kiss, but then so are Sophie & Charlie." @AmandaJ718 is doing some detective work of their own, wondering if Sophie's kid sounds like Sid to anyone else, while @ashyxzc plainly states, "Sid and Sophie endgame is where it's at."
While there weren't as many Sid and Sophie shippers on Reddit, fans couldn't help but wonder what future Sophie's comments meant for Sid's current relationship. U/No-Childhood6608 and u/florentinsch think doom is on the way for Sid and Hannah's marriage, allowing Sophie and Sid to explore what the fans want them to.