The How I Met Your Mother Couple Fans Think Should Have Stayed Together
"How I Met Your Mother" made a number of highly controversial decisions in its final episode. The CBS sitcom came to an end in 2014 after first premiering back in 2005, and its ninth and final season takes place primarily during the weekend of a wedding between two of the show's lead characters, Robin Scherbatsky (Cobie Smulders) and Barney Stinson (Neil Patrick Harris). The season utilizes the show's trademark, flashback-heavy storytelling structure in order to stretch out Robin and Barney's wedding celebration across a total of 24 episodes, but does sprinkle in scenes between the series' central characters and its titular mother (played by Cristin Milioti) along the way.
After taking so long to bring several of its characters together romantically, many fans went into the "How I Met Your Mother" series finale expecting to see all of its various storylines reach their own happy and satisfying conclusions. But that's not what they ended up getting. Instead, the "How I Met Your Mother" finale throws out a number of twists, including an unexpected breakup between two of the show's central characters.
Several years later, fans of the series are, understandably, still pretty upset about the breakup in question.
Fans wish Barney and Robin hadn't broken up with each other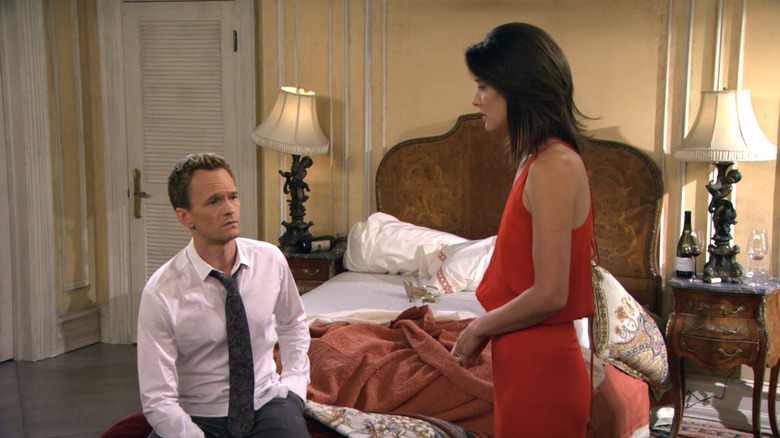 CBS
In the "How I Met Your Mother" series finale, it is revealed that Barney and Robin end up getting divorced just several years after their wedding. Additionally, in the same episode, viewers are told that Cristin Milioti's Tracy had already passed away by the time Ted Mosby (Josh Radnor) began telling his kids the story of how he met her. These twists all culminate with Ted seeking out Robin in the hopes of getting back together with her.
To say that these decisions proved to be controversial among "How I Met Your Mother" fans would be an understatement. In the show's official subreddit, u/adarshpatel16 even dedicated a whole post to proclaiming that Barney and Robin "shouldn't have broken up." The post received a number of passionate responses, with u/PlumsweetSoda noting, "I could've accepted Robin and Barney not lasting....If they didn't spend the entire last season on their f****** wedding." Meanwhile, one Redditor echoed their fellow fans' sentiments, writing, "The finale should've been Barney and Robin getting back together after many years, not Ted and Robin."
Elsewhere in the thread, u/boazofeirinni similarly criticized the show's decision to break up Barney and Robin after spending almost an entire season focused on their wedding. "I think character wise, Barney's ending fits extremely well for him. But his and Robin's wedding can't be built up so much for that sudden of a change, especially when the build-up [to] the wedding is framed as this enormous [period of] character growth for both of them," the user wrote.
Suffice it to say, it looks like many "How I Met Your Mother" fans still aren't happy with the outcome of Barney and Robin's relationship.