The HIMYM Parallels You Missed In The How I Met Your Father Pilot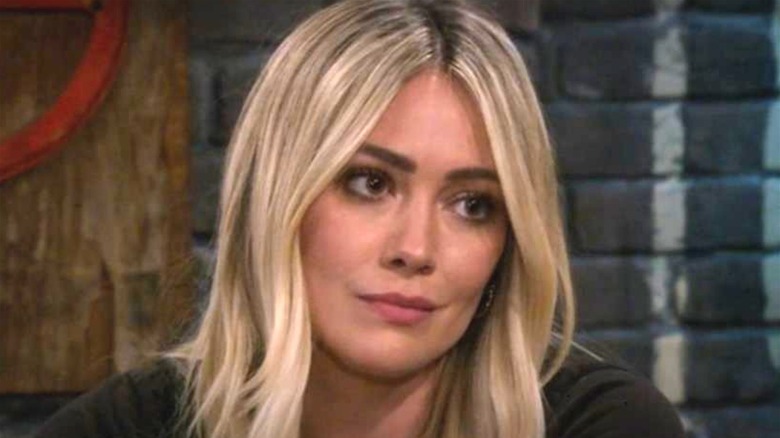 Hulu
A yellow umbrella, a blue French horn, a pineapple, and a ducky tie — if those seemingly random objects mean something to you, you're probably a "How I Met Your Mother" fan.
When the sitcom first premiered in 2005, many compared it to previous sitcoms about a group of 20-and-30-somethings navigating life in New York, like "Friends" or even "Seinfeld." However, it quickly became evident that "HIMYM" was something special. Through protagonist Ted Mosby (Josh Radnor), the series expertly captures the struggles of looking for love in the big city. However, the central mystery of the titular mother is really what makes "HIMYM" so memorable and sets it apart from other sitcoms of the era.
Though the "How I Met Your Mother" finale was disappointing for many fans, the series' mystery formula still certainly has its appeal. "How I Met Your Father" is a new reimagining of the concept, featuring Hilary Duff as Sophie, a young woman in New York on her own quest for romance, with Kim Cattrall filling the role of narrator and future Sophie.
The new series, streaming on Hulu, isn't a reboot of the original, but rather a similarly inspired story. That said, the "How I Met Your Father" pilot does have many similarities to the first episode of "HIMYM," including ones that even the most devoted fans may have missed.
Sophie and Ted both react to an engagement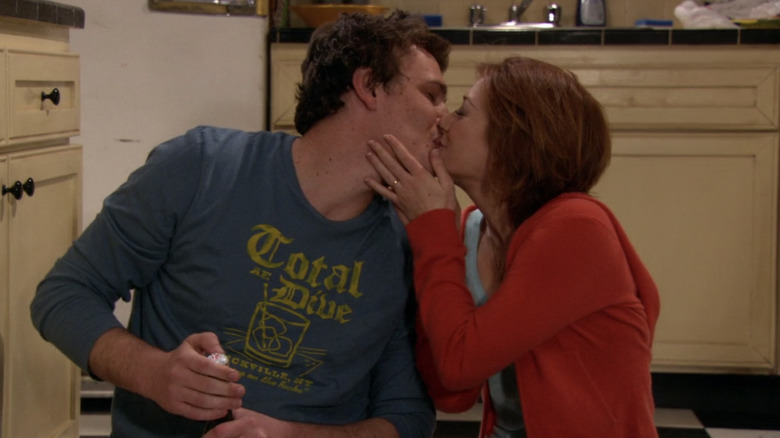 CBS
"How I Met Your Mother" starts off with Ted reacting to the engagement of Marshall (Jason Segel) and Lily (Alyson Hannigan). The first episode of "How I Met Your Father" also contains a proposal, though the two are a bit different. 
In "Mother," it is Ted's best friends getting engaged. However, in "Father," we watch as Sophie crashes the engagement of strangers Sid (Suraj Sharma) and Hannah (Ashley Reyes), after Sid accidentally takes Sophie's phone in a very sitcom-appropriate mix-up. 
When you're single and looking for love in your late 20s, just as Ted and Sophie are, watching people around you get engaged can certainly make you reflect on your own love life. It's no wonder both series start with this major life event. While the future of Sid and Hannah is still TBD, we're certainly hoping "Father" shows us a romance just as enviable as Marshall and Lily's.
Our hero in a cab with friends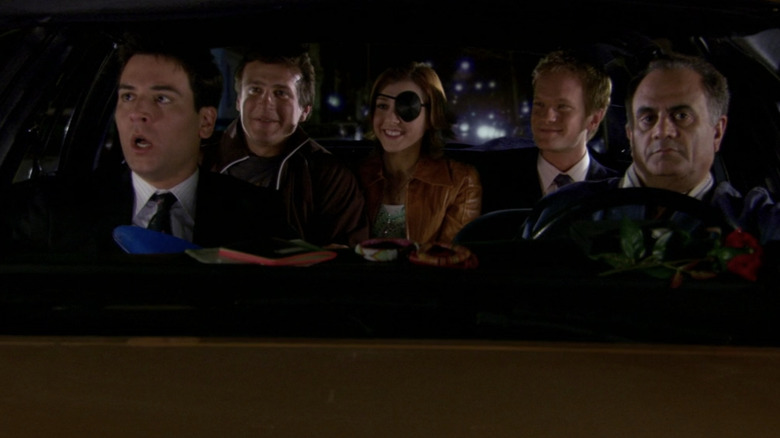 CBS
When "How I Met Your Mother" premiered in 2005, ride share apps weren't a thing yet. So when Ted needs to go to Robin's (Cobie Smulders) house to tell her how he really feels, he takes a yellow cab (and introduces us to one of our favorite recurring characters on the series, Ranjit). Marshall, Lily, and Barney (Neil Patrick Harris) tag along for the ride, cementing their status as the important people in Ted's life.
In a similar vein, "How I Met Your Father" kicks off with Sophie hopping in a ride share on her way to a date. Her driver Jesse (Christopher Lowell) is joined by his best friend, Sid, who needs a ride. Though when Sophie enters the car, these two men are just strangers, it's clear that by the end of the episode that they are on the way to becoming part of her inner circle. It's a great parallel that shows that even though technology may bring about changes, many things are constant — including the act of bonding over a car ride.
A big romantic gesture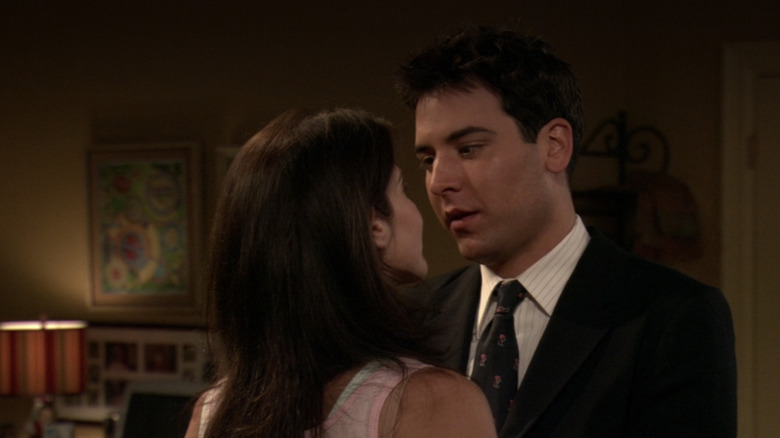 CBS
Ted showing up at Robin's door to tell her how he feels was a character-defining moment. It is our first time meeting Ted, and we quickly learn that he's a hopeless romantic — and that he can, at times, be impulsive. And sure enough, in the first episode of "How I Met Your Father," we learn the same about Sophie. 
After just one date with Ian, Sophie discovers he is moving to Australia for a life-changing career opportunity, stopping their romance before it even starts. However, Sophie can't shake the feeling they're meant to be, and does the classic sitcom move of catching him at the airport to tell her how she feels. Unfortunately, Ian doesn't want to do long-distance. Just as we learned with Ted, we now know that Sophie's quest for true love is not going to be without his challenges. Yet also like Ted, we realize that Sophie is ready to weather the storm — with the help of her friends, of course. 
The legend-wait for it-dary apartment returns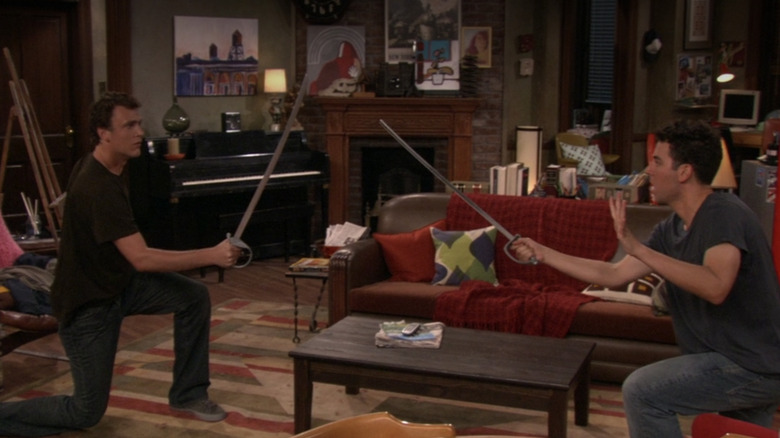 CBS
Though "How I Met Your Father" isn't a reboot of the previous show, there's one clever connection to the original series that certainly warms our hearts. 
As Sid shows the rest of the group into his apartment, he reveals that he got it from an "old married couple on the Wesleyan Alumni Group." That old married couple, of course, is Marshall and Lily. In the "How I Met Your Mother" finale, we discover that they sell the apartment in 2016 — and now, we know who they sold it to. Marshall and Lily's apartment, where Ted also lives through most of the series, is one of the most memorable locations of "Mother," and it's exciting to see it again. We discover that Marshall and Lily even left the swords over the fireplace for the new buyers, harkening back to one of the most iconic episodes of the original show's first season.
Though there will never be a gang quite like Ted, Marshall, Lily, Barney, and Robin, it's nonetheless excited to have some new TV friends on "How I Met Your Father," and viewers can only hope this new squad will be around for seasons to come.