The Walking Dead's Cailey Fleming Was 'Freaking Out' When She Was Told About Judith Getting Shot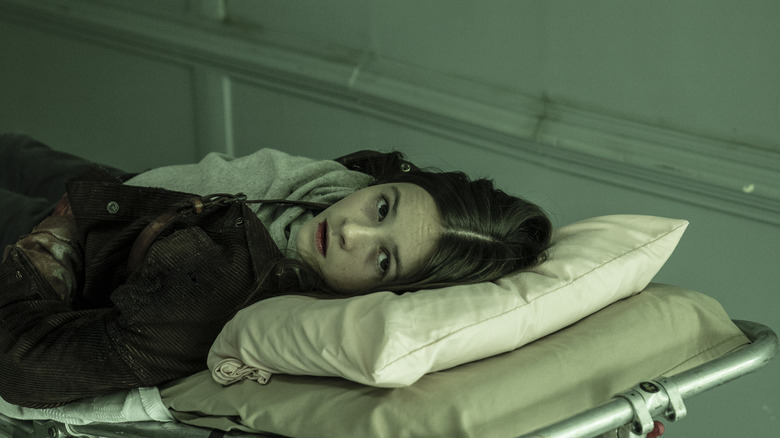 Jace Downs/AMC
After 11 seasons on AMC, "The Walking Dead" has finally been laid to rest. The long-running show based on the comic book series created by Robert Kirkman and Tony Moore may have made a lot of changes to the source material, but the enduring themes of Kirkman's postapocalyptic story of humans and zombies were still very much present throughout the series.
Of course, one of these changes involved the death of Carl Grimes (Chandler Riggs) in Season 8, a surprise twist that left Judith (Cailey Fleming) the only surviving Grimes child and eventually led to her having a much bigger part in the series as a result.
Still, having first appeared in Season 4 of the AMC horror drama (then played by Anniston and Tinsley Price), Judith is one of the longest-surviving characters on "The Walking Dead." All the same, that didn't stop her from being nearly killed off as the show marched on to its inevitable end in Season 11.
Cailey Fleming was excited for the shooting scene
Jace Downs/AMC
Cailey Fleming sat down with AMC to talk about the shocking scene on "The Walking Dead" that sees Judith getting shot by Governor Pamela Milton (Laila Robins). Though the actor was keen to say how much she loved shooting action scenes, Fleming did admit that she kind of lost it when she heard that Judith was going to be wounded so severely. "I was kind of freaking out because that's like, 'Whoaaa!'" she exclaimed. "I've done action scenes before but that's on a whole other level."
It's easy to see why a young actor, or any actor, really, might be a little trepidatious about shooting that kind of scene, particularly with how many firearms accidents have been known to happen on film sets over the years. Luckily for Fleming, that element wasn't even a concern, which is surely a relief for "Walking Dead" fans. "I wasn't worried about the safety or the comfortability of it, but just for it being something so major that I've never done before," she said.
"It was a little nerve[-]wracking, but it was so cool! Oh my gosh, the coolest thing I've ever done!" Fleming said excitedly. "And it being the second-to-last episode ever definitely builds up the suspense even more because it's all about to end. What's going to happen to her?" Fans are no doubt happy to see that Judith lived to see the light of day at the end of "The Walking Dead."
Cailey Fleming's character was also shot in Peppermint
This actually isn't the first time that one of Cailey Fleming's characters has been shot. Her character in the 2018 revenge thriller "Peppermint" is also shot.
"Peppermint" follows a grieving wife and mother, Riley North (Jennifer Garner), who decides to take the law into her own hands after members of a drug cartel gun down her husband, Chris (Jeff Hephner), and daughter, Carly (Fleming), at the behest of a powerful drug lord. Unfortunately for Fleming, her character isn't so lucky in "Peppermint," and she quickly succumbs to her wounds.
Based on her description of the shooting on the AMC horror drama, though, it sounds like that scene was a lot more intense than her experience on "Peppermint." Either way, with the flagship "Walking Dead" series wrapped up for good, Fleming is now free to pursue roles that aren't quite so heavy with dread and foreboding.