Knock At The Cabin Was The Career Challenge Dave Bautista Had Been Looking For All Along - Exclusive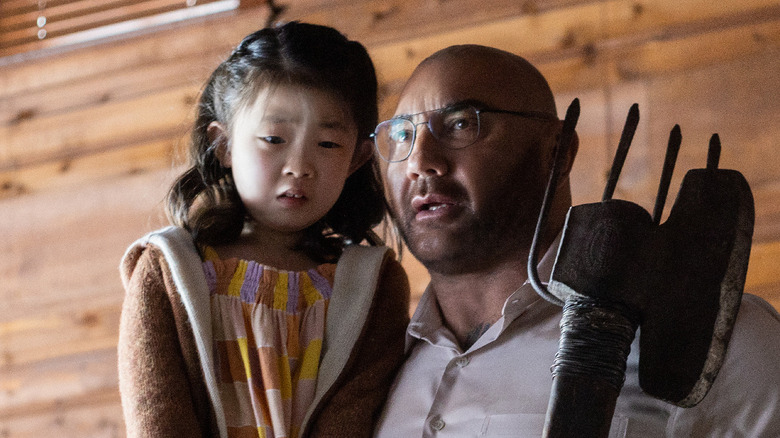 Universal Pictures
When Dave Bautista decided to pursue an acting career around 2006, his path might have gone the way of other professional wrestlers who decided to cross over to the big screen. He could have simply turned up in a string of direct-to-video action movies, or he might have landed a breakout role in a big Hollywood production and become a brand unto himself, much like his contemporaries Dwayne "The Rock" Johnson and John Cena.
For a while, that's what Bautista did: While making a major breakthrough as Drax the Destroyer in Marvel's "Guardians of the Galaxy," and playing a small supporting role in the 2015 James Bond thriller "Spectre," Bautista also ground it out in little-seen movies, like "L.A. Slasher," "Wrong Side of Town," "Heist," and "Marauders." He also showed up in larger studio fare, like "Stuber," "Dune," and more recently, "Glass Onion."
But it was a brief appearance in Denis Villeneuve's "Blade Runner 2049" — as a tired, melancholy replicant named Sapper Morton — that hinted at the range Bautista was capable of, beyond burly action types or the broader comedic persona of Drax. Now, in M. Night Shyamalan's new apocalyptic thriller, "Knock at the Cabin," Bautista has found his most challenging role yet — a complicated part that requires him to often be perfectly still while delivering reams of dialogue.
"I've been looking for this opportunity all along," Dave Bautista tells Looper in an exclusive interview. "It was always a challenge for me to get pure acting roles. When this came along, it was so much of what I've been searching for, not only to have this huge role with tons of dialogue and a lot of layers of emotion, but also have a director, a monster director like M. Night Shyamalan."
Why Knock at the Cabin was Dave Bautista's most demanding role yet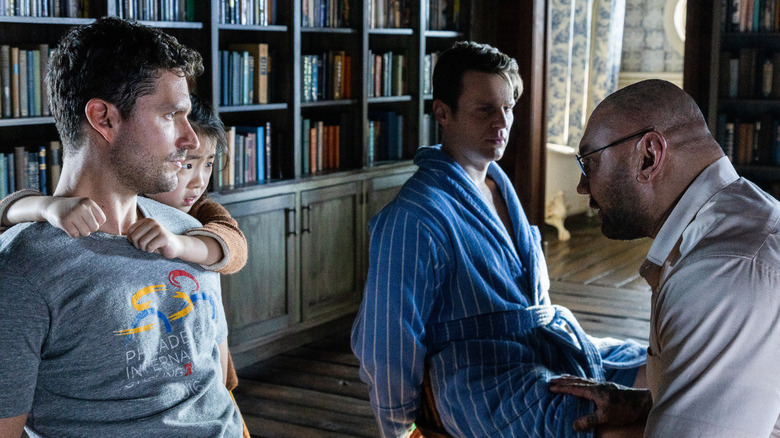 Universal Pictures
In "Knock at the Cabin," Dave Bautista plays Leonard, the massive yet not unkind leader of a group of four people having shared visions of the apocalypse. The visions have led them to an isolated rural cabin, where they tell the family vacationing there (Ben Aldridge, Jonathan Groff, and Kristen Cui) that one of them must be sacrificed to stop the world from ending.
The story is set almost entirely inside the cabin, with M. Night Shyamalan shooting extreme close-ups of his characters to enhance the tense, claustrophobic scenario. Bautista adds that Shyamalan's insistence on shooting on film instead of digitally added an extra layer of pressure to the actor's already dialogue-heavy performance.
"I don't have the luxury of [making] mistakes, which you typically have when you're shooting on digital with multiple cameras," he explains. "... We're shooting on one camera with film, with one shot. If [my castmates] nail their dialogue, crush it, and put all this emotion and energy into their performances, then the camera turns to me and I blow it, then their performances are completely wiped out and we've got to start all over again."
Despite the pressure, Bautista welcomed the responsibility of his first dramatic lead role. "It was everything I wished for, hoped for, and asked for over the years," he says. "... If nothing else, I proved my point, which was that I never set out to be a movie star. I wanted to be a respected actor, and this is that statement times 10. If nothing else, people can never say that I didn't get outside of my box and challenge myself, because I proved my point in this one."
"Knock at the Cabin" is in theaters now.