Ben Affleck And Matt Damon's Nike Movie Gets A Super Bowl Ad And A Surprising Theatrical Run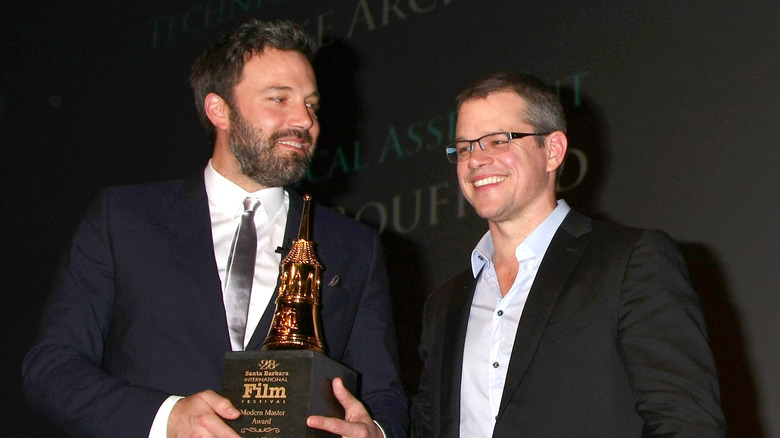 Kathy Hutchins/Shutterstock
Matt Damon and Ben Affleck have a famous and long-lasting friendship that has helped craft truly spectacular movies and hilarious performances. This duo made a splash in Hollywood with their collaborative film "Good Will Hunting," which earned them tremendous accolades. IMDb notes that "Good Will Hunting" was nominated for 61 awards, and the film managed to win 24 of those. Besides making serious films, Damon and Affleck have also popped up in several Kevin Smith movies, often to make fun of their own efforts or portraying two long-lived angels hellbent on ending existence.
As reported by ET Online in 2016, both Damon and Affleck have known each other since they were children and have been best friends ever since. Damon explained their long-lasting friendship by saying, "I've known him for 35 years, and we grew up together. We were both in love with the same thing — acting and filmmaking. I think we fed on each other's obsession during really formative, important years and that bonded us for life." Besides appearing in movies, it seems as if Affleck and Damon have a brand new movie on the horizon, and it looks like it has the full backing of Amazon, which is willing to pour tons of money into the film's promotion.
Amazon is pushing for a full theater release as well as an expensive Super Bowl ad
Variety has now confirmed that the upcoming film "Air," which is directed by Ben Affleck and starring himself and Matt Damon, is not only getting a theatrical release but a massive Super Bowl ad as well. Based on the early beginnings of the shoe company Nike and their attempts to recruit Michael Jordan, it seems as if Amazon is willing to spend over $7 million on an advertisement for "Air" that will premiere during the Super Bowl. That means audiences should prepare themselves to see Affleck and Damon put their best foot forward in the upcoming comedy-drama film during one of the most watched sporting events in the United States.
Besides the extremely expensive Super Bowl ad, Amazon is also pushing "Air" out into a full-blown theatrical release, with aims for the movie to reside in theaters for longer than most typical films. A source close to the movie told the publication, "It's a really big swing. It's going to put a lot of pressure on Netflix and Apple to follow suit on their big films and how they release them." "Air" is currently slated for an official movie theater release on April 5, and it won't appear on Amazon Prime until its theater run is complete, which should help the studio from cannibalizing its own ticket sales with a simultaneous release. The Super Bowl ad and approach to the release of "Air" definitely highlight a vote of confidence from Amazon, so it will be fascinating to see how these actions affect the future of streaming movies.