What Tulsa King's Sylvester Stallone Loves About Stacy And Dwight's Relationship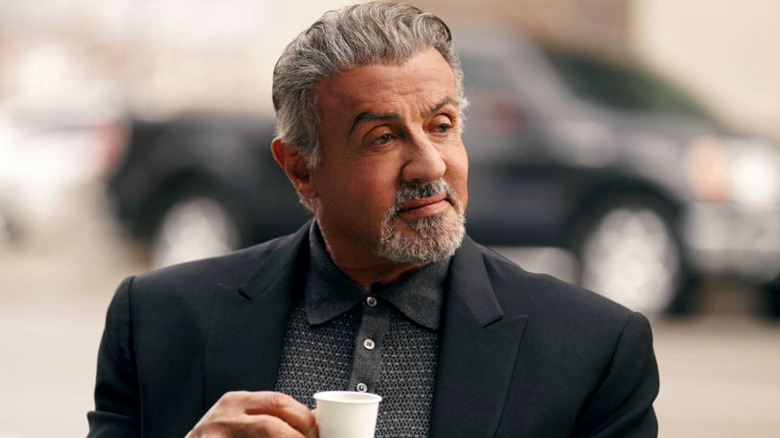 Brian Douglas/Paramount+
Sylvester Stallone's "Tulsa King" misadventures as Dwight "The General" Manfredi currently scores with audiences to the tune of 91% (per Rotten Tomatoes). After spending a third of his life locked away in prison, the disgraced Invernizzi family's mafia capo is banished to oversee an untapped turf situated in Oklahoma that no one wants. At the time of this writing, Stallone is 76 years old, but he doesn't look or act his age in "Tulsa King." And that's a good thing because Dwight is constantly kept on his toes by his 49-year-old love interest, ATF agent Stacy Beale (Andrea Savage). However, Stallone's gone to extremes to stave off Father Time.
"The older I get, the more I try to embrace my inner kid," Stallone said in an interview with The Hollywood Reporter. "The only way I really feel my age is because I've had so many injuries. I've had five back operations, three neck fusions, both shoulders done, knees, ankles, fist — you name it. It's been more than 25 times that I've been put out. So, that I feel. But after I warm up, I feel really good. I don't run out of gas."
Stacy notwithstanding, Dwight puts together a ragtag group of the most unlikely allies to further his nefarious ambitions, including his fiercely loyal driver Tyson (Jay Will), legalized weed entrepreneur Bodhi (Martin Starr), and bar owner Mitch Teller (Garrett Hedlund). But Dwight's most complicated and intriguing relationship undoubtedly lies with Agent Beale.
Sly loves the characters' unorthodox relationship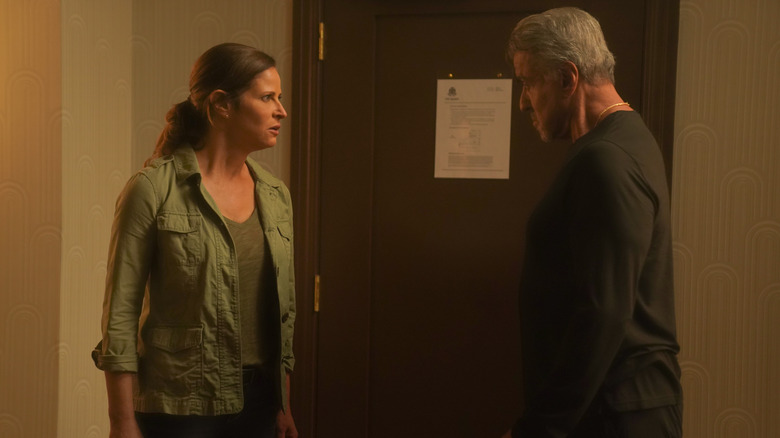 Brian Douglas/Paramount+
Dwight Manfredi (Sylvester Stallone) finds himself exiled to Tulsa after spending 25 years in the clink, and he immediately forces his way into the weed business and takes a piece of the action from Bodhi's Higher Plane marijuana store. Afterward, Dwight's much younger love interest, Stacy Beale introduces herself at Mitch's bar. And Stallone loves the unorthodox nature of "The General" and Stacy's relationship.
"Dwight is just lonely," Stallone said in an interview with Decider. "That's it. Here's this girl who is like a gangster herself. Her confidence and toughness make Dwight go, 'Wow, this is unusual.'" "The General" enjoys a beer in Mitch's Bred-2-Buck when Stacy's complaining soon turns to flirting. After protecting Stacy and her friends at a party, Dwight takes Beale back to his hotel room, and they sleep together.
"What I really thought stood out about the morning after they met is that Dwight gets put down," Stallone continued. "She dumps him! That's unexpected because you think this mafioso would be, 'Get lost, sweetheart,' but it's just the opposite. I loved that." Stacy freaks out when she discovers Dwight is 75 years old, but the ATF agent has no idea at that point her rendezvous was with a mafia capo. Dwight and Stacy's relationship becomes increasingly more complicated with each episode. But the "Tulsa King" season finale, "Happy Trails," ensures that any possibility of a happily-ever-after won't happen until at least Season 2.