Seth Gilliam Was 'Over The Moon' When He Found Out Robert Patrick Would Be On The Walking Dead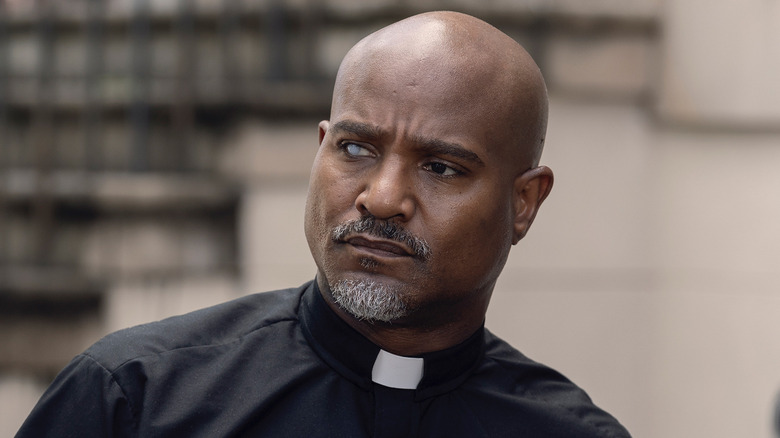 AMC Networks Inc.
Seth Gilliam has amassed an impressive resume of television work that began with three appearances as Aaron Dexter on "The Cosby Show" (per IMDb). However, even with significant stints on "The Wire" and "Teen Wolf," Gilliam's most prolific TV work came portraying Father Gabriel Stokes in 125 installments of "The Walking Dead." Gilliam's Gabriel makes his first appearance in Season 5, Episode 2, but the newest member of "TWD" didn't know when he accepted the role that his character died in the comics' version of "The Whisperer War."
"I was at a convention and a couple of kids came up to me and showed me the comic ['The Walking Dead' No. 158]," Gilliam revealed in an interview with Entertainment Weekly. "They were very excited to show it to me, about how graphic the death was. That was my first hint that 'The Whisperer War' would not end well for Father Gabriel, but that really turned out not to be the case."
Gabriel fares far better in the post-apocalyptic AMC series than in the pages of creator Robert Kirkman's comic books, but the actor portraying the theologian joining Rick Grimes (Andrew Lincoln) and his group of survivors had a lot of surprises in store for him. And in Season 10, Gilliam was astonished to discover veteran actor Robert Patrick would co-star in a Father Gabriel-centric story.
Gilliam was thrilled to star alongside Patrick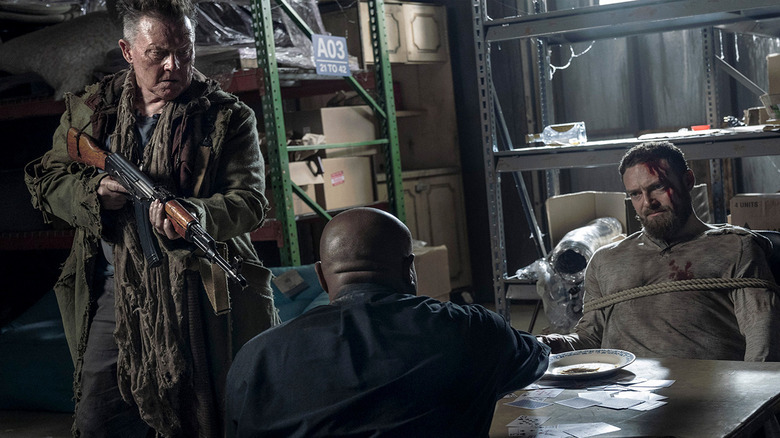 AMC Networks Inc.
Father Gabriel and Aaron (Ross Marquand) get lost during a scouting mission in Season 10, Episode 19. Subsequently, the two men camp out in a warehouse for the night. Gabriel wakes up to a horrible hangover the following morning, only to find his and Aaron's whiskey-drinking, poker-playing excursion interrupted by a hooded figure. Seth Gilliam was delighted when he found out that veteran thespian Robert Patrick ("Terminator 2") was the shrouded mystery man facing off against him in "The Walking Dead" world. Indeed, Patrick played Mays, the mysterious antagonist of Season 10, Episode 19. Patrick also played the part of Mays' sibling who was later discovered chained up in the warehouse.
"I found out that Robert Patrick was going to be in it," Gilliam said in an interview with Entertainment Weekly. "I was really over the moon because I've always been kind of terrified by the characters that he's played, his intensity and everything."
Neither the formidable, Russian roulette-playing Mays, nor the television show's version of "The Whisperer War" could thwart Gilliam's interpretation of Gabriel. The Father became a mainstay on "The Walking Dead" for seven seasons, and his character was one of the fortunate people to have survived the series finale of "The Walking Dead."