The Criminal Minds Post-It Note Isn't Just Ambiguous ... It's Blank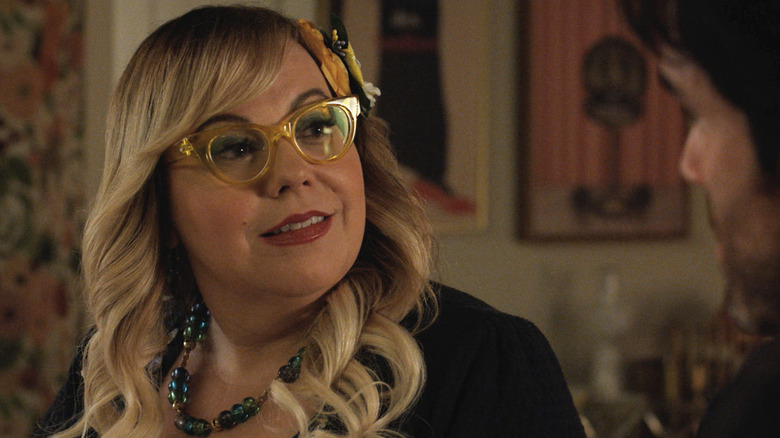 Paramount+
When "Criminal Minds" was canceled by CBS ahead of its 15th season on the air, it came as a bit of a surprise to many, with even longtime showrunner Erica Messer expressing dismay over the decision during a 2022 interview with Deadline. Nonetheless, the "Criminal Minds" creative team nobly set about crafting a fitting end to the beloved series when the cancellation came down. And in the eyes of many longtime fans, they did just that, with the BAU crew taking down one of their fiercest foes, and tech support guru Penelope Garcia (Kristen Vangsness) leaving the team to pursue a less hazardous line of work.
Perhaps the most memorable moment of the episode comes when Garcia — who spends much of her time backing up the team from the confines of the tech room — says one final goodbye to her BAU home. Before she leaves, Garcia tucks one last Post-It note inside a crease in her desk. The contents of that note are not seen and have been a point of discussion ever since. And as series creatives have previously stated, what Garcia wrote was always meant to be a mystery to viewers (per TV Insider). Turns out there might be less to the note than we ever imagined, however, as Vangsnesse recently claimed the Post-It is actually blank.  
Kirsten Vangsness claims there wasn't even ink in the prop pen she used to write Garcia's last post-it
Kristen Vangsness made that admission during a recent interview with CinemaBlend. She did so to promote her return to "Criminal Minds" in its streaming revival "Criminal Minds: Evolution." During the course of the conversation, the actor indeed gave a definitive answer about Penelope Garcia's infamous Post-It. And it seems she technically didn't write anything on that famous Post-It, because the pen she used in the scene didn't have any ink in it.
"So when we did the original [series]," Vangsness told CinemaBlend, "I would say 90% of the pens [in] Garcia's office back then, and so far now, are run by imagination. So they didn't write." According to the actor, that indeed included the pen she used to write Garcia's final Post-It note. Still, Vangsness claims she felt she needed to imbue meaning into every Post-It she wrote on the show, noting, "So I would write something — it would be really meaningful — but it would be different every take. I was like, whatever I want to feel right then."
She reportedly did the same with Garcia's final note, even if invisibly, boasting, "I know what that thing says." Still, the actor didn't divulge precisely what she wrote with her prop pen, preferring to let viewers write their own version of the Post-It. "So whenever anybody watches that," she said, "I want you to think about what you need. And every time you watch it, what do you need that Post-It to say? And that's what it says." And for what it's worth, that seems a suitably Garcia-styled answer.