Penelope Garcia On Criminal Minds: Evolution Is An 'Avatar To The Smart Girls,' According To Kirsten Vangsness - Exclusive
Michael Yarish/Paramount+
After exiting "Criminal Minds" when it ended its CBS run in early 2020, Kirsten Vangsness is back as Penelope Garcia on the revival series, "Criminal Minds: Evolution," which streams on Paramount+.
On what's also considered to be Season 16 of the beloved original series, Garcia returns as the technical analyst for the Behavioral Analysis Unit of the FBI, alongside Joe Mantegna as David Rossi, Paget Brewster as Emily Prentiss, and Aisha Tyler as Dr. Tara Lewis, as they work together to track down a sophisticated cross-country network of sick and twisted serial killers. Known for her hacker-level skills and unique fashion sense, Garcia is often seen typing frantically on a computer in order to access highly sensitive and critical online information to help crack a case.
It's a role Vangsness was excited to return to, especially since she sees herself as an "avatar to the smart girls," as explained by Kirsten Vangsness during an exclusive interview with Looper.
Playing Penelope Garcia is an 'honor' for Vangsness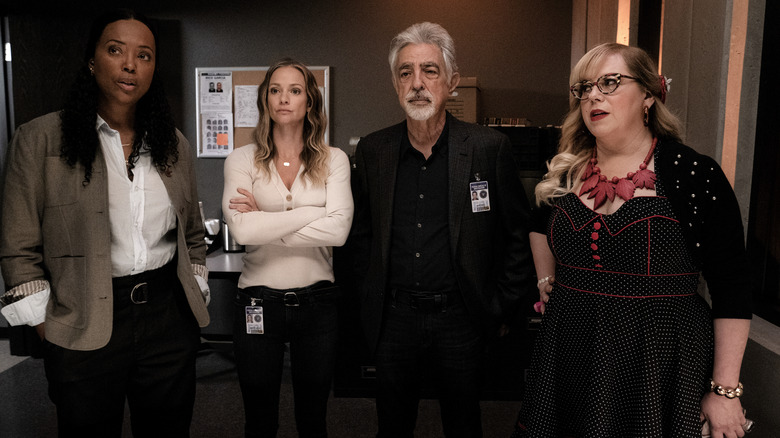 Michael Yarish/Paramount+
In addition to the original "Criminal Minds" and now "Evolution," Vangsness also made multiple appearances on "Criminal Minds" spin-offs "Suspect Behavior" and "Beyond Borders," making her the only character in the franchise to appear on all four series. It's an accomplishment she doesn't take lightly.
"It's an honor," says Vangsness. "It's an honor to be the avatar to the smart girls. It's an honor to feel like, 'You wanted me on that? And that?' I do a lot of theater, and I've been in a lot of different things, but in terms of things that someone can turn on a TV and see, this is pretty much it. So the fact that they want to use me that much is nice for my self-confidence. You're like, 'The acting classes are working.'"
The actor, who says she falls "somewhere between a size 12 and a size 16," also admits that she's proud of representing a body type that may not always be on display in the entertainment industry.
"It's good because I don't have a body that you see all of the time on television," says Vangsness. "It's been interesting to watch the show and be like, 'Oh, there I am.' It's really good because all of our bodies are good bodies, and to be confronted with that and be like, 'Every woman in the world does this, and I get to be on a television screen [so they can] see a body that's different than all of those other bodies' — that's nice. I like that."
You can see Vangsness in action on "Criminal Minds: Evolution," which airs Thursdays on Paramount+.